With a new year comes a smorgasbord of different artists who are more than eager to leave their imprint in the music industry. 
Regardless of the rollercoaster ride that has been 2021, these musicians have somehow managed to push forth with some great tunes, and we suspect, there's definitely more where that came from. 
From pop-punk bands and R&B artists to bedroom pop and indie musicians, here are some emerging  talents who you might want to keep an eye out for this year. 
---
Carpet Golf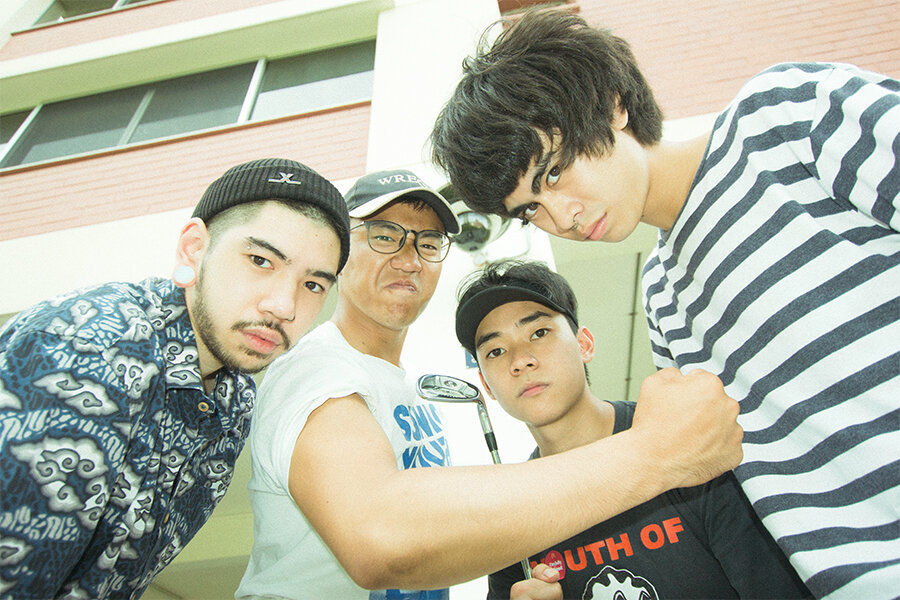 BANDWAGON TV
Carpet Golf is a new Singaporean group constituting members of hardcore band Charm and indie rock act Subsonic Eye. The self-professed 'friendship-core' band released their six-track debut EP Not As Good A Fisherman As Brock Lesnar Is A Man late last year and have since garnered some attention for their catchy pop-punk hooks and distinctive melodies. 
When asked if they had anything in store for 2022, the band said: "We are writing more songs and we'll be releasing something in June! Hopefully we'll get to play a show with our besties in Curb too." 
---
Audrey Nuna
Since debuting her liquid breakfast mixtape in 2021, Korean-American R&B singer and rapper Audrey Nuna has been recognised for her knack for combining hip-hop, soul and trap seamlessly in her music. 
---
Petit Brabancon
J-rock superband Petit Brabancon is made up of notable members in the alternative rock and metal scene in Japan; these include Kyo from DIR EN GREY, yukihiro from L'arc-en-Ciel, Miya from MUCC, antz from Tokyo Shoegazer, and Hirofumi Takamatsu from The Novembers.
The band released their first digital single 'Koku / Kawaki' (刻 / 渇き) late last year, and we're already looking forward to new material in the months to come.
---
Noa Mal
Filipino singer-songwriter Noa Mal started self-releasing lo-fi indie tunes after recording them from her bedroom in Lucena City, her latest offering being, Imposter Syndrome. 
In speaking about DIY music, the artist shared: "I started recording my own music in my bedroom when I was 16, released a couple of EPs on Bandcamp and then ultimately produced my first album in 2020. I will probably release a few albums as usual but my band The Bleaching Hour has been planning to release a debut album this year with a heavier sound so I think that's something to look forward to."
---
Sunflower Tape Machine
Aryaman Singh is a self-taught musician who operates under the alias Sunflower Tape Machine, a project which combines elements of indie with shoegaze and psychedelic rock.
The Chennai act has released three singles thus far— 'Within You,' 'Death, Colourised,' and most recently, 'Sophomore Sweetheart' which according to him, is "an upbeat indie/bedroom pop track" that was constructed using a combination of sounds from the Linn LM-1 drum machine, analogue synths, and guitar riffs from the Fender Jaguar. 
---
Chaleeda 
Thai-British singer Chaleeda first made a name for herself when she appeared as one of the contestants on a Malaysian reality TV show, Big Stage. Fast forward to 2017, she has released her debut single 'Ready For Love' under the label Rocketfuel and has also put out a new song entitled 'To The Moon' just last year. 
---
FORCEPARKBOIS
Malaysian rap group FORCEPARKBOIS are definitely a force to be reckoned with. Hailing from Johor Bahru, the hip-hop crew first made a name for themselves with the release of their single 'LOTUS' which has since been remixed by multiple artists from Brunei, Singapore, and South Korea, just to name a few. The latter featured the likes of Jay Park, JMIN, BIG Naughty, among many other notable artists.
Following the success of 'LOTUS,' they have released a couple more songs including 'Ultra,' 'Woosh!,' 'SHEESSH FLOW,' and their latest offering 'All Day' which is accompanied by a music video. 
---
Priya Ragu
Priya Ragu worked on a plethora of singles before releasing her debut mixtape damnshestamil in 2021. Fully embracing her Sri Lankan roots, Ragu offers a refreshing take on R&B and electro-pop in her collection of genre-amorphous hits. 
---
Warren Hue
Indonesian rapper Warren Hue made waves last year when he signed onto New York-based music collective 88rising and delivered his debut single 'Omomo Punk.' Upon joining the ranks of fellow Indonesian artists NIKI and Rich Brian, Warren has certainly carved a name for himself in the hip-hop scene. 
Looking forward to 2022: "I'm releasing my first studio album and doing more shows, merch, art and just a bunch of cool shit that my fans can own and be a part of. This project has been the most ambitious so far and I can't wait till they hear it." 
---
Collar

Collar is an eight-member girl group from Hong Kong who've just released their debut single 'Call My Name.' The octet was brought together by ViuTV's music competition series 'King Maker' and were selected from the top ten finalists of the show. 
---
Houg
Following his debut EP The Oscillation Scene, Singaporean chillwave artist Houg released the first single 'Metro (4:35)' off his upcoming full-length album which will be dropping in March across digital streaming platforms. 
Houg, pumped up about his forthcoming record, shared: "The fifth single 'Department of Loved' from it is a collab with our very own Don Aaron and lands 11 February, just in time for those feeling a little wistful for Valentines' Day. You'll also get to see and hear all this, and more, at my very first solo show in March! It'll be an aural and visual experience I can't wait to share with you." 
---
yunè pinku
Malaysian-Irish producer and songwriter yunè pinku broke through the music scene with her collaborative song with Australian producer Logic1000, 'What You Like.' Just this month, she dropped her latest mix entitled 'Affection.' 
---
LONER
LONER's (also known as Lean Ordinario) Into Midnight EP brings Filipino house music to the fore. Influenced by 90s house, LONER has managed to incorporate UK garage music with the local dialect in Manila—the result is what he coins 'Tagalog House.' 
When asked what he has in store for 2022, LONER simply replied: "I'm going to be stuck in my room again, learning to create even better music." 
---
Soft Pine
If you're looking for a fresh new bedroom pop act, you should definitely check Bangkok-based band Soft Pine out. Known for their soothing instrumentation, the band is the very embodiment of (according to them) "laziness, plants and love."
They've recently put out Soft Pine The Remixes 01 featuring the tracks 'Trippy World,' 'Underneath The Brain,' and 'Indoor Plants.'
---
Idgitaf
Following a number of single releases, Indonesian singer-songwriter Idgitaf recently dropped her debut EP Semoga Sembuh which features previously released tracks such as 'Taku' and 'Berlagak Bahagia,' in addition to new material including the titular song 'Semoga Sembuh,' 'Sekuat Sesaki' and 'Kasur Tidur.'
This mini-album has already received great reception from listeners who will definitely be looking forward to more musical content from her in the year ahead. 
---
NIO
Although Taiwanese-British musician NIO is pretty new to the music scene, he's already proven that being an entertainer is in his blood.
What started out as a stint on Youtube quickly became a professional music career as he has since been putting out a string of singles spanning different genres including alt-pop, indie rock and neo-soul. Not to mention, his first full-length album entitled 地平線 which was unveiled just last year.  
---
ADORA
Park Soo-Hyun, who goes by her stage name ADORA, was an in-house producer of BigHit Music and has worked with the likes of BTS and TXT before she ventured on her solo journey as a singer-songwriter herself.
Her solo debut single 'MAKE U DANCE' features former GFriend vocalist and current VIVIZ member, EUNHA. 
---
Ryo Enomoto with MISTRESS OF THE DARKROOM
Enigmatic masked band MISTRESS OF THE DARKROOM is conceptually inspired by the Black Death or bubonic plague, a deadly epidemic that occurred during the 14th century.
Adopting the imagery of the plague doctor in their artwork, the band's intention was to match this dark fragment of history to their lyrics—give their single 'MY RAVEN BLACK,' featuring former WILL-O member, Ryo Enomoto, a listen if you're intrigued. 
---