Have you exhausted all your playlists in 2021? 
Truth be told, listening to the same songs on a cyclical loop can start to get mundane after an extended period of time—if you're stuck in a rut music-wise and are just dying to break out of this musical monotony, the best thing you can do is to go on a self-imposed quest to diversify your personal library. 
While navigating the algorithmic soundscape may seem daunting, it isn't all that hard, in all honesty. Aside from checking out Bandwagon, here are some surefire ways in which you can discover fresh new tunes to kickstart the year. 
---
Discogs 
BANDWAGON TV
While its main function is to organise CD collections and vinyl crates, Discogs can also be utilised as a method of finding new (or even old) releases you've never thought of listening to. Simply take a gander at what other collectors have in their personal hoard. 
All you have to do is filter through the 'Most Collected' or 'Most Wanted' list on the homepage and you'll be able to look at the most sought after albums in descending order of popularity. Since the Discogs database is massive, this is a great way to scour for essential albums you might have overlooked. 
Those who have specific genres they're after can also apply the 'style' filter to narrow down their search.
If you're a user with a substantial collection, the site will indicate the releases you already own so that makes it even easier for you to focus on albums you've never encountered before.
---
Last.fm
Last.fm is essentially a music nerd's haven. As the world's largest online music service, the site which was conceived in the United Kingdom way back in 2002 allows users to find out more about their favourite artists whilst getting music recommendations through a system called 'Audioscrobbler.'
On the homepage, the 'Spiking Artists' function shows you the artists that are trending globally on the site at the moment and introduces you to similar artists in just a single click.
Selecting a specific artist will allow you to latch onto musicians that are homogenous to the ones you already like. This is a guaranteed way of finding music that you're sure to be drawn to.
Alternatively, if you want to explore new artists that are not within your usual sphere of music, you'd be able to look up popular acts that can serve as your gateway or entry point into a certain genre. 
---
Record labels
Keeping a close eye on record labels that are geared to your personal music preferences not only helps you stay up to date with the latest releases from your favourite bands but is also a tried and tested way of finding new music. The labels who you've been supporting throughout the years are more than likely to sign artists that will appeal to you.  
While everyone has their own individual picks, my go-to sites are definitely Blood Harvest,  Extremely Rotten, Headsplit Records, Evil Greed, 20 Buck Spin, Profound Lore, and Me Saco Un Ojo.
That being said, these notable Asian labels are also worth checking out as they all boast an amazing repertoire of regional acts: Call and Response Records, A Spur of the Moment Project, Melt Records, Where Are The Fruits, AOMG, H1GHR Music, Offshore Music, and Darker Than Wax.
---
Blind buys
By extension, physical record stores are another handy outlet for discovering quality acts. While most of us only purchase records we know we absolutely want to have in our collection, 'blind buying' albums you've chanced upon can prove to be a fun way of stumbling upon something fresh.
You might be sorely disappointed if the blind buy isn't what you imagined it to be, but there's also an off-chance you'd be pleasantly surprised by what you've decided to pick up. The best way to go about this would be to only use this method if the records in question are in the bargain bin, or going for dirt cheap—this way, you won't stand to lose all that much. 
Check out our guide to recording shopping in the Philippines and Singapore.
---
Music streaming sites
Music streaming platforms such as Spotify, Apple Music, and Tidal have (almost) every recorded album available in their database; unless you're looking for obscure black metal demos or something of that nature.
The built-in AI system will automatically provide users with music suggestions based on their previous listening habits—these come in the form of features like Spotify's 'Daily Mix' which creates playlists combining songs you're already jamming out to with ones that you're likely to dig too.
Additional ways of picking up new music daily from Spotify would be to look at the albums they've 'Recommended for today' or otherwise, browse through the 'Suggested artists' the algorithm has churned out according to your listening activity. 
For a more precise search, simply look up the artists you like, and scroll down to 'Fans also like' at the bottom of their discography to look at suggestions of related acts who have shared listening audiences—this has almost become habitual for me when I'm listening to bands I like because of how curated the recommendations are. 
---
Reddit 
Never underestimate the power of Reddit. If you peruse the site regularly, you might want to check out the subreddit /r/listen to this for music recommendations; you'd be thoroughly amazed at how resourceful this outlet is.
For genre-specific suggestions, you can also follow other music subreddits to see what folks who are into the same music as you are vibing to at the moment! 
---
Music archives 
Believe it or not, there are actually archival sites that cater specifically to different genres of music—this includes 'The Metal Archives'(also known as 'Encyclopaedia Metallum') for metalheads, 'Classical Archives' for classical aficionados, 'Jazz Music Archives' for jazz enthusiasts, and the 'Hiphop Archive' for fans of hip-hop music. 
The Metal Archives 
If you're a metalhead, chances are you've visited the Metal Archives at one point or another. I often find myself looking up information on this site because it really is a comprehensive encyclopedia for metal music. Aside from the interesting forums and reviews, the website also serves as an amazing source for seeking out music gems you might've missed in the past.
What's more, the 'similar artists' function is based on upvotes from like-minded individuals so rest assured that your search is less algorithmic-driven and more organic. With this added human element, it almost feels as if you're being recommended these tunes by your very own friends. 
Classical Archives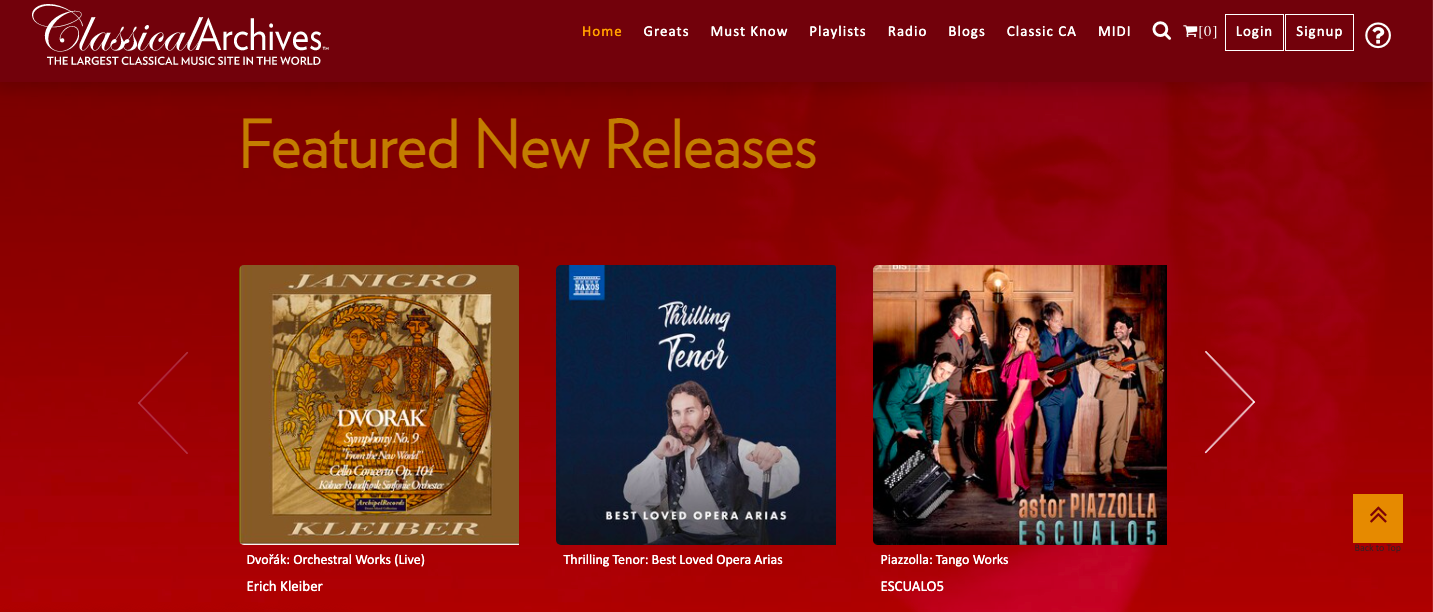 The Classical Archives not only features new classical releases but also pays homage to the greats of the genre such as Bach, Beethoven, Bernstein, and many more—you can view a particular composer's oeuvre of works simply by clicking on their picture icon.
Alternatively, if you'd like to look up composers by period, you can also refine your search further by filtering through genres such as 'Early/Renaissance,' 'Impressionist,' 'Modern/Contemporary,' among others. 
Jazz Music Archives
The Jazz Music Archive (JMA) is essentially a music resource for all sorts of jazz artists, both early and modern—from Dixieland, Ragtime, and Swing to Afro-Cuban, Avant-Garde, and Bossa Nova. By perusing this site, you'll be able to familiarise yourself with all these subgenres whilst keeping track of the newest jazz albums, artists, and commonly discussed forum topics where reviews are rife. 
Hip-hop Archive
The Hip-hop Archive and Research Institute champions hip-hop culture by supporting and recording anything related to the said genre of music. They've done deep dives into all the artists featured on their site and have an affiliated blog where they publish everything from artists profiles and events to hip-hop civics and music reviews. 
---
Music podcasts 
And finally, what better way to discover new music than to listen to other music connoisseurs talking about music? Podcasts are a valuable resource for learning about new releases as music commentary is seemingly inexhaustible.
Some digital talk shows you might want to check out are Song Exploder where musicians dissect the elements of their own songs, NPR's Louder Than A Riot which introduces investigative journalism into the music sphere, The Heavy Hole Podcast where the vocalist from Afterbirth and Artificial Brain interview some pretty huge names from the death metal scene, and Diego Castillo's Foaming At The Mouth where he geeks out about his favourite tracks and artists. 
Like what you read? Show our writer some love!
---