'Yours' is finally here.
The main Jirisan theme song performed by BTS' Jin has arrived. A snippet of the 'Abyss' singer's new song was first heard in the teaser for Episode 6 of the K-drama on Saturday (6/11)
Our ears are blessed with #JinOST in #JirisanEp6 preview!

Will Yi Gang overcome the snowstorm this holiday? Catch #Jirisan tomorrow at 8pm SGT on #iQiyi app & https://t.co/HDqMsitKyn to find out!

👉🏻https://t.co/GDkUeLlFua#GiannaJun #JuJiHoon
JIN OST THIS SUNDAY
YOURS BY JIN pic.twitter.com/AReBOamzWX

— iQIYI (@iQIYI) November 6, 2021
On Sunday (7/11), 'Yours,' showcasing Jin's signature high notes, as well as vocal prowess and versatility, was released along with a special lyric video and official music video via A Story.
BANDWAGON TV
Since its release, 'Yours' has garnered number 1 spots on iTunes in 90 countries, as well as 1.4 million filtered streams on its first tracking day on Spotify.
---
On 6 November, Jin took to Weverse to reply to some fan comments about the new track. He shared that he also tuned in to watch the latest episode, waiting for his song to be played.
weverse 211106 @bts_twt

op: 🐹jin, did you watch the preview for jirisan, the drama you sang for?

seokjin: i watched the drama as it was airing
the whole time i was thinking
when is it going to play?
and whenever i heard any background music i was like.. wait is that-
hehehehe pic.twitter.com/UNEdmrATM6

— 「 claire ⁷ 」 (@btstranslation7) November 6, 2021
The next day, Jin also shared a photo of him in the recording booth while working on the Jirisan theme.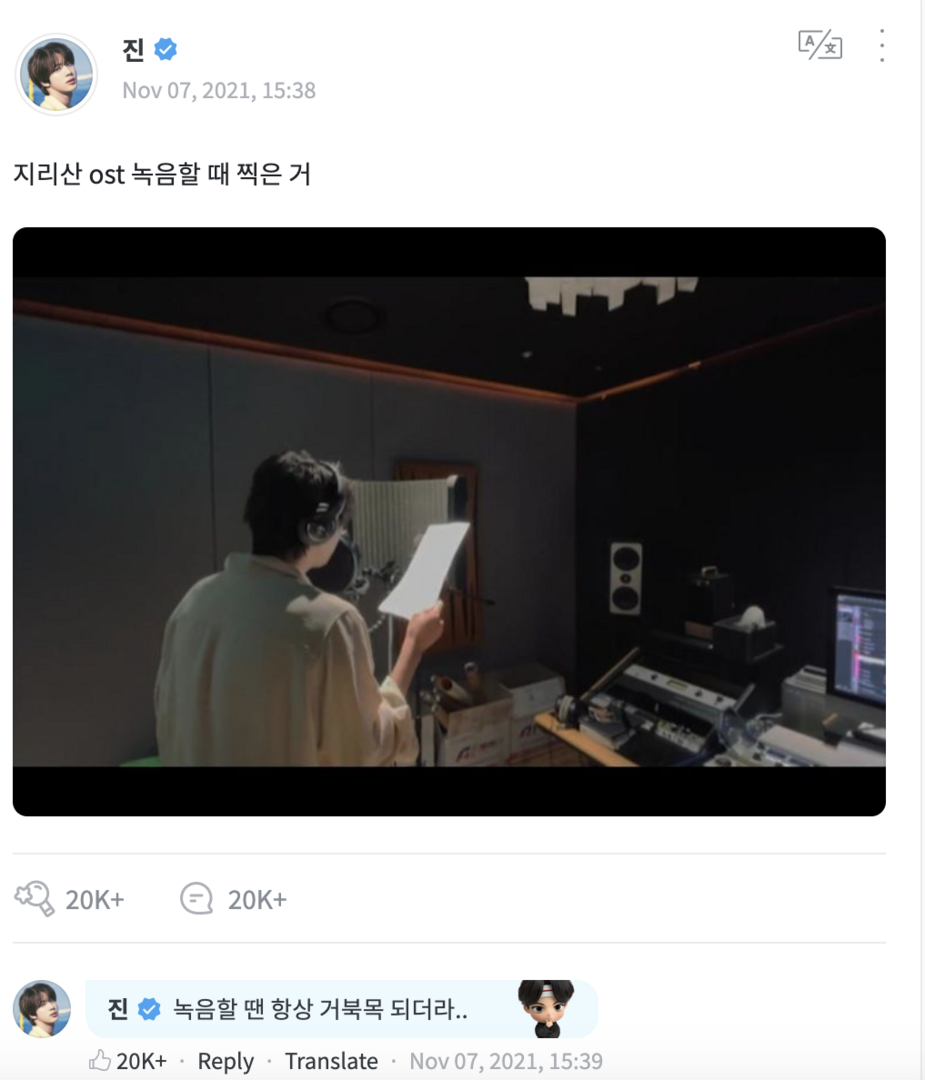 ---
The rest of the soundtrack will feature songs by Girls' Generation's Taeyeon, Gaho, NELL's Kim Jong Wan, Kim Feel, Paul Kim, JUKJAE, Inifinite's Lee Sungyeol, O3ohn, and Rothy. 
Jirisan stars Gianna Jun and Ju Ji-Hoon, with new episodes every Saturday and Sunday via iQiyi and TVN.
Check out the trailer here:
Like what you read? Show our writer some love!
---