The lineup for Joyland Bali is here. 
On 24 January, the Indonesia-based festival unveiled its lineup of acts performing at its Bali edition. Joyland Bali will be taking place across three days, from 17 to 19 March 2023 at The Nusa Dua.
Presenting to you our new home for #JoylandFestBali this year at The Nusa Dua 🌞

✅Time to book your accommodations!
👋🏼See you on the island 🌴

🎟️: https://t.co/xVfJDdmKKk pic.twitter.com/AHedzo8zSo

— Joyland Festival (@joylandfest) January 16, 2023
Last year, Joyland revealed that French pop-rock band Phoenix will be headlining the festival. Joining them are the likes of Sigrid, CHAI, Kunto Aji, Yura Yunita, Crumb, Summer Salt, Dipha Barus, Black Country New Road, Bloodmoon, Black Lips, Hindia, Black Midi, Teddy Adhitya, Plaur, Stars And Rabbit, and more. 
BANDWAGON TV
Here it is — our Joyland Festival Bali 2023 lineup🌞 with more to be announced!

Tickets on sale Friday 27/1 at 12pm WIB at https://t.co/xVfJDdmKKk 🎟️#JoylandFestBali pic.twitter.com/5QpGhG4YeI

— Joyland Festival (@joylandfest) January 24, 2023
On 27 February, the festival announced that they are also adding M.I.A to this year's lineup as a headlining act. 
From March 17-19, 2023, #JoylandFestBali will be transforming Peninsula Island into the most hypnotizing festival destination 🍄 We'll have music, comedy, films, workshops, market, and more.

So get your tickets now 👉🏻 https://t.co/xVfJDdmKKk. Daily passes are now available! pic.twitter.com/hmDGNbQgjr

— Joyland Festival (@joylandfest) February 27, 2023
Tickets will go on sale on 27 January, 12 PM JKT via Joyland. More information, including ticket prices, will be announced soon. 
Joyland Festival returned last year to Jakarta, featuring performances from Cornelius, Moonchild, Secret Number, Mild High Club, Afghan, PREP, Phum Viphurit, Tulus, SCALLER, Isyana Sarasvati, and more.
---
Check out the full lineup for Joyland Bali 2023 below.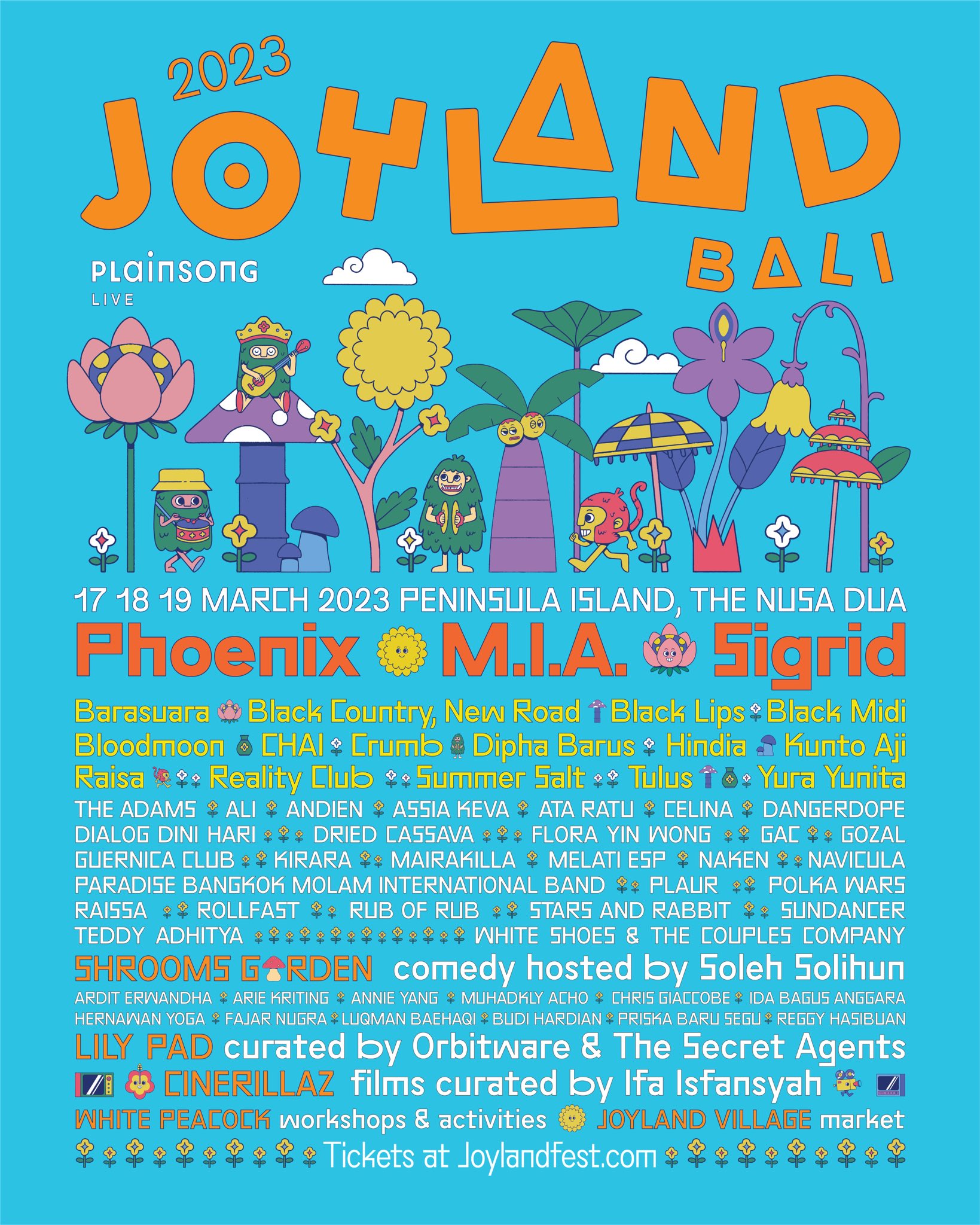 Like what you read? Show our writer some love!
---