Musicians! It's time to step out of your bedroom and hit an actual recording studio.
With the world well-adjusted to the ins-and-outs of surviving the ongoing pandemic, you and your band can (and probably should) make that commitment to recording and producing that epic single and/or album you've been working on. While it's totally fine to do things DIY, you can also level up your skills by teaming up with professional studio engineers who know what they're doing and do it with love.
Here are recording studios in the Philippines your band should check out:
---
BANDWAGON TV
Location: Muntinlupa City
Artists/Bands who recorded here: Juan Karlos, KZ Tandingan, Felip of SB19, Clara Benin, Lola Amour, Gabba, Nameless Kids, Chndtr, Elise Huang, Robin Nievera, The Ridleys, Over October. Allen & Elle, and many more. 
"Line In Records is an idea that started out in my bedroom back when I used to live in Singapore, just as a side hustle while studying," recording and mixing engineer Nikhil Amarnani says. "Line In Records officially opened as my personal space in June of 2019 and from then on we've been able to work with an amazing array of artists.
Line In Records is more of my personal studio, but as an engineer I offer recording, mixing and mastering. The mastering part is done by our mastering partner in Singapore, Raywyn Zayne."
---
Location: Quezon City
Artists/Bands that recorded here: Sponge Cola, And Bandang Shirley, We Are Imaginary, Coeli, Brisom, Ebe Dancel, Karylle, Rusty Machines, syd hartha, We Are Imaginary, Taken By Cars, Halik Ni Gringo.
"My college band wanted to record an EP and the studio we wanted to work at was always booked, so I decided to teach myself how to do it," Love One Another's Joey Santos reveals to Bandwagon. "20 years on I'm still learning new things about the recording process and the art of producing - I think that's why I keep coming back to music!"
Joey adds, "I am a music producer and I make records. Bands and artists who work with me usually are on the Rock / Indie Pop side of OPM. I help with crafting the song (pre-production and arranging), picking and adding instruments / session musicians (production), recording instruments and vocals, editing them, mixing, and then getting to the final master."
---
Location: New Manila, Quezon City
Artists/Bands that recorded here: December Avenue, Kamikazee, Franco, Parokya Ni Edgar, Typecast, Chicosci, Stickfiggas, Tanya Markova, Queso, Greyhoundz, Valley of Chrome, Wilabaliw and more
"Tower of Doom is a recording studio, music label, and production house. We offer a full range of services from audio recording, mixing, and mastering, to video services like lyric videos, music videos, livestreams, and more," Carlo Perlas, General Manager and Co-founder of Tower of Doom, shares with Bandwagon.
"Tower of Doom started as a tiny home studio based in a condo in Quezon City," he adds. "Our first projects were super DIY and low-budget, such as placing mattresses against the wall to absorb noise, or recording vocals in the bathroom to get that reverb sound, haha! Over time we built a small studio behind a sari-sari store that a family friend owned, then expanded into a multi-studio setup. Today we have two large studios in our new location in New Manila, QC."
---
Location: San Juan, Metro Manila
Artists/Bands that recorded here: The Itchyworms, Over October, Autotelic, Ebe Dancel, The Company, 46 Hope St., Urbandub, Parokya ni Edgar, Monolog, Conscious and the Goodness, Sleepwalk Circus, Belaire's, The Garceaus, KIIT, Boldstar, and many more
"Big Baby Studios started as Soundstage Research back in 1988 as the home studio of award-winning musician Sonny Nicolas," a representative of Big Baby Studios says. "In 2016, sons Peavey and Jazz Nicolas, along with the rest of the Itchyworms, professionalized the studio into a full-service audio production house and recording studio.
Big Baby Studios offers musical arrangement, recording, mixing, and mastering services for music by bands and artists, TVCs, AVPs, film, podcasts, jingles, working with some of the best producers and talent in the industry today."
---
Location: Laguna
Artists/Bands that recorded here: It's a secret for now (hehe).
"Aside from producing music for Ysanygo, we've been wanting to see how we could blend our perspectives with different artists on a track," Ysa Ferráz shares the story behind Adorable Human Studios. "It's always been a dream for us to work with more artists so we decided to open Adorable Human Studios.
We offer music production, co-production, and songwriting. At the moment, brainstorming with our clients happens online!"
---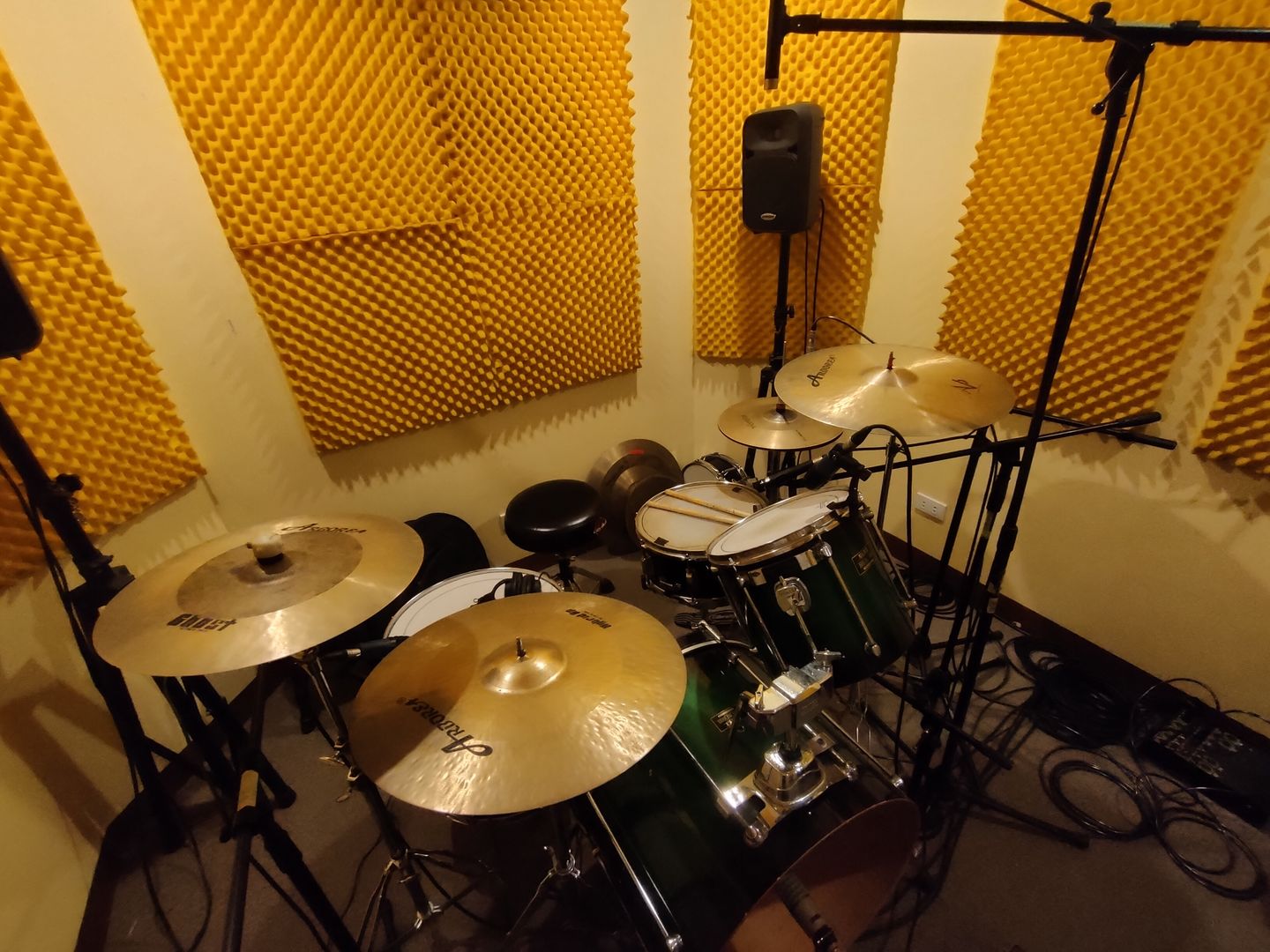 Location: Alabang, Muntinlupa City
Artists/Bands that recorded here: YR artists like Mayonnaise, Mojofly, and Sharlene San Pedro, Gracenote, Typecast, Razorback, and Marc Abaya; as well as celebrities like Alden Richards and Carlo Aquino
"Mayonnaise frontman Monty Macalino—founder and CEO of Yellow Room Music Studio—has always believed that having his own studio is a basic necessity as a musician, and would also be practical for his band's recording and rehearsal needs," a representative of Yellow Room tells Bandwagon. "When they won Muziklaban back in 2004, he was able to save up from the winnings and earnings from shows. He initially rented a small room in Westgate Tower Alabang in 2006, which was opened to the public by 2009. In 2013, he moved the studio to 1 Polillo St. inside Ayala Alabang village, where it officially became YR Recording Studio—home for Mayonnaise and other artists under the YR record label, students of the YR music school, and various clients from the industry.
The YR Recording Studio offers a wide variety of services - from basic recording and rehearsal packages, mixing and mastering, to arrangement and production assistance."
---
Location: Greenhills, San Juan
Artists/Bands that recorded here: Typecast, Mayonnaise, Join The Club, Barbie Almalbis, Juan Karlos, Miles Experience, St. Wolf, Flu, Brick City, bird. Lindenwood, Fern., Jason Dhakal, Jejaview, TNG, Alex Aiono, Shane Filan, and many more
"It really just started out because I wanted to record my band," This Is Where I Make Music's Hannah Jabla shares with Bandwagon. "Because it would have been cheaper to just buy an interface and a few microphones versus studio time, if you were to record an album. And what a rabbit hole that turned out to be.
---
Location: Marikina
Artists/Bands that recorded here: indie artists, rappers, big bands with horn sections, to mainstream artists—from Sandwich to Yeng Constantino.
"Kodama studio started in July 2015 when my family moved to Marikina from Tandang Sora due to the expansion of the Visayas avenue which affected my former studio Sound Creation," Shinji Tanaka shares.
---
Location: BF Homes, Parañaque City
Artists/Bands that recorded here: Apartel, Jun Lopito, Ely Buendia (Solo), Oh, Flamingo!, ena mori, Stereodeal, Cheats, One Click Straight, Pinkmen, and Nobody's Home to name a few.
"Originally Crow's Nest started out as The Bunker (10 years or so ago) as Ely Buendia's personal home studio," recording engineer and producer Audry Dionisio tells Bandwagon. "After renovation in 2018, since it was situated at the top floor, it only made sense to change the name to Crow's Nest. 
We offer services that any professional studio out there would: Recording, Mixing, and Mastering. We also have extra services where we provide clients with Producers, should they need one."
---
Location: Diliman, Quezon City
Artists/Bands that recorded here: Celebrities like Lovi Poe, Jericho Rosales, James Reid, Rhian Ramos, Christian Bautista, SB19, etc., as well as Reese Lansangan, I Belong To The Zoo, UDD, Autotelic, Bita and The Botflies, Gracenote, Sky Church, Lola Amour, Siakol, The Youth, Johnoy Danao, Ebe Dancel, Bullet Dumas, and more.
"The studio started in around 2006 when I started recording friends and schoolmates in a small room. It officially became a business and open to the public in 2009 as more bands wanted to record with us. We now have 3 fully functional studios and a variety of services to offer," Point Bee Multimedia's Aaron Gonzales says. "We record bands, solo artists, Voice Over dubbing, mix and mastering, make jingles, radio ads and musical scores. We also have live sound recording for film and videos."
---
Location: Surftown, La Union
Artists/Bands that recorded here: Ebe Dancel, SOS, crwn, August Wahh, Six the Northstar, and a few local bands in LU.  
"We have been going and playing as SOS in La Union for so long. Kiddo, owner of El union, always mentioned how cool it would be to have a music studio in Surftown," Roberto Seña shares with Bandwagon. "Almost ten years of drunkenly talking about it, it finally happened. King was doing a residency for Emerging Islands (an artist residency based in LU) and we were writing new material but he would be gone for two months. So, we went up and brought our gear with us. We had a small set up in the bodega of what the studio used to be. Long story short, Kiddo saw it and said we could make it happen between SOS/Bavarian Records and El Union. 
We offer production and recording services! The difference for our studio is that we rent it out for half or the whole day so you can really zone in while being in a comfortable place away from the city."
---
Location: Cebu City
Artists/Bands that recorded here: Wonggoys, Lourdes, Vincent Eco and a bunch of singles for upcoming artists. Other local bands like The Sundown, Sepia Times, Mandaue Nights, Sansette, Relden, etc.
"The studio was built out of necessity and convenience for me as a music producer," Cattski Espina, founder and in-house music producer of Room 11, tells Bandwagon. "I was utilizing other recording studios in Cebu prior to Room 11 but because booking and availability had been a challenge, I decided to build the studio in 2017. It was also built as a form of business expansion for my record label and music agency 22 Tango Music Group. Though the studio is available for the general public, our artists have the convenience of using the studio for their singles and album releases."
---