Kicking off the concert-filled and festival-laden 2014 is Phoenix, Live at The Star Performing Arts Centre. This is the first time we will be graced by their presence in our lands so you can expect their performance to be a much anticipated one. Their breakthrough fourth album Wolfgang Amadeus Phoenix may have been released in 2009 but we sure haven't forgotten them. The most recent and experimental album 'Bankrupt!' kicked off with a bang and they displayed their experimental side by playing around with some K-pop synth melodies and extravagant music videos. Thanks to Now/Live, we'll soon experience this in real time. 
But before the show, here's some tidbits on Phoenix, along with an accompanying playlist:
---
1. They had roots in Daft Punk.
Phoenix are not the first French rock band around. In 1992, way before the success of Grammy-winning album Wolfgang Amadeus Phoenix, guitarist Laurent Brancowitz was in a band with Thomas Bangalter and Guy Manuel de Homem-Christo called Darlin', after a Beach Boys song of the same name. When Darlin' released their songs, the newspaper Melody Maker called their music "daft punky trash." The band disbanded, Brancowitz went on to pursue mega success with Phoenix and the other two? They put on some spiffy helmets and became Daft Punk...whoa.
BANDWAGON TV
2. Once, they were not welcomed in France. 
They may be indie rock's darlings in all of the lands but back in France, they were once, and maybe still disregarded as a 'French' band because their music is in English. 40 percent of music on French radio had to be in French so local critics and peers were pretty unimpressed when Phoenix debuted as a English-singing band from Versailles, France. Ah the snobs. According to Thomas Mars: "We also came to cherish the fact that there was no one in France singing in English—we were so happy to be the first. Even if we are traitors to our country, which I'll never understand, because we talk about things that are very French."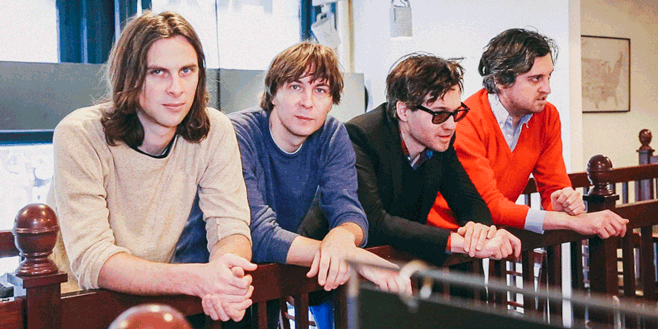 3. Bankrupt!'s lyrics influenced by... Teenage Mutant Ninja Turtles? 
Lyrical content-wise, Phoenix have gone on to say that their lyrics do not make any sense. Still, they encourage listeners to find meaning in their lyrics, anything that applies to them. Educational. Thomas Mars also remarks that our favourite fictional turtles don't make sense, but still nonetheless interesting: "They don't make any sense! They're named after Italian Renaissance characters! They're ninjas! Their master is a rat! They're mutant turtles - that's probably the best part!"
4. Every Phoenix album has to be under 40 minutes long - it's a strict rule. 
Mars for AV Club: "I think every artist needs a rule that's stupid but that helps him, like a deadline would. We use this like a frame. To have 10 tracks, we know it's gonna be short and dense. My favorite albums are really short. I'm a lazy guy. I can't focus for too long. I'd rather hear a record that has no filler."
That saying, when describing the track 'Love Like A Sunset Part 1' from their previous album, Mars said that it was intended to be a 25 minute song. He also said that he loves "songs where you forget that hearing a voice is even a possibility, and then suddenly one comes in." Damn son, how about we introduce him some ANECHOIS. 
5. Everyone might know this, but it's so good to re-visit this: Phoenix x R Kelly
Remember when the 'Ignition' singer joined them on stage for their set at Coachella? Yep, everyone did, and everyone was also perplexed. Brancowitz revealed that they are actually huge fans of R Kelly and are part of a 'secret society of people in music and other creative fields' that know of his 'genius'. Bit hard to believe but okay, sure. 
---
PHOENIX Live in Manila is happening on August 15, 2017 at the Araneta Coliseum.
Like what you read? Show our writer some love!
---