Coldplay's ninth studio album Music of the Spheres is finally upon us. 
Produced by legendary pop hitmaker Max Martin, the 12-track LP is a follow-up to 2019's Everyday Life.
Building up to the much-anticipated release of their new album, the band issued a hand-written note with the quote: "Everyone is an alien somewhere." This, along with the tracklist which features song titles represented only by emojis such as 🌎  and ♾️  evidently hinted at the sci-fi direction Music of the Spheres was going to take.
BANDWAGON TV
Long-time fans of the band should be rejoicing right now as this is their biggest comeback since the 2000s. The band's inception has led to them selling more than 100 million copies of eight number 1 albums featuring anthems such as 'Fix You,' 'Yellow,' 'Paradise,' and of course 'Viva La Vida.' 
Coldplay first hit the Billboard Hot 100 Number 1 in 2008 with the anthemic 'Viva La Vida' and now they have done it again—their collaborative track with BTS entitled 'My Universe' debuted at Number 1, making this the first single co-written by two bands to reach that status.
Prior to the album drop, Coldplay unveiled 'Overtura,' an introduction to Music of the Spheres.
In the video teaser, you'll find that each song represents a cosmic journey through an undiscovered planet.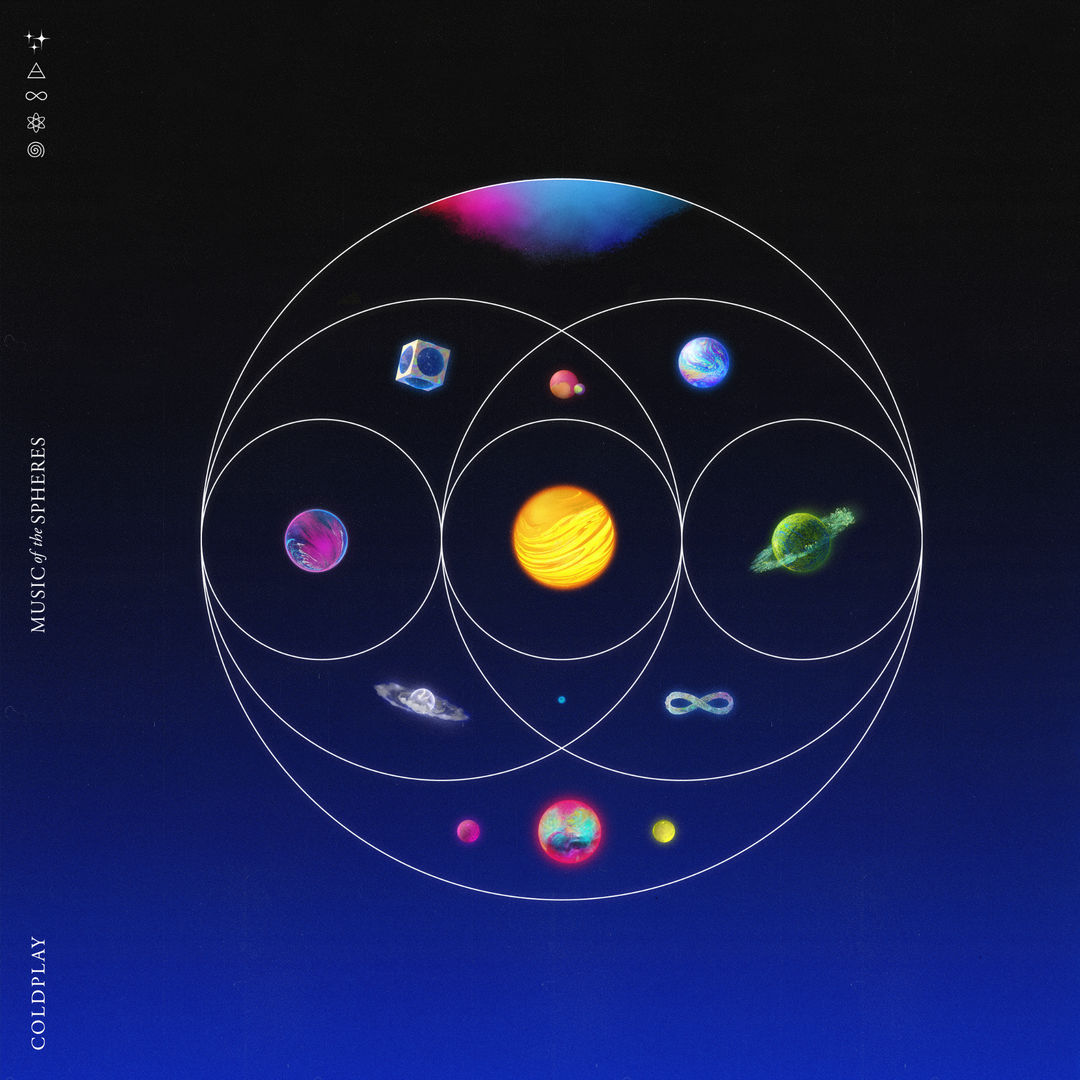 So what can we expect from the new album Music of Spheres? Here's a track by track of the songs on Coldplay's latest record.
The album begins with the introductory 'Music Of The Spheres i' which is a short ambient track that bleeds into 'Higher Power.'
As an anthemic lead track, 'Higher Power' was released as the first single off the album in May this year. The melodic tune with a rather catchy chorus has since been streamed more than 160 million times. It seems that Music of the Spheres was intended to be a concept album as this intergalactic/post-apocalyptic theme is prevalent throughout the tracklist, particularly in the music video directed by Paul Dugdale which features the band performing as alien holograms on a fictional planet.
Fun fact: 'Higher Power' first made its official debut on the 6th of May when it was played onboard the International Space Station after Coldplay connected with French astronaut Thomas Pesquet from the European Space Agency (ESA).
The transition into the next track 'Humankind' is almost seamless. As the title suggests, this song is about how we're all inherently human even if we may be "from another planet." Off the bat, the uplifting tone of this track is incredibly reminiscent of the Mylo Xyloto era as their fifth studio album was also a concept record which featured various thematic songs. 
The subsequent song 'Alien Choir' is more of an interlude, and is evocative of 'Life in Technicolour' from Viva La Vida or Death and All His Friends. 
Following that, 'Let Somebody Go' offers a change of pace from the more upbeat anthems in the album. Featuring Selena Gomez as a guest vocalist, this is definitely one of the more stripped-down numbers on Music of the Spheres as you'll find Chris Martin playing the piano as he belts out the lyrics to what is seemingly a break-up song. 
Now onto 'Human Heart.' This is a track that Coldplay has performed live several times—watch the band perform for Global Citizen in New York's Central Park with other notable acts such as British musician Jacob Collier and R&B sister duo We Are KING.
In the live performance, Chris Martin mentioned that "this is a quiet song for somebody you love." Indeed, the sixth track on the album takes on a more minimalistic approach as it does away with the overproduction and instead, focuses on the vocals of Chris Martin alongside Jacob Collier and We Are KING sisters Amber and Paris Strother whose soulful voices really make this a stand-out track. 
Next up is 'People of The Pride' which is a really refreshing track in my opinion as it sounds like an orchestral rock ballad—if anything, this would definitely be a banger when played in larger concert venues such as stadiums. Chris Martin told Entertainment Weekly that the opening to this track was inspired by none other than Beyoncé herself: "I was watching her show and was like, Oh my God, what song is she about to go into? And then she just stopped and went to another song. Afterwards, I asked her, 'What was that piece of music?' She said, 'I don't know, just some interlude.'"
'Biutyful' is the track that follows, and this opens with a pitched-up voice singing before Chris Martin chimes in during the chorus. Admittedly, this wasn't as impactful as the previous two songs which sounded fuller and left a greater impression as a whole.
Like 'Alien Choir,' 'Music Of The Spheres ii' is more of an intermission track that leads into 'My Universe,' the hit song that everyone has been raving about, and for good reason. The massive single has not only shattered records internationally but has also achieved the biggest first-week download number in the UK this year. 
In a behind-the-scenes documentary that shows footage of Coldplay recording with BTS in Korea, Chris Martin explains the unifying message behind 'My Universe': "The song is about how the power of love transcends all things, borders and rules, and genders, and race, and every sexuality. If you look at people right now who are divided by a border or can't be together, that's what the song is about; about how nothing can stop people loving each other."
Coming in succession to the critically-acclaimed 'My Universe' is 'Infinity Sign,' an ambient electronic track that may be minimal on the vocals but has a nice atmospheric vibe going for it.  
The closing track on the album is 'Coloratura.' Clocking in at 10:17 minutes, this is by far the longest song on Music of the Spheres but that's exactly why it makes for a good finale to the album. Compositionally, the interstellar song's prog-rock elements and dynamic instrumental segments set it apart from the other tracks.
While 'My Universe' has definitely multiplied the band's fanbase, this reflective track is more of a nod to the diehard Coldplay fans who have been here since Parachutes and A Rush of Blood to the Head. The ethereal quality of this song is matched with the prismatic lyric video which will take you on a space-bound adventure. If you're big on astrology, you will also be delighted to find references to not just the "Betelgeuse" star but also the interstellar object "Oumuamua." 
All in all, Music of the Spheres is a space-themed album with feel-good vibes, and an even blend of tracks that will resonate with all fans, whether they've just gotten into the band or have been awaiting their return. 
Stream the album here:
---