Head In The Clouds took over Jakarta last weekend! Held across two days on 3 and 4 December, the festival curated by 88rising featured a mix of hometown heroes and international acts on the lineup.
With thousands in attendance onsite at Community Park PIK2, more fans tuned in via the exclusive livestream on Vidio. The Indonesia-exclusive livestream garnered almost 900,000 views and was watched for 9.3 million minutes, breaking and setting Vidio's record as the highest watch duration on a single music event on the streaming platform.

Across the two days, 88rising brought together a multitude of artists and genres for unforgettable performances on the 88rising stage and Double Happiness stage. The likes of homegrown acts NIKI, Rich Brian, Warren Hue, Voice of Baceprot, Stephanie Poetri, and BAP, performed to thousands of fans celebrating and supporting Indonesian artists. International acts Joji, Jackson Wang, (G)I-dle, eaJ, YOASOBI, KASKADE, BIBI, Chung Ha, Ylona Garcia, and more also joined in the fun and had the crowds cheering, singing, and dancing to the music.
BANDWAGON TV
In a press statement, 88rising Founder and CEO Sean Miyashiro shared, "Putting on this show for our amazing fans in Indonesia has been a goal for 88rising for many years. Being able to bring everyone together and have a massive homecoming for so many of our artists was an incredibly special experience. I cried both days because this was such a long time in the making and I knew how special it is for NIKI, Brian, Warren and Stephanie. When I first started talking to all of them they were all in Indonesia, it is where a lot of what 88rising is today, has started." 
The heat and humidity at the festival were no match for the fire that the artists brought onstage and the energy that the crowd gave back. Here's a look at the highlights of HITC Jakarta:
Day 1
STEPHANIE POETRI
After the festival opened with the national anthem of Indonesia, Stephanie Poetri kicked off the show with 'Selfish', followed by 'Picture Myself.' She then continued with 'Bad Haircut' where in the middle of the song, she brought out Indonesian pop singer Vidi Aldiano, the first of her musical guests. Another unforgettable moment was when she shared the stage with her mother, Indonesian diva Titi DJ. Together, they performed a heartfelt song titled 'Sang Dewi' before Poetri closed her set with her hit, 'I Love You 3000.'
---
ZICO
ZICO fired up the stage with 'Tough Cookie' and 'Freak,' made the crowd dance with 'Artist,' and then slowed things down with 'Any song'. Trying to beat the heat, the Korean hip-hop act splashed water on himself (and onto the audience, too) as he bopped to 'Eureka.' The rapper ended his set with 'Boys and Girls.'
---
(G)I-DLE
Returning to Jakarta after their headlining concert last August, (G)I-DLE brought their A-game to HITC. Performing their tracks 'LION,' 'LATATA,' 'LIAR,' 'MY BAG,' 'POP/STARS,' and 'TOMBOY,' the self-produced K-pop act showcased their synchronised choreography and powerful vocals.
---
JOJI
The crowd roared the moment Joji and his band entered the 88rising stage. Starting off slow with 'Sanctuary' and 'YEAH RIGHT,' Joji set the tone for the Jakarta leg of his SMITHEEREENS tour. The artist, who's also set to perform at HITC Manila, took things up a notch with 'Gimme Love,' before closing his performance with 'SLOW DANCING IN THE DARK' and 'Glimpse of Us.'
---
NIKI
Closing Day 1 was Indonesia's pride, NIKI. Her band played a fitting intro before she entered the stage with her acoustic guitar and played 'Before' and 'Keeping Tabs'. She shared how she missed Jakarta at the start of the pandemic and proceeded to sing fan favourite 'Vintage,' emotional piano ballad 'Lose,' and soulful bop 'La La Lost You.' Paying tribute to her teenage years in Indonesia, NIKI and her band changed into school uniforms before launching into 'High School in Jakarta' and closing the night with the hit single from the Shang-Chi OST, 'Every Summertime.'
---
Day 2
WARREN HUE
BOY OF THE YEAR Warren Hue welcomed Day 2 with fiery songs like 'IN MY BAG' and 'DEMOSTAR BEENLIT' from his well-received debut album. The rising Indonesian rapper owned the stage and showed everyone that he's an artist to watch out for in the years to come.
---
BIBI
BIBI wasted no time and kicked off her set with her newly released single 'Blade'. Showing her appreciation for the crowd who turned up, BIBI spoke a few words in Bahasa Indonesia, and mentioned that she likes spicy Indonesian foods. The hot Jakarta afternoon got hotter with BIBI spicing things up with 'BINU,' 'PADO', and 'KAZINO'.
---
BAP.
A massive crowd gathered to see Indonesian hip-hop icon BAP. at the Double Happiness stage. He opened with 'BIG HATE,' before performing tracks from his critically acclaimed album MOMO'S MYSTERIOUS SKIN. Also performing older material like 'GOYA,' the 2022 AMI Awards winner proved how Indonesian music can hold its own in the international scene.
---
YOASOBI
While it was the first time for the  Japanese duo to perform outside Japan, YOASOBI didn't look like newbies on the 88rising stage. The pair started their performance with their hit '夜に駆ける (Yoru ni Kakeru),' follower by their new single from the new Gundam series '祝福 (Shukufuku)'. Ayase and Ikura wore orange jumpsuits with colorful paint all over, introduced themselves, and shared how happy they were to be able to perform in Jakarta. After slowing things down with the mellow 'たぶん (Tabun),' YOASOBI started a crowd singalong with their '群青 (Gunjō) and ended with their usual closer, 'あの夢をなぞって (Ano yume o nazotte).'
---
CHUNG HA
CHUNG HA has saved the best for last. In her final performance of 2022, the K-pop star stunned the audience with her catchy hooks and mesmerising choreography as she took her latest album Bare&Rare, Pt. 1 to the 88rising stage with songs like 'California Dream' and 'Sparkling'.
---
eaJ
In what may be an attempt to "blend in" with the festival crew, eaJ eased his way to the 88rising stage donning an HITC Jakarta STAFF t-shirt and cap. The singer-songwriter filled his 40-minute set with tracks like 'Friendly Fire,' 'Voices,' and 'Car Crash.' He also flexed his language skills by trying to speak a few phrases in Bahasa Indonesia and made his way around the barriers to get closer to fans and say his thanks.
---
JACKSON WANG
A true performer, Jackson Wang never disappoints. He took the MAGICMAN experience to HITC Jakarta, showcasing his incredible stage presence, powerful dance moves, and impressive theatrics. The multihyphenate, together with his league of dancers, gave it their all onstage as they performed tracks like '100 Ways,' 'Champagne Cool,' and 'Blow'.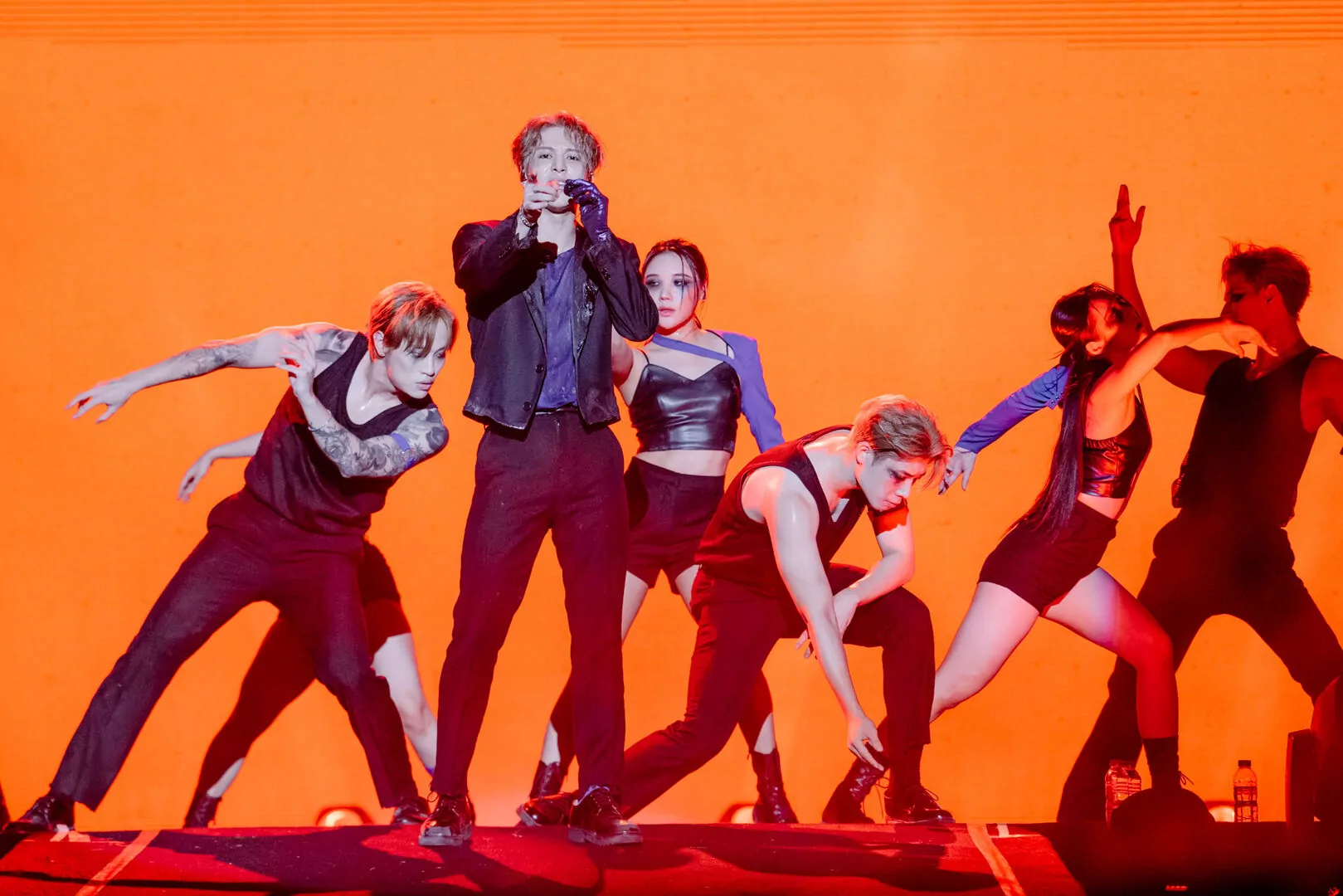 ---
RICH BRIAN
The hometown hero got the warmest welcome as the massive crowd chanted his name repeatedly. Starting his headlining performance with a marching band, Rich Brian counted down to 'Vivid' before going on to perform 'Lagoon' and 'Gospel,' 'Cold,' and 'Who That Be' with his live band.
Brian also performed his rendition of 'Tokyo Drift Freestyle' before taking a breather with 'History' and 'Curious.' Honoring his roots, he talked to the crowd in Bahasa Indonesia, saying how he was born in Indonesia and that English is just his second language. 
Brian brought out the choir for 'Glow Like Dat', 'Yellow,' and 'Drive Safe.' He then continued with 'Kids' before closing his set with 'Edamame' and 'Slow Down Turbo.'
---
FINALE
The encore HITC fans have been waiting for: the finale. After a ten-minute wait, Stephanie Poetri and Jackson Wang showed up and sang 'I Love You 3000 2.' Japanese quartet ATARASHI GAKKO! then went onstage for 'NAINAINAI,' while YOASOBI were joined by Warren Hue for an English version of a YOASOBI medley.
Brian teamed up with Warren for 'Getcho Mans' and continued with 'California' sans NIKI.
To end the 2-day festival, AUGUST 08 led the performance of 'Midsummer Madness,' asking the crowd to sing along with them.
Like what you read? Show our writer some love!
---