While live concerts and festivals now run aplenty with the world opening up again, there's still something so charming about catching one online. From waking up and going straight to festival mode to head banging to your favourite tunes in your pajamas, there's an eccentric beauty and fun that go along with singing and dancing along to a livestream, especially those hosted by 88rising. 
This past weekend, the Asian music collective held the latest instalment of Head In The Clouds LA at Brookside at the Rose Bowl in Pasadena, California. The music festival, known for its star-studded lineup and unforgettable performances, also took the famed West Coast party to the digital sphere with Amazon Music and Twitch—which is how we tuned in from all the way across the world. 
THANK YOU LA. HOPE WE MADE YOU PROUD. NOT DONE YET. BIGGER THINGS SOON. ALWAYS RISING ❤️ #hitcla #headintheclouds

📷: @AliveCoverage pic.twitter.com/ufBOwkBV0t

— Head In The Clouds Festival (@hitcfestival) August 22, 2022
This comes as 88rising's first festival of the year, with editions of Head In The Clouds making its way to Jakarta and Manila this December.
With little yet known for the upcoming Southeast Asian festivals' lineup, many fans are hoping that Head In The Clouds LA serves as a preview for what's to come as the likes of Joji's DJ set YEBI LABS, Rich Brian, Jackson Wang, Chung Ha, MILLI, BIBI, eaJ, Jay Park who was also joined by pH-1 and Sik-K, Warren Hue and Chasu, Raveena, keshi, Ylona Garcia, mxmtoon, and more take the stage. 
BANDWAGON TV
Here are some highlights from the Head In The Clouds LA 2022 livestream.
---
MILLI
If there's anyone who knows how to make their Head In The Clouds debut one worth remembering, it is none other than the ever colourful MILLI. Packing in a punch right from the beginning of what was going to be a long weekend, the Thai rapper made quite the impact with her cloud-shaped hat that matched perfectly with the clouds adorning the main stage and her zestful verses that immediately got the party started. 
Across her dynamic set, MILLI proved why she's a rising rapper that you need to pay attention to. From her fast-paced flows and sincere interactions with the crowd, the 'SUPDANG!' act was vibrant, exciting, and an absolute delight to watch. 
---
CHUNG HA
Injecting the festival with some upbeat pop and hypnotizing choreography, Chung Ha rocked the main stage, certainly making her mark at her first-ever Head In The Clouds.
After opening her set with ever infectiously fun choreography and stable vocals, the K-pop star shared how she was initially nervous and worried about the crowd not knowing who she is which was soon proved wrong as she earned some of the loudest cheers we've heard that entire weekend.
The rest of her 30-minute set was a shining display of her talents, showcasing her versatility as a performer and her innate command of the stage. Chung Ha even took the time to sign a fan's album during her performance. 
---
JAY PARK 
From the moment he stepped on stage, Jay Park was met with an excited crowd relentlessly chanting his name and for a good reason. The Korean rap icon delivered one of the most energetic sets of the weekend; even if you were viewing through the livestream, there was no way you weren't up on your feet dancing. 
Jay Park performed fan favourites like 'All I Wanna Do', 'Me Like Yuh', and 'Yacht' before bringing out surprise guests and longtime collaborators pH-1 and Sik-K—which of course, earned a chorus of cheers and screams. As the sun set, the trio brought the heat, kickstarting a party that you wouldn't forget as they performed 'Iffy', 'Telefono', and 'The Purge'. 
---
MXMTOON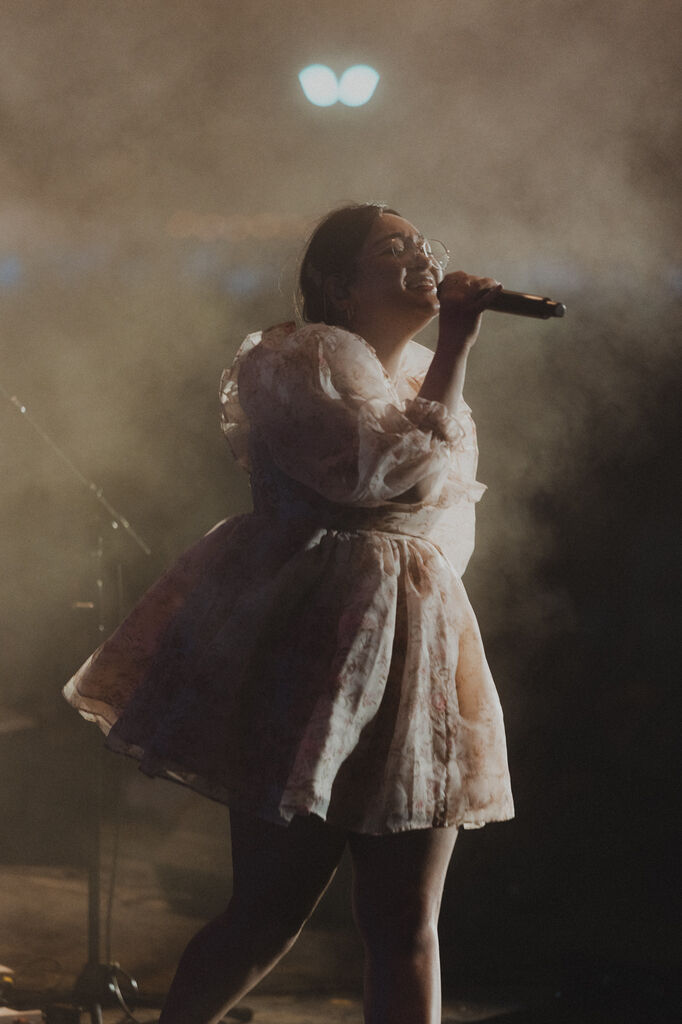 mxmtoon has always been a bundle of warmth and her Head In The Clouds debut was no different. Her 30-minute set, which consisted of songs like 'fever dream', 'prom dress', 'coming of age', and more, felt like reuniting with a friend you haven't seen in a while at a party where you barely knew anyone. It was cute, homey, and just feels like a big hug. 
Beyond just transporting everyone into her very own 'sad disco' that was not in any way sad, the indie singer-songwriter also interacted with the crowd with such each as she snapped her BeReal for that day and even talked about her current obsession, Valorant. It felt like a scene straight out of her Twitch streams, just outside with thousands of people right beside you. 
thanks @hitcfestival pic.twitter.com/2OEGc6Apcx

— maia (@mxmtoon) August 21, 2022
Before closing our her performance, mxmtoon took a moment to point out how big of a deal it was for her to be here, thanking 88rising for shining a light on Asian culture and artists. "To be surrounded by people who are so proud of their culture, to be by people who are so proud of the music that they make, to be with people who are so excited to share that music with each other – thank you so much for being here, this means the world," she said.
---
KESHI
keshi wasn't originally part of this year's lineup. Turning up at the last minute to help out NIKI, who had to sit the festival out because of COVID-19, the singer-songwriter booked a last-minute flight to LA and gathered his crew and whoever he could to conjure up a headlining performance with only a day or two to prepare. 
But from the moment he took the stage until he closed out his set with '2 soon', keshi's performance felt like it was always meant to be there. 
Laidback vibes and easygoing grooves, keshi had the crowd singing to every single word of tracks like 'SOMEBODY', 'beside you', and 'drunk', showing his undeniable effect on fans that two days ago weren't expecting to see him up on that stage. 
---
YLONA GARCIA
Similar to last year, Ylona Garcia was first up on the bill for Day 2 but this time, she moved up to the main stage where her charming spiels and sassy performances drew in a bigger crowd. The Filipino-Australian singer began her set with her groovy single 'Vibin', setting the mood for what the rest of her set was going to be like: outright fun. 
Interspersing her set with fan interactions and lovable adlibs, it's clear that Ylona was born to be a performer. Seamlessly moving from upbeat tempos to emotional declarations of gratitude, the singer-songwriter poured her entire heart onto that stage and the crowd loved every moment of it. 
---
ATARASHII GAKKO!
At this point, we're all familiar with ATARASHII GAKKO!'s charmingly chaotic antics and their strange yet lovable performances but we're still never sure what to expect. 
In true ATARASHII GAKKO! style, the quartet started their set on top of one another as they signalled the beginning of their take-over with such power and precision. Never missing a beat or queue, the Japanese act introduced themselves much like a superhero squad, complete with their own iconic poses as they invited the crowd to dance along with them. 
In just over 30 minutes, ATARASHII GAKKO! performed energetic tracks like 'CANDY', 'OTONABLUE', 'Pineapple Kryptonite', and more. 
---
WARREN HUE & CHASU
Warren Hue has been no stranger to the stage this 2022. Earlier this year, the Indonesian rapper took over LA and New York with his Party In The West concert series and that confidence radiated throughout his entire set, as he made the grand main stage his home for the next 30 minutes.
There's something so mesmerising about how Warren handles a crowd. Armed with so much energy and passion, the young rapper has no problem getting the entire festival to sing, dance, and clap along. Joined by longtime collaborator and producer Chasu, the duo tore up the stage as they performed tracks from the 'candy choppa' act's newly released album, BOY OF THE YEAR even bringing on 'IN MY BAG'  collaborator tobi lou. 
---
BIBI
Without even uttering a word, BIBI has the power of commanding everyone's attention the moment she takes the stage. Entrancing everyone with her stage presence, the Korean rising star showered Head In The Clouds with nothing but love and the crowd returned it in tenfolds. 
Whether she was grooving on stage or playfully singing about 'Cigarettes & Condoms', the versatile act charmed the ground with her bubbly personality and captivating voice as she performed crowd favourites like 'Best Love', 'KAZINO', and 'The Weekend', and even unveiled tracks from her upcoming album, The Lowlife Princess. 
---
EAJ
The last time we saw eaJ take the Head In The Clouds stage, he was clad in black with something to prove. This year, he returned with only one goal in mind: to have fun. With a brighter atmosphere and a bigger smile, the singer-songwriter radiated positive vibes and gratitude as he took on the festival's main stage, drawing in quite the crowd, both in real life and on the livestream. 
eaJ debuted tracks from his upcoming album and also performed his first official track 'Car Crash' which he dropped earlier this year. In between rocking out on stage—despite feeling a bit under the weather, the 'Pacman' act thanked the crowd and reminded everyone that they're not alone. 
---
RAVEENA
 

 

View this post on Instagram

 
Taking a break from the high-intensity performances to slow things down was Raveena. Healing our inner child and sending waves of positive energy, the singer-songwriter took us on a psychedelic, trance-like journey through love and personal growth across her 30-minute set. 
With a voice so soft and delicate and a presence so captivating, Raveena's performance was such a refreshing change of pace, taking us away from the festival rush to slow down and simply take in the music. The 'Secret' act even brought in a new side of Asian culture to Head In The Clouds, with her songs in English, plus Hindi and Punjabi, and bringing together sonic influences from the East and the West. 
---
RICH BRIAN
You could also trust Rich Brian to turn up the party. The Indonesian rapper delivered one of the greatest sets Head In The Clouds has seen that entire weekend, proving once again why he continues to be one of rap's brightest stars and most exciting performers.
Ever the expert in knowing when to bring the crowd's energy up and down, Rich Brian performed party hits like 'Edamame' and '100 Degrees', as well as his version of Teriyaki Boyz's 'Tokyo Drift', and slowed things down with earnest renditions of 'Glow Like Dat' and 'Drive Safe'. 
---
JACKSON WANG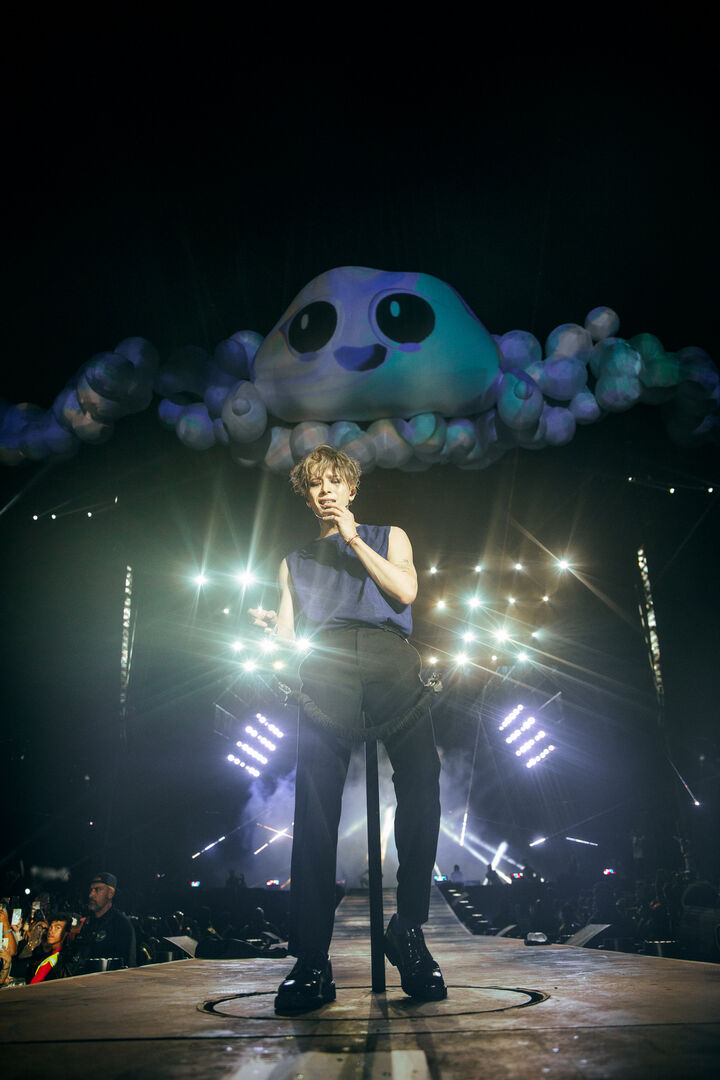 Drawing one of the biggest crowds of the entire festival, both on the grounds and on the livestream, was none other than the MAGIC MAN himself, Jackson Wang. The multihyphenate put on the performance of his life on the festival stage as he unravels the world of desire and temptation that he's built for his upcoming album.
Jackson has now taken several iterations of the "MAGIC MAN experience" all over the world but it takes you by surprise every time. From the intensity and fire that washes over him as he takes the stage to his vocal prowess and captivating stage presence, the 'Cruel' hitmaker showed what an all-around performer he was.
Living up to the party boy aura he's been rocking recently, Jackson even drank champagne straight out of the bottle before jumping back into dazzling performances that everyone in a trance. 
---
FINALE
With 88rising, it's always been about family. So, it was only right to bring out the entire crew to bid farewell to another festival for the books. With performances by Jackson Wang, Rich Brian, Warren Hue, Chasu, MILLI, and ATARASHII GAKKO!—and even a special appearance by critically acclaimed actress Michelle Yeoh, the festival came to a close with everyone wearing a huge smile on their face. 
ALWAYS RISING LA #headintheclouds #HITCLA

📷: @AI_VISUALS pic.twitter.com/1fcX7XF2ZY

— Head In The Clouds Festival (@hitcfestival) August 22, 2022
In what has now become a Head In The Clouds tradition, AUGUST 08 takes the stage as he guides the crowd into a giant sing-along of 'Midsummer Madness', ending of course with an acapella repeat of its chorus.
It's this very moment that reminds you why the festival draws in quite the crowd every year, it's a celebration; a celebration of good music and good food, a celebration of everything that's brought us here, and of course, a celebration of a culture that never quite got the attention it deserved. In the words of Jackson Wang, "Asia, we're always rising."
---
88rising will be bringing Head In The Clouds to Asia this year, starting with Jakarta this 3-4 December followed by Manila this 9-10 December. 
Like what you read? Show our writer some love!
---