Taking place at Archifest 2016 from 24 to 30 September, DRONE is a one-of-a-kind immersive digital experience designed to introduce brain entrainment to the public at large.
But wait, what is brain entrainment you ask? Well, "brain entrainment is a technique that stimulates the brain into specific states such as enhanced concentration, relaxation, meditation or sleep induction using a pulsing sound, light or electromagnetic field."
VANS helped made it possible for us to bring you this week's news. (What is this?)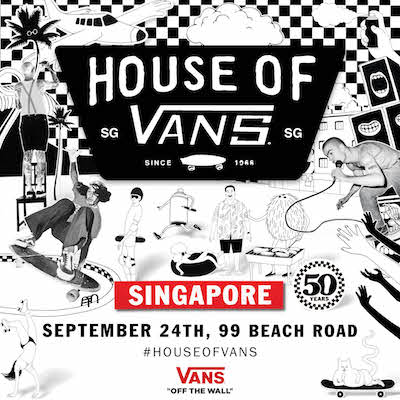 This particular digital showcase piece aims to employ binaural beats via audio stimulation in order to evoke brain's 'frequency following' response - thus "encouraging brain waves to align to the frequency of the pulse". Which is all a fancy way of saying that this experience will have the ability to alter mind states!
Combining productions by prominent beatsmith Jean Reiki (also of Singapura Dub Club) alongside a trippy virtual reality by designed by Warrior9's Race Krehel (music fans may know him as one-half of O$P$ and as the director for Yllis' '梦' video), this DRONE project occupies an individual's senses fully - meaning that this would be a great way to relax and escape this particular reality for a while.
BANDWAGON TV
Conceptualized by renowned visual artist Sam Lo (aka Sklo), this week-long installation certainly promises to be a highlight of this this year's Archifest. 
Taking inspiration from Archifest's zero-waste theme, the audio-visual booth (conceived by Soph O and Sam Lo) also features daybeds crafted from cardboard and miscellaneous found packing materials from the artists' studios - resulting in "a massive art jam featuring aural, digital and physical 3D artwork".
Watch a teaser for The Drone Travels below.
Like what you read? Show our writer some love!
---