The 2022 GRAMMYs has finally graced our screens after months of rescheduling, delays, and uncertainties — and it didn't disappoint. 
Live from the MGM Garden Arena in Las Vegas and hosted by Trevor Noah yet again, the ceremony featured a wide array of up-and-coming names alongside industry veterans, making an eclectic night with their impressive sets and unforgettable performances. 
All stops were pulled with impressive stunts, dance breaks, fully decked bands, and grandiose stage sets, pulling audiences — live and remotely — to revel in the passion and love for music the artists share on stage.
From a heartfelt tribute to Taylor Hawkins by Billie Ellish, to spectacular stages by Justin Bieber, H.E.R, Lil Nas X, Jack Harlow, BTS, and more, the 64th GRAMMY Awards proved that the wait was worth it, and one to remember for artists and music fans alike. 
BANDWAGON TV
Here is a roundup of the best performances from the 64th GRAMMY Awards.
---
BTS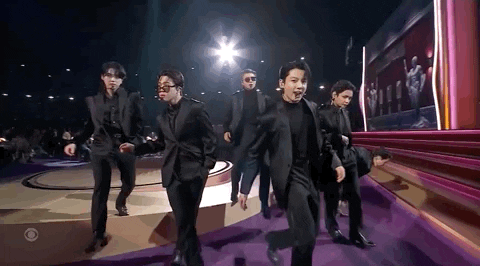 Surely BTS' appearance on this list is no shocker. Taking the internet by storm, the global superstars embodied the titular James Bond in their GRAMMYs performance of 'Butter', leaving audiences across the globe completely enraptured. Undoubtedly one of the most conceptual and elaborate stages to grace music's biggest night, despite the challenges they faced leading up to the show - from Jin nursing and powering through an injury, to Jungkook and J-hope testing positive for COVID-19 with little time for rest and recovery - BTS continue to remind fans and music-lovers alike that they're a force to be reckoned with.
Dressed in slick black suits, the group started off with their signature 'Butter'choreography before delving into an elaborate set of stunts and choreographed fights amidst streaks of light posing as photoelectric sensors. What followed was an impressive dance break that incorporated a jacket trick sure to be clipped and made iconic in the years to come. In a VLive broadcast, the group shared that they were happy with how they pulled off the stage together with The Lab Studios, as they only managed to match the stunts the day before, having two members in quarantine leading up to the performance. Nonetheless, the stage was a success, ending with a group pose to roaring cheers, not at all unwarranted. The stunning performance is a prelude to the record-breaking group's sold-out 4-night residency at the Allegiant Stadium which kicks off this weekend.
---
Olivia Rodrigo
While 19-year-old Disney star Olivia Rodrigo deservedly took home 3 Grammys, the young singer-songwriter also left behind a performance that was anything but "sour". Taking over a stage set that replicated suburban streets, the chart-topping pop princess sang an emotional and dramatic rendition of the song that shot her to popularity, 'Driver's License', supported by a live band. With her stunning vocal and breath control, the 'traitor' hitmaker made it hard for audiences to believe that this was only her debut Grammy performance, leaving so much to look forward to from this year's Best New Artist. 
---
Billie Eilish
Yet another young hitmaker had all eyes on her during her goosebump-inducing, electric performance of 'Happier Than Ever'. In true punk-rock-angst fashion, the 20-year-old stood on the roof of the set of a house, joined by her brother FINNEAS on the guitar, the stage crescendoing as the pair rocked out while head-banging in the rain. Additionally, the seven-time GRAMMY winner was donned in a Taylor Hawkins T-shirt, as a tribute to the late Foo Fighters' drummer.
---
Silk Sonic
Frankly, the Grammys couldn't have chosen a better act to open their 64th series. Held in Las Vegas, the dynamic and suave duo, Silk Sonic, performed '777', belting that they're "'bout to buy Las Vegas after this roll". With Anderson. Paak on the drums and Bruno Mars on the bass, the pair had the whole venue hopping and teeming with thrill over their indescribable charisma and overflowing stage presence. With regard to their opening performance, host Trevor Noah said it best, "Even if you don't have a girlfriend, they just stole her from you." 
It's hard to stop your body from moving to the beat of the catchy hit, especially when both R&B icons are dancing along to the tune even as they bang it out in their instruments. In a blues breakdown, we get a little glimpse of Bruno Mars' doing the Dougie with his guitar still strapped on, charming with his natural groove. With their soulful vocals and thunderous energy, the duo are sure to make you forget about everything but them for a moment of bliss. The only thing that could've made it better was if they also performed 'Leave The Door Open,' the song that won them 4 GRAMMY Awards including Song of the Year and Record of the Year.
---
Lil Nas X
Perhaps the most extravagant performance of the night, Lil Nas X's show-stopping medley of 'Montero' and 'Industry Baby' had everything from mid-stage costume changes, a critical dance breakdown, and a swift but impactful appearance from Jack Harlow. This marks the 'Old Town Road' hitmaker's sophomore performance at the GRAMMYs and has most definitely levelled up since then, in his own signature vivacious flair. 
Keeping stable amidst the fast and difficult footwork would be difficult for everyone but Lil Nas X. From street jazz to hip-hop, Lil Nas X breaks free of all categorizations in his artistry, showcasing a monster of a stage alongside his impressive team of dancers. 
---
Lady Gaga
With an adorably sweet video feed introduction by her longtime collaborator Tony Bennett, Lady Gaga was all glamour and poise during her performance of 'Love For Sale' and 'Do I Love You'. Dressed in a gorgeous green gown reminiscent of Marilyn Monroe's own in Gentlemen Prefer Blondes, the singer-actress cultivated a classic '50s showcase of her sultry vocals. From the night's jazzy performance to her own roots in dance-pop, Mother Monster solidifies her musical prowess, though, not like anybody was questioning it. 
What makes the stage explosive is Lady Gaga's stage presence which elevates the performance to something you would see on Broadway. Accompanied by her backup dancers, the powerhouse showed off not only her vocals but her showmanship as she controlled the stage with gestures and choreographed dance moves. 
---
Justin Bieber, Giveon, and Daniel Caesar
Cascaded in a glowing red light, Justin Bieber brings a never-before-seen edge to his hit track 'Peaches', kicking off the performance with an almost-ballad-like, piano rendition of the song. Joined by the vocal likes of Giveon and Daniel Caesar, the trio made the stage their own with unbelievable ease, simply strolling the stage whilst crooning melodies and exuding confidence. 
---
H.E.R.
Leave it to R&B goddess H.E.R to drop jaws with not just her soulful voice but also by bringing out the big guns by teaming up with legends like Jimmy Jam and Terry Lewis, Travis Barker, and music icon, Lenny Kravitz. Delivering a stunning drum solo before transitioning into 'We Made It' and the rocking hit of a song, 'Are You Gonna Go My Way', the 'Hard Place' singer fashions a performance for the books, all while maintaining her cool with a chic pair of sunglasses.
---
Jon Batiste
Jon Batiste brought a joyful night with his Record of the Year-nominated song, 'Freedom,' showing us why he is the most nominated artist of the ceremony in the grandest stage of the night. 
Decked in a blue suit and a cape to match, Batiste knocked out an impressive piano intro before moving to the crowd, ending up on top of Billie Ellish's table, belting out "Now it's your time, You can shine" to a screaming audience. 
Exuberant and quirky, the singer delivered not only a show-stopping set with his colourful stage and team of dancers but also expert choreography tinged with his charisma that just pulls you in, leaving you reeling for more even after it ends.
---