Kiana Valenciano, or artistically known as Kiana V, has had a winding musical journey but, to say the least, it was all worth it. 
Born to one of the Philippines' most recognisable families in the entertainment industry, the Filipina singer-songwriter had her entire childhood under the spotlight. Constantly pressured to live up to her last name, Kiana initially never wanted to pursue music. 
"Growing up surrounded by musicians, I was certain I wanted to pave my own way and do my own thing. I thought that meant pursuing a totally different field and career," she tells Bandwagon. "But I kept finding myself being drawn back to music. I was abroad on a summer course and spent my time writing and recording with a friend in between classes. That's when I knew I couldn't turn away anymore."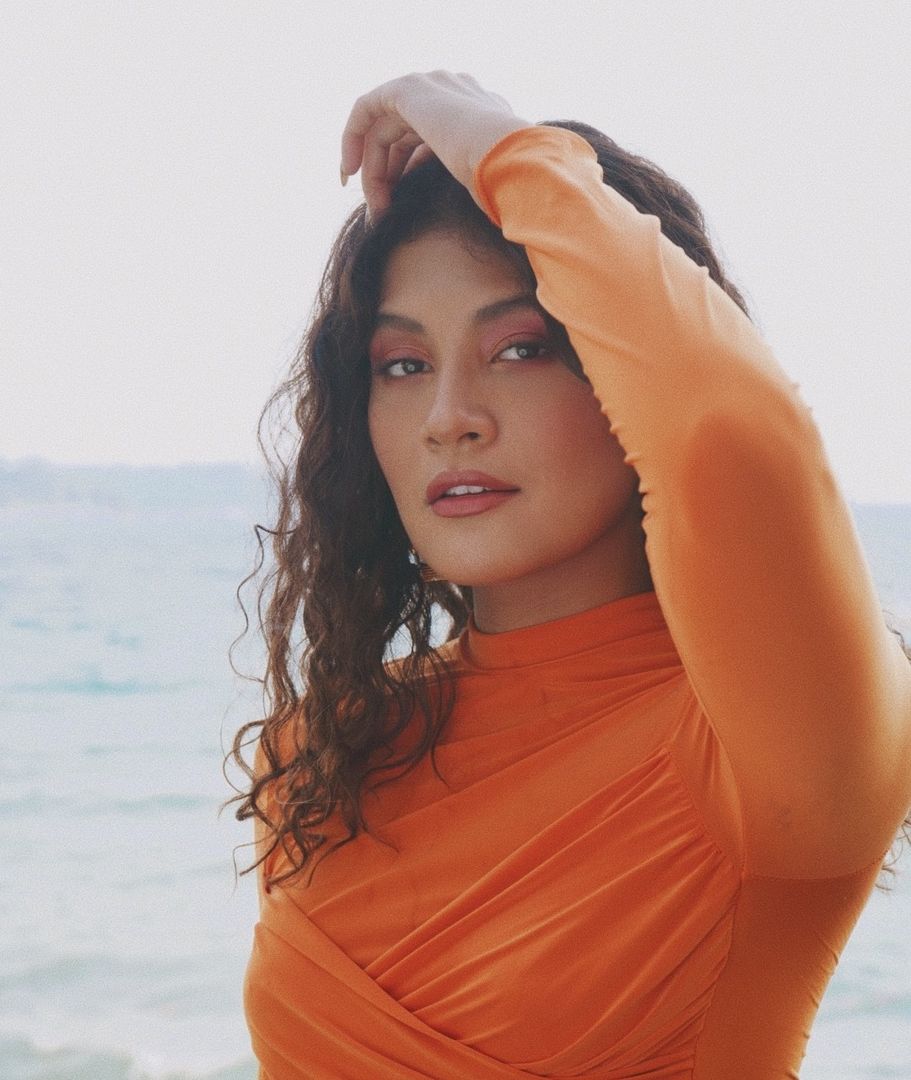 Now, determined to pursue her dreams, the '5:30' act is ready to share her music with the world. 
Following her involvement in 88rising's Filipino sub-label Paradise Rising's mixtape last year, Kiana recently released her latest EP Dazed. Ethereal, introspective, and dreamy, the record sees the singer completely in her element. Demonstrating her lyrical prowess and distinctive soundscape, Dazed marks only the beginning of what the 'Ambrosia' act has in store. 
Made in collaboration with producer-songwriter Jesse Barrera, the record is a reflection of the singer's journey through love. 
"The more I've listened to it, the more I've realised it's the story of my journey with self-love and romantic love and how they both affect each other," she shares. 
Fresh from the release of her newest EP, Bandwagon caught up with Kiana to talk about her musical growth, creative process, mental health, and what we can else she has planned for the year. 
---
Hi Kiana! Tell us, what were some of your earliest memories with music?
Everyone on my mom's side of the family sings, and so I grew up singing with my cousins, putting together shows and performing in front of our titos and titas (uncles and aunts). I must've been 4 years old when we started doing this. We still do when we're all under one roof.
 

 

View this post on Instagram

 
What motivated you to pursue music as a career?
I really think it's because I couldn't stop. My dad used to call me their human alarm clock as a kid because as soon as I was up, I was singing. Once I had a taste of having creative control in the studio and just exploring the ability to tell stories through song, nothing else really felt as fulfilling. 
How would you describe the type of music that you make?
The music I'm currently making is so soft and feminine - styles I haven't always been comfortable doing but for some reason have had so much fun producing. It's a mix of pop, R&B, and soul. 
Congratulations on the release of Dazed! From songwriting to production, what was the creative process behind the EP like? 
I wrote all the songs at different times of 2019. I didn't know what to do with them. In fact, I kind of forgot about them until the pandemic left me with writer's block, forcing me to start digging through old notebooks for inspiration.
 

 

View this post on Instagram

 
I remember singing a number of songs to my cousin on the phone and discussing which songs we thought had potential. When I decided on these 5 songs, I knew immediately that I wanted to work with Jesse. We had worked together on some of my previous releases, so I knew the chemistry would be there and of course, it was! Being in the studio with him is always so much fun and such a learning experience!
This is your first EP since Grey in 2018. Since then, how do you feel you've grown and evolved as an artist?
I think I'm more open to experimenting with my music these days. I'm not too worried about what's "making it" and what people are listening to. I've been more focused on the storytelling and how to get the lyrics to breathe more. 
 

 

View this post on Instagram

 
Music has been a significant part of your upbringing, having come from a well-known musical family. What was your experience growing up in that environment like and how do you feel it has shaped you as the artist you are today?
Every decision I make, whether that be business or creative, is deeply rooted in my experiences and my upbringing. At a very young age, I was exposed to the ins and outs of the music industry, all the good and all the bad. A blessing and a curse, when I started my career I knew exactly what I wanted to stay away from and what I wanted to pursue.
Having grown up in the public eye, I made a decision a long time ago to find the balance between putting myself out there and keeping a big piece of myself safe for those who truly know me. I think that I'm at a point where I'm just starting to figure out how to put those experiences into words and I'm curious to see where that takes me. 
 

 

View this post on Instagram

 
In your musical journey, have you felt any pressure to meet people's expectations? How have you overcome them?
Absolutely. I didn't feel pressure when I was just messing around, writing and singing for fun, but as soon as I started building a life around this dream, the pressure started to pour in.
Everyone seemed to be expecting me to do exactly what my dad did with his career, but we're two completely different people. I'm so blessed to have parents and siblings who have showered me with encouragement and support or else I would have drowned. 
 

 

View this post on Instagram

 
In the past, you've been open about your mental health and your journey through anxiety and depression. How have these experiences influenced your music and creative process? What message would you like to give to your listeners through your music?
My mental health not only influences the lyrics but the sound of my music as well. With the Dazed project, that's exactly what I was: dazed. Felt a little lost, a lot more mellow, a weird mix of calm and restless and so I guess I wanted the music to reflect that. 
I just want to invite people on this journey to self-love and to learn how to listen to and trust themselves. We know ourselves more than we get credit for and I just feel like it's such an important step in being our best and being able to give our best as well. 
Where can we expect to see Kiana V in the next few years?
I'll be here, making music and staying weird. 


Share with us any upcoming plans you have for your music.
Well, what I'm looking forward to are a few reimagined versions of this project as well as beautiful visuals, online shows and exciting collaborations. 
---
Listen to Kiana V's Dazed here. 
---