Since the outbreak of COVID-19, life as we know it seems to have come to a standstill. Major festivals all over the world have been cancelled, and tours have been postponed.
It's an uncertain climate for the arts industry, which relies on physical events to earn revenue. Of the 200,000 Self-Employed Persons (SEP) that make up Singapore's gig economy, 47% are arts practitioners, from musicians to artist managers and crew. With the onset of circuit breaker measures in the country though, events have grinded to a halt, which means no income for the arts community. In a crowd-sourced survey by I Lost My Gig (SG), findings show that the industry has experienced an estimated loss of more than $30 million to date, with nearly 3,000 individuals affected and 9,000 jobs lost.
Musicians have adapted to this by livestreaming from their homes, producing organic performance with nothing but their voice and instruments, while allowing fans a peek into their personal spaces. By no means is this a complete substitute for the tribal experience of live music, but it's the next best thing.
What about the people behind the scenes though? Concert promoters and event organisers alike are currently still struggling to take stock of their losses and figure out their next steps in the midst of such uncertainty. Pivoting online seems to be the most obvious course of action right now, but not every company is compatible with a digital environment. 
BANDWAGON TV
Severe impact of COVID-19 on revenue
Tin Box The Live House, for starters, has gone dark since the onset of circuit breaker, and will remain closed indefinitely, but they are able to tide through this period as the "bulk of (their) expenses are manageable". 
Most of the others are not so unfortunate. Production company Ebenex Music shared that they have suffered a 90% drop in revenue, while only an estimated 15% of ZOUK Group's concepts remain operational globally, with a 30-50% decline in revenue even before the government had imposed the closure of entertainment venues. 
Ticketing platform Peatix also revealed that they experienced a decline of up to 80% of events across Singapore, Malaysia, and Japan markets, which "affected some of (their) alternative revenue streams such as advertising opportunities" due to the safe-distancing measures imposed.
Bcube, a production company,  shared that events were already being cancelled in January as clients grew cautious of the situation, leading to a 50% cancellation rate. By mid-March, all events had been cancelled due to circuit breaker measures. "We have received some support from our government through the Jobs Support Scheme (JSS), but it will not cover us from the month of June onwards aside from 25% salary relief," they say. 
"We own two venues that have not been operational for 2-3 months," concert promoter Collective Minds added. Despite starting off on a promising note, as the coronavirus situation worsened, over 200 shows had to be cancelled in this year alone. "We have lost everything we have earned over the last 2-3 years (…) We have lost at least $3-4 million in potential earnings for 2020."
Adapting by going online 
These are alarming figures, and companies have been scrambling to alleviate the impact of the losses by keeping their business going as best as they can. 
Most do this by taking things online. Ticketing platform SISTIC has launched a new platform called SISTIC Live, which allows artists and event organisers to ticket and livestream their events for their audiences. "We hope that this will play a positive role in not only helping the industry to recover some of their lost revenue, but more importantly, also giving people an outlet to connect when they are feeling increasingly isolated," SISTIC shared.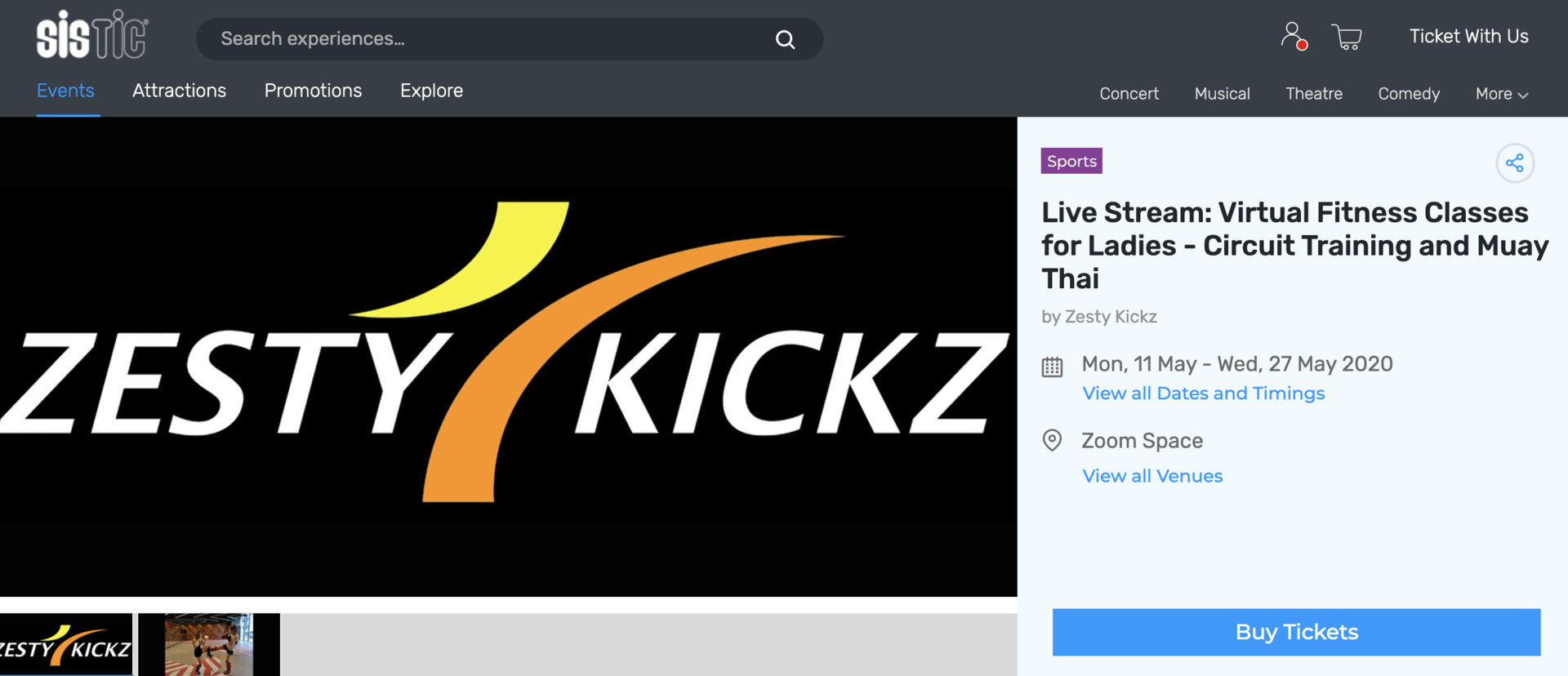 Meanwhile, Peatix has been updating the features on the website to "accommodate the needs of event organisers in the online spheres". Organisers can now list their Online-Only events, while musicians doing live-streams will soon be able to link their Peatix event pages to their livestream platforms. Organisers can also choose to embed their YouTube Live onto the soon-to-be-released 'Watch Stream' page on Peatix.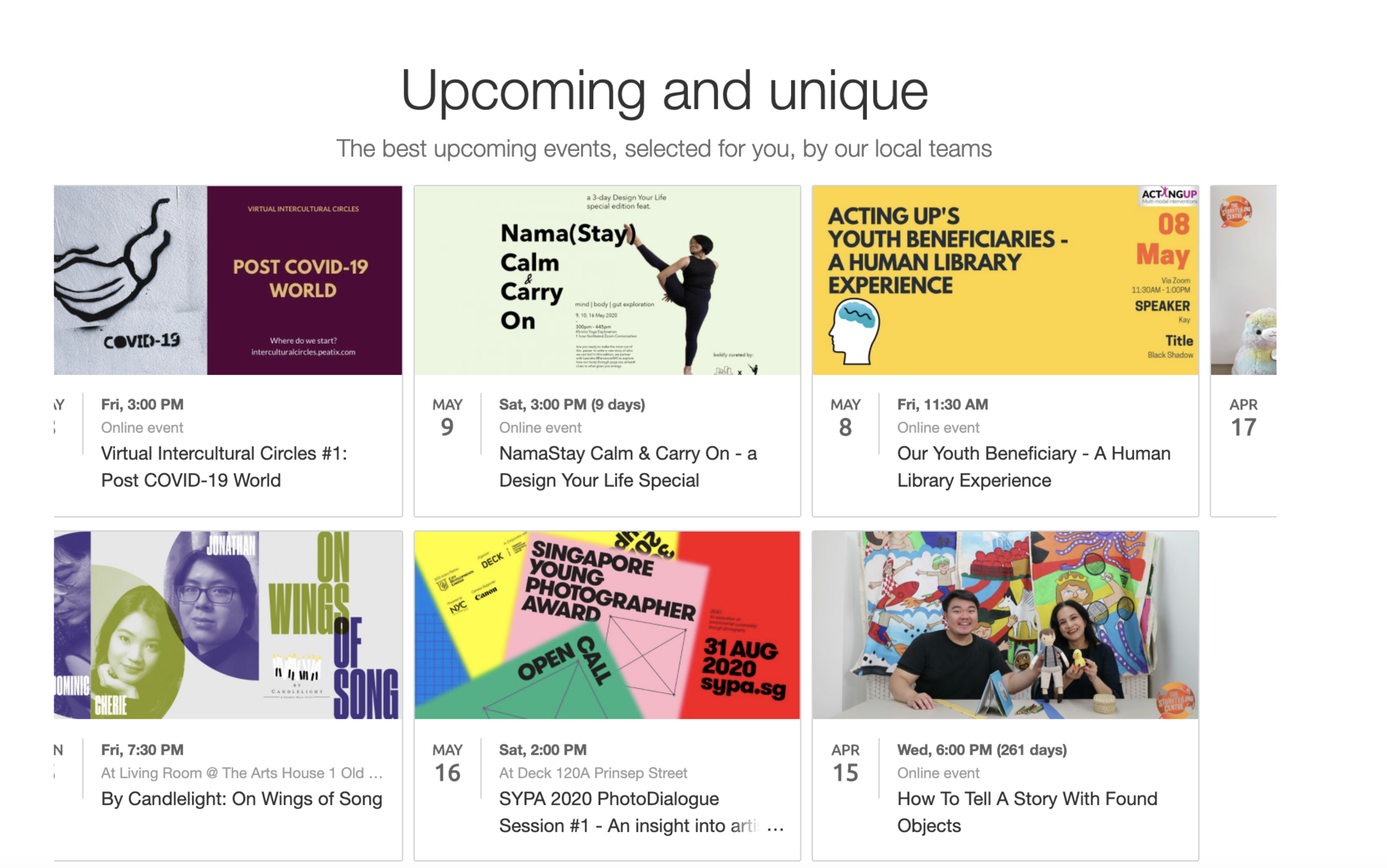 "We have also been running one-to-one consultation with event organisers via Peatix Open House to provide education resources for event organisers who are keen on shifting their events online," they share. There is a special rate for fundraisers at a 3.5% flat fee to support fundraising efforts. 
Ebenex Music have also been exploring ways to make use of technology, explaining that despite being affected, they were able to pivot quickly in two ways: "1 into content creation and partnerships which saw EBX Live! with a focus on studio production for live music virtual events" and the latest pivot into presenting 'music from home'", which aims to transfer a live concert experience to a virtual stage.
In 3 weeks, Zouk moved their DJ sets online on Big Live, in partnership with Razer. They also recently launched Zouk Digital, where they stream live from their DJs' homes. Aside from content diversification—from fitness classes to lessons on making cocktails—Zouk will be focusing on an alternative source of revenue: food delivery through RedTail, their pre-game bar. 
Like Zouk, live music venue group Timbre launched their  island-wide food delivery service within 10 days of suspending operations at Timbre X @ The Substation. Collective Minds will also be starting an alcohol delivery company called Selects, and aims to be a marketing platform for both local and regional brands.
Other companies are taking this time to redirect their attention and plan ahead. Tin Box will be relocating their bar to CHIJMES. Once circuit breaker measures are lifted, renovations will go underway, and the new outlet will be rebranded as Tin Box Retro & Jazz Club.
For Bcube, thanks to prior experience in webcasting and video production, they are currently pivoting to post-production projects such as video editing, content management and creation. 
In other words, no one has been staying idle. It's hard to say what will happen next, but for now companies are taking it a step at a time. 
What about the employees?
The general focus seems to be on up-skilling given the reconfiguration of priorities. 
"Our main focus for the employees in our company right now is to provide ticketing and support for online events," SISTIC says. "We are also doubling down on product development and testing for the time being and are encouraging our staff to use this period as an opportunity to improve their skills by attending online classes and workshops." 
"We have managed to re-skill our existing staff and have hired new staff for new roles to adapt to the current remote working environment," Ebenex Music adds. 
Tin Box shares that no changes were made to the existing employee count. "We are taking the opportunity to fine-tune our operational flow and strengthen ourselves internally," they tell us. "In essence, we're keeping our employees engaged and getting ready when things turn around so that we can return stronger and better." 
Timbre in particular has been able to help their bands by moving online. Timbre Group, along with co-presenters, Audio Technica (S.E.A) and Ebenex Music launched #KeepMusicAlive on 18 April 2020. #KeepMusicAlive is an online music broadcast 5 of Timbre X and Switch by Timbre X bands over 10 nights, mixing pre-recorded full band performances with live chat segments. 
They are also helping out hawkers and food partners at Yishun Park Hawker Centre and Timbre+ by promoting the existing island-wide delivery service for Yishun Park Hawker Centre, and launching a new island-wide delivery service for Timbre+. "We understand that F&B margins are low and so this avenue protects 100% of their revenue; there is no cost on our hawkers and food partners."
Not everyone is so fortunate, however. 
Bcube reveals that the team went on unpaid Leave of Absence for a week in March to cope with the decline in revenue. After circuit breaker measures were imposed, all staff were put on leave, with aid from the JSS payout. However, a majority of the team are also part-time and freelancers who do not benefit from the payout. "We sent out announcement letters and links to help advise them to apply for grants and schemes," they add. 
Collective Minds shares that they had to cut salaries, "which led to employees deciding to move on", but that they have "kept [their] staff paid as long as [they] could". 
What's next in a post-COVID-19 world? 
These efforts have allowed them some breathing room for the moment, but what's next when circuit breakers are lifted and life takes tentative steps back into our past normalcy? 
Peatix thinks that there is a high possibility that online events are here to stay, and that people will find more creative ways for online engagement. SISTIC echoes this sentiment, saying that "hybrid events which are hosted partially live and online could be the norm post COVID-19". 
While that may be so, Bcube is confident that physical events will return to their former glory once things have settled down. "What is uncertain is if the industry has the capacity to take on the anticipated avalanche of event projects when all the lockdowns have been lifted," they share, citing a shortage of vendors and crew as potential concerns. 
Of course, there may also be a lack of projects due to continued client caution. Then there's another point of concern for virtual events: "Not many [people] show much interest in participating or spending money on virtual events and experiences."
Zouk believes that there will be no dramatic changes to the nightlife experience, even if they have to operate at a reduced capacity post-COVID-19. "As much as I enjoy the sets we do online, it is still very different from the atmosphere you get in a club," they say. "What this situation has forced us to do is to accelerate our digital experience plans and look at new online content that I believe will synergize with our offline ones."
Collective Minds isn't as optimistic, cautioning that festivals may take a long time to return and travel to be disrupted affecting international artists arrivals. Yet, there is a possible upside of a greater focus toward local and regional talent.  "I really hope this is over soon so we can keep putting on shows and getting the community back together. Culture has a funny way of bringing people back together," they share. 
---
We are fortunate to have a digital space to connect, and the normalisation of livestreaming may well be a game-changer for the industry. But now, more questions arise. The move to virtual events has bought some time, but when the dust settles and we emerge from quarantine, it's likely to take a while before things fully return to the way they used to be. 
There may be a change in consumer behaviour, leading to reduced turnout or protracted social distancing measures, which may affect venue capacity. Then, there's the issue of no concerts returning till late 2021. Current plans seem to be contingent on circuit breaker lasting a few more months at worst. If this goes on, how will the industry recover their losses then? What business model is required to build a business around the livestream ecosystem? 
It's an incredibly uncertain environment still, but for now, we can only focus on tiding through the days ahead for the foreseeable future. 
---
Many thanks to SISTIC, Ebenex Music, Peatix, Tinbox, Zouk, Collective Minds, Timbre, and Bcube for participating in this interview. Below, we have also invited them to share some ways we can all help out during this trying time. 
What can we do to help? 
SISTIC: Events are important—they bring people together to learn and connect, and many livelihoods and businesses depend on them. With the unprecedented closure of all entertainment outlets, live performances have come to a standstill with a series of nationwide COVID-19 circuit breaker measures in place. Even as we fully support our national effort, these extraordinary times may prove pivotal to the survival of many local arts and entertainment groups. Here at SISTIC, we take pride in being a partner of the local arts and live entertainment scene. Therefore, if your readers love the arts as much as we do, they can support us and those in the community by considering the option of donating their ticket value for cancelled or postponed shows instead of requesting for a refund. Every small act of giving goes a long way!
Ebenex Music: They can engage us for their live music streaming events. Contact David at 8126 2206 or sales@ebenex.com. 
Timbre: We hope your readers can support Timbre by placing food orders with us at:
1. Timbre Group Delivery
2. Yishun Park Hawker Centre Delivery
3. Timbre+ Delivery
They can also follow us on our Facebook pages and get more updates on #KeepMusicAlive and other projects:
1. Timbre Music
2. Timbre X
3. Switch by Timbre X
4. Timbre+
Peatix:  Supporting your favourite musician or musical event is absolutely vital now more than ever. If you want to see more of their work, you must do what you can to help them tide through this period. The simple act of purchasing a ticket to an online performance or donating during a musician's livestream goes a long way. While there seems to be a lot of free content available during this time, offering to pay for their shows or purchase their album online helps sustain the livelihood of the musician.
Collective Minds: We urge people to be patient as we reschedule our events. Obviously everything is a moving target right now. We will be launching a string of events for later this year and next year so keep an eye out! We would also love for you guys to use our alcohol delivery service Selects SG this will allow us to keep going whilst events are non-existent. We are working on some collaborative merch that will be available real soon. Keep checking our pages for updates! 
Zouk: Support us by joining in and sharing our online content. Every viewer we have motivates the team to continue driving even more content. Support our local F&B industries as well through takeout or deliveries whether it be RedTail, Five Guys or any other establishments. Despite the tough situation, RedTail and Five Guys, and many of other local F&B businesses are still playing our role in sending food to the needy, and by supporting us, it allows for us to keep paying this forward to those who are in need of greater help.
Tinbox: Despite the current circumstances, our aim is still to provide the audience quality entertainment, and actively use music as a medium to spread joy into people's lives.
Our live house musicians are constantly creating new music and video content to share with the community. On top of covering classic songs, they will also be publishing a bunch of their unreleased original compositions.
During this outbreak, our band has adapted a song into a light-hearted parody '说好不出', sending everyone a reminder to 'stay home' and stay safe from the pandemic. They have recently also worked on a piece '因为你', sincerely dedicated to our frontline heroes. More of such self-produced works by the band will be unveiled in the days to come, so we hope that Bandwagon will be able to share these with your readers. To us, music is always full of excitement and surprises, and our team of resident musicians are excited to embark on this new adventure as well.
Bcube: There are a few funds out there to support workers in the arts and creative industry - check them out and see what your local groups have and donate! Our company may not receive any donations, but it will help our struggling freelancers. Also, a lot of musicians and artists are releasing content online, be it prerecorded or live streamed. Please do support them!
---
This article first appeared on Hear65. 
Like what you read? Show our writer some love!
---