For the last year, we've watched the festivities and celebrations of Head In The Clouds happen all the way across the world. Last weekend, it was finally our turn to live them. The 88rising-powered music and arts festival made its way to Manila for the first time on 9-10 December and it was definitely one to remember.
Serving as one of the first major festivals in the Metro since the start of the pandemic, Head In The Clouds Manila was the latest run of the Asian-centric music festival this year, following editions in Los Angeles and Jakarta.
Since its announcement last August, the excitement and anticipation for Head In The Clouds Manila was palpable, and understandably so. The festival, since its inception in Los Angeles in 2018, has been a space for people that look like us to feel seen and represented in the Western-dominated world of music. 
BANDWAGON TV
It was one of the venues where we could celebrate our culture and all the varied and diverse ways it means to be Asian. 
But like with most firsts, there are bound to be some rough patches and room for improvement. While Head In The Clouds Manila still provided the same excitement and fun we saw from its previous iterations, there were certain expectations that didn't quite hit the mark. 
Here are the highs and lows of the first edition of Head In The Clouds Manila.
---
FUN AND GAMES
You had so much space to roam and explore at Head In The Clouds Manila, with the festival grounds packed with activities and installations you can check out. Granted, the performance schedule didn't give us that much time to roam free for too long but luckily, everything from the VALORANT installation to Globe's metaverse booth only took long enough to ensure you could catch the next act on stage.


FOOD FOR FUEL
It was great to see our favorites during the two-day festival: Ebi10 filled our tummies with sushi rolls and rice bowls, while NoKal served as the watering hole everyone needed. Knowing that we can always get free water at designated areas is a plus, something that we believe is essential in all outdoor festivals.
There were more than enough food options, but not enough chairs. We looked around and saw that our friends in GA didn't have the same food options as those in the VIP section. We think it's best if there was an area for all food stalls and a bigger dining area for all attendees. Food is almost always meant to be shared, after all.
OUR MUSICAL PLAYGROUND
Head In The Clouds Manila's lone stage was the site of the festival's main source of energy and life, but there's definitely more that could be added to it to amplify the entire experience, like elevating the stage so we can see from way yonder.
We also definitely missed Clo, 88rising's adorable Cloud mascot who typically adorns the top of the stage and reacts to every artist that greets the crowd. Hopefully, she'll be around at the next festival.
You definitely had to hand it to the team for being on time, with changes between each set and performer going as smoothly as it could be. 
EXPLORING THE GROUNDS
No two festivals would ever look the same. However, there were some things about Head In The Clouds Manila that had us scratching our heads. One of which is the way the area was split between GA and VIP ticket holders. Since there was a clear divide in the middle of the festival grounds, attendees lost the opportunity to fully appreciate the extended stage, all the activations, and the area in general. 
The space was big enough, yet we found the portalets too near the entrance and the food vendors. This made the festival experience less enjoyable: imagine walking into the grounds for the first time or eating a burger after watching a set with a funky smell wafting in the air. 
Also, the uneven cement in some parts of the venue made everything look so grey. We very much miss grass.
MUSIC FROM THE REGION AND BEYOND
The festival brought together a hefty lineup of acts from all over the region and beyond, from heavy hitters like Jackson Wang, Rich Brian, Jessi, NIKI, Joji, and YOASOBI, to exciting performers like Warren Hue, ATARASHII GAKKO!, MILLI, SB19, BIBI, and Akini Jing. It was two days of celebrating artists and music from all over Asia.
But unlike the previous iterations of Head In The Clouds, this festival only had one stage. While it definitely took out the challenge of rushing between multiple stages, it added the tasking challenge of fitting so many diverse acts and performers onto one stage across two days. While the curation and flow of acts were a little off for parts of the festivals, 88rising brought together a wide range of acts that everyone either loved already or was so ready to discover. 
The lineup even saw some of the Philippines' homecoming artists like hip-hop duo Manila Grey who even brought on Filipino rapper Al James as a special guest, rapper GUAPDAD 4000,  plus producer and DJ Manila Killa.
R&B singer-songwriter Ylona Garcia was scheduled to perform with her live band in her homecoming show.  But unfortunately, with unpredictable lightning strikes and logistical constraints, Ylona, as well as AUGUST 08, couldn't make it to the stage on Day 2, ultimately leaving fans disappointed. However, Ylona ended up hanging out at the Valorant tent to meet some of her fans instead.
Despite that, fans were still treated to exciting performances from a diverse range of artists and performers that made the two-day festival worthwhile.
ATARASHII GAKKO!
ATARASHII GAKKO! proved to be quite the crowd favourite throughout the entire festival, earning a whole sea of new fans. 
From their incredible and powerful performances (full of intense choreography we didn't know they could pull off in the Manila heat) to their adorable and impressive effort to speak in Filipino (Suzuka even had her intro to 'Pineapple Kryptonite' written on her arm), the Japanese group was so entertaining to watch. Even with a set on early on the day, ATARASHII GAKKO! managed to build up so much energy and excitement.
---
SB19
They've toured around the world, but we can't help but feel proudest of the P-pop act as when we saw them set foot on the Head In The Clouds Manila stage. Lined up with other impressive regional acts, SB19's stunning performance and undeniable talent shone through. 
Present at the festival as well were A'TIN who cheered Ken, Justin, Stell, Pablo, and Josh on, waving their lightsticks in the air as the band performed their latest heartwarming single 'Nyebe' during their set.
---
WARREN HUE
The power that Warren Hue has onstage is incredible to witness live. His fast-paced raps (that left us out of breath) and his innate command of the stage were the perfect way to begin the latter half of Day 1, starting up a party like he usually does. 
Drawing in quite the crowd, the young rapper harnesses so much intensity to cover up an entire festival stage all by himself. In a previous interview with Bandwagon, Warren shared how 'DEMOSTAR BEENLIT' was made for live shows and he didn't lie. As if on cue, the entire crowd started jumping the moment the familiar bass of the BOY OF THE YEAR track dropped. 
---
MILLI
The moment MILLI walked out onto the stage, we were dialled into the colourful display of attitude and prowess the rising rapper has. Bringing not only her impressive musicality on stage but also her loveable personality, MILLI captivated the crowd with live renditions of 'Mango Rice Sticky,' 'Mirror Mirror,' 'Mind Games' (alongside a cut-out of Jackson Wang's face), and more.
---
JESSI
Jebbies rejoiced when their idol was announced as one of the final additions to the lineup, and now we see why: when it comes to fan service, nobody can top Jessi. 
Refreshingly candid and funny, the Korean-American rapper was a delight on the Manila stage. She talked to the audience as if they were her friends, commenting about the weather and practising her Filipino (yes, including the spicy words). She even invited four of her fans to dance 'Cold Blooded' with her onstage (after making damn sure they knew the steps). 
Overall, the 'ZOOM' act delivered a pretty hot performance alongside her incredible dancers.
---
RICH BRIAN
It's been over nine hours since the start of the festival by the time Rich Brian was set to perform. Everyone was tired, sweaty, and had aching legs, but when the Indonesian rapper took the stage, it just the burst of energy we needed. 
Rich Brian came in with so much spirit and fire that we all couldn't help but jump and dance with him. From his popular tracks like 'EDAMAME' and 'Lagoon', and his rendition of 'Tokyo Drift Freestyle' to earnest songs like 'History' and 'Curious', the rapper brought new life into a tired and sun-beaten crowd, building up the energy up once more. While he didn't bring along a choir this time round, Brian's live band elevated every song into a headlining performance worth waiting for.
---
JOJI
Joji was an undeniable favourite for Head In The Clouds Manila. You asked anyone that day who they were excited to see and there was no doubt the elusive singer was on their list.
He drew the biggest crowd on the first day. Joji performed his heartwrenching tracks 'Sanctuary', 'ATTENTION', 'SLOW DANCING IN THE DARK', and 'Glimpse Of Us', uniting everyone in pain and heartache. And as if the heavens were in on it, rain poured down the entirety of his set, adding that touch of drama.
Staying true to his beginnings as a beloved Internet personality, Joji often interjected his performance with jokes, comedic sounds, and banter with his band, which as amusing as it was, did get a little repetitive and vexing as the set went on.

---
JACKSON WANG
He doesn't need to do anything but breathe (into his mic, quite hard) and we'd follow him anywhere. With his alluring charm and flawless dance moves, Jackson Wang truly is a magic man.
Like in his show we caught earlier this year, the hitmaker's performance held a certain sincerity you don't usually find in others. So when he strutted like the star that he is onstage, we were starstruck. When he sang live and with so much emotion, we swooned. And when he encouraged us to reach for our dreams, we felt it. There's no denying it: Jackson Wang was the perfect ending to Day One.
---
BIBI
There is no doubt that BIBI is talented (we already knew this since listening to her collaboration with Charlie Lim two years ago). Equally bubbly and sexy, she also charmed everyone who saw her on the Head In The Clouds Manila stage.
It would've been great to hear more of her live vocals, as the backing track can get overpowering at times. We're hoping we get to see her do that soon—especially as the audience clearly enjoyed singing 'The Weekend' and 'cigarette and condom' back to her.  
---
EAJ
eaJ definitely won some hearts during his time at Head In The Clouds Manila. From meeting fans at the VALORANT booth and partying alongside festivalgoers during Zedd's set to thanking the crowd endlessly and shouting out to Ylona Garcia and AUGUST 08 during his set, the singer-songwriter was a sweetheart just as much as he was a rockstar.
He captivated the crowd with his amazing vocals, earnest lyrics, and heartfelt spiels. If there was anyone who left their heart on that stage during the festival, it was eaJ. Pouring every ounce of himself into every song and 'thank you' he sang and said throughout his 40-minute set, the 'Car Crash' act proved he's an artist worth sticking around for. 
---
ZEDD
Zedd really knows how to pump up a crowd. Churning out one familiar banger after the other, he was able to draw out the largest audience among all the performers on both days of the festival. It helps that he really wanted those in attendance to have a good time. We know Filipinos hold a special place in his heart—he said so himself when he talked about his first arena gig in the country.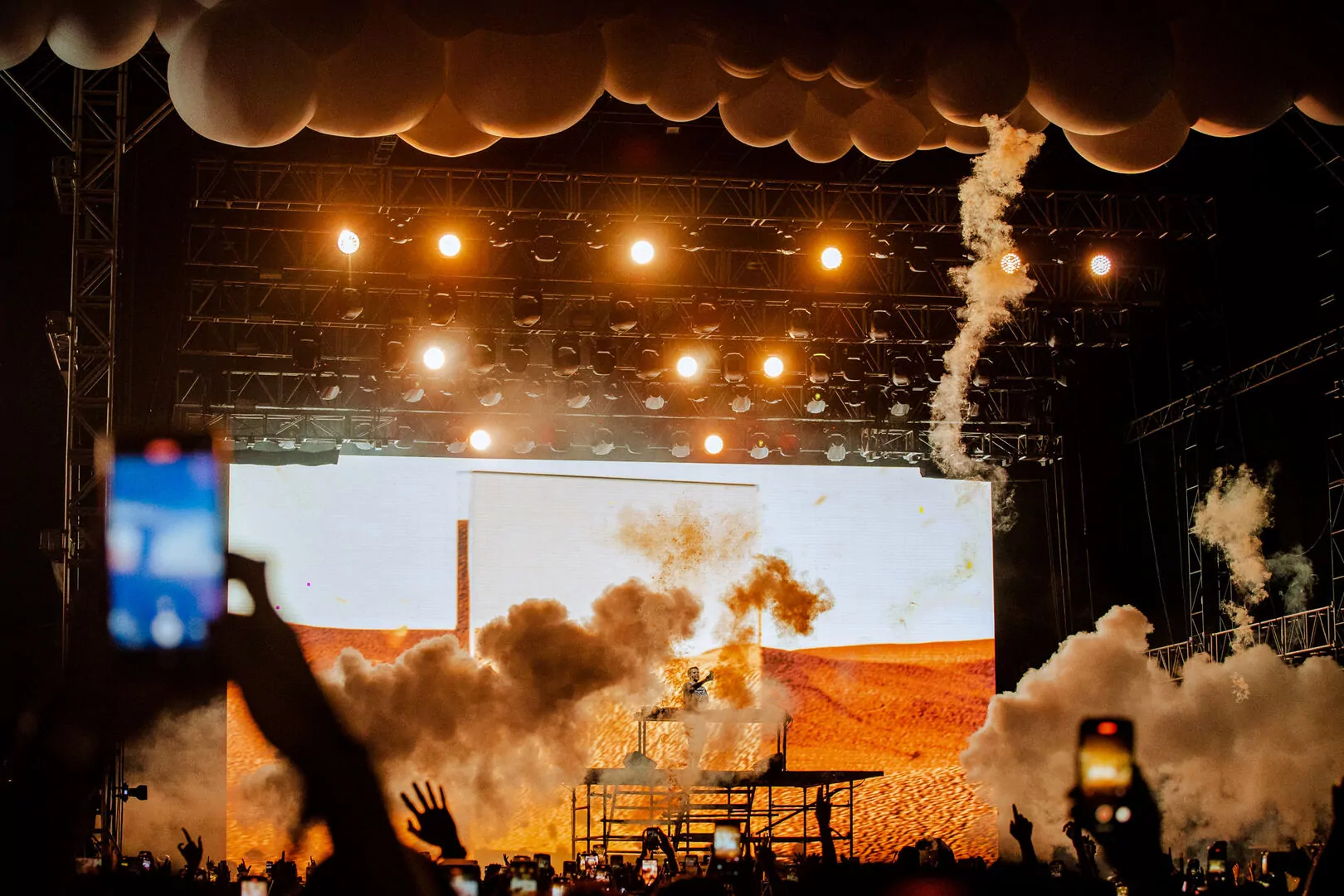 Perhaps it was the nostalgia from hearing well-loved songs; perhaps it was the need to dance. We can't be absolutely sure. All we know is that the audience (our team included) jumped to the beat and sang our hearts out when Zedd put on 'Clarity.' 
---
NIKI
NIKI's headlining performance was a whirlwind of emotion, having us cry, sing, and dance all in an hour. While the Indonesian act seemed like an underwhelming choice to follow-up Zedd, she still made her way as one of the festival's most memorable acts. Complete with costume changes and a tremendous band, NIKI is a great performer, endlessly showing her command of a stage and crowd without forgetting to show gratitude to her live band and crew behind the stage working their magic. 
NIKI also had the incredible power to evoke so much emotion with every song. Throughout her performance, she guided us through her high school days, made us revisit young heartache, and reminded us that good times still lie ahead as she ran through stunning live renditions of 'Backburner', 'urs', 'Vintage', 'Lose', 'Before', and more. 
You particularly have to note her intimate performance of 'Oceans & Engines', which made the entire crowd feel like we were all collectively going through a breakup (there were a lot of tears), and her anthemic 'High School in Jakarta' that had everyone jumping and dancing.
---
TRASH AND TRASH AGAIN
It was great to see that the organizers made an effort in installing garbage bins around. They were big, black drums that had no covers so you didn't even need to touch them. So why does it seem like nobody wanted to use them?
Our plea to festival goers remains the same, no matter what the festival: please clean up after yourselves. We'll let the picture above speak for itself.
---
IS THIS OUR GOODBYE?
The Head In The Clouds finale is an important one. It's where almost everyone who performed at the festival come together on one stage, regardless of genre or background. It's where we see our favourite 88rising collaborations (like NIKI, Rich Brian and Warren Hue's 'California' or Rich Brian and Warren Hue's 'Getcho Mans') come to life. In fact, it's one of the many physical manifestations of 88rising's mission to celebrate what it means to be Asian. 
The Day 2 ending was underwhelming, to say the least, but the Manila crowd made the most with what we got, singing the iconic chorus of 'Midsummer Madness' all on their own. Here's to hoping we'll get a grander finale whenever Head In The Clouds decides on a Manila comeback. 
Like what you read? Show our writer some love!
---