Home to popular genres such as K-pop, J-pop, and Mandopop as well as an abundance of languages and musical styles, Asia is a region that has captured the attention of Spotify.
As a leading force in the global music streaming industry, the Swedish titan is well-positioned to connect artists and potential listeners who may be separated by borders, and amplifying the voices of Asian creatives is one way in which it has been doing this.
With initiatives in place to strengthen its support for familiar names such as BTS and BLACKPINK and give up-and-coming ones a much-needed boost, Spotify has reinforced its status as a platform that music creatives can turn to no matter where they are in their careers. 
"We're available in 183 markets with more than 433 million listeners, providing scale for music from Asia to reach multiple new audiences beyond their shores," shares Spotify's Global Head of Music, Jeremy Erlich. 
BANDWAGON TV
Credit: Spotify
In an interview with Bandwagon, Erlich speaks about Spotify's efforts to move music from Asia across borders, highlights promising acts from the region to keep an eye on, and offers some advice to artists who wish to extend their reach.
---
Tell us about some of Spotify's latest initiatives to amplify the voices of Asian artists.
For starters, Spotify's growth over the years has meant that more artists are able to connect to more listeners across the globe. Historically in the music industry, the only music really exporting was Anglo (US/UK). Fast forward to today, Spotify has made it such that music from all over the world and in every language is travelling around the globe. We're available in 183 markets with more than 433 million listeners, providing scale for music from Asia to reach multiple new audiences beyond their shores.
In recent years, we have also ramped up efforts to amplify the voices of Asian artists with initiatives and curated campaigns that lend more opportunities to connect with a global audience. For example, to celebrate and amplify the release of BTS' Proof album, we launched the #SpotifyPurpleU microsite, which offered an immersive digital experience complete with exclusive artist content to rally excitement amongst fans.
Playlisting has also been key in enabling music discovery. In addition to RADAR - our global playlist programme for spotlighting emerging artists, we are also rolling out new initiatives to amplify new talents locally. For example, we launched our "I Listen To Thai Songs" playlist this year, which features a monthly round-up of up-and-coming Thai artists to watch.
Lastly, we also constantly look at ways to leverage the in-platform experience to scale reach for artists. Most recently, we offered worldwide listen-free access for the launch of BLACKPINK's BORN PINK album.
K-pop has grown into one of Asia's most valuable exports over the years. What other genres and markets (C-pop, J-pop, P-pop, etc) do you foresee experiencing such success in the near future?
We have witnessed exponential growth and export of Asian music over the past few years. In addition to the continued success of now-established genres like K-pop and Mandopop, it's exciting to see new Asian genres start to emerge on the global stage. For example, indie music is becoming one of the fastest-growing exports in the region. Acts like Pamungkas from Indonesia, Sunset Rollercoaster from Taiwan, and HYBS from Thailand have started to cross over regionally and, in some cases, globally.
Pop from emerging music markets in Southeast Asia is also taking off. For example, breakthrough Indonesian artists like NIKI and Rich Brian as well as Zack Tabudlo from the Philippines have been picked up by US-based labels like 88rising and Mercury Records. 
Music from Southeast Asia has been on the rise. Who are some promising artists from the region we should keep an eye on?
Pamungkas presents amazing potential. We've supported him since 2019 and it has been exciting watching his fanbase and stream numbers grow since the launch of his debut album. He emerged as the Top Streamed Artist in Indonesia in 2020, and in 2021, his track 'To The Bone' broke streaming records to become the longest-running #1 track in Indonesia.
Seeing an uplift on the rest of his catalogue, he now has a solid fanbase beyond Indonesia and has been doing tours across the region including markets like Thailand, Malaysia, and Singapore.
With the P-Pop wave also emerging from the Philippines, SB19 is another artist to look out for. Having been at the forefront of the P-pop genre in many ways, the group's fanbase now goes beyond the Southeast Asia region, with its largest following coming from the US and Canada.
Credit: Sony Music Philippines
Some markets, such as South Korea, Japan, and China, have their own streaming services that precede Spotify. How does Spotify fit into their ecosystems?
We have local and global competitors everywhere. Competition is good and barring China — where we are not active — competition only pushes us to be better. That said, we are by far the most global platform with rich capabilities to connect fans to the music they love — at scale. Our music teams across the world talk to each other daily and I truly believe everyone on my team is passionate about music and music discovery. Our special sauce is our people.
But beyond discovery and streaming, Spotify allows listeners to tap into music culture. Whatever's happening in culture tends to get reflected on Spotify. A recent example of this is Kate Bush's 'Running Up That Hill': a 37-year-old track that found record-breaking success following its feature in the hit TV series Stranger Things and emerged as one of Spotify's Songs of Summer in 2022. In Asia, we're also seeing soundtracks from the increasingly popular Boys' Love TV genre trending outside of Thailand, landing on our Spotify viral charts.
While the music speaks for itself, we always have our fingers on the pulse. And when any movement in music culture bubbles, not only is Spotify there at the outset, but we also know how to fan the flames.
You recently collaborated with BLACKPINK to launch a pop-up experience event in Los Angeles. Are there any plans to have similar collaborations with non-K-pop artists?
The international reception of BLACKPINK's latest album and the overwhelming success of our BORN PINK: The Pop-Up experience in L.A. is a testament to not only the talent of the ladies of BLACKPINK and the meteoric success of the K-pop genre but also the diversification of global music consumption.
As we observe a growing appetite for other genres from Asia, we'll certainly continue to invest in more opportunities and resources to enable artists to share their music with our global audience.
In 2021, you strengthened your support for Asian artists by expanding your RADAR programme to include markets such as Singapore, Malaysia, Thailand, and Vietnam. What kinds of results have you seen in the last year? Moving forward, how else does Spotify plan to enhance its RADAR programme? 
RADAR has seen overwhelming success in Southeast Asia, as featured artists from the region see close to 60% of streams coming from listeners outside their home countries.
For example, Zack Tabudlo from the Philippines has seen massive growth since we featured him on RADAR in early 2021. Leveraging the traction for his song 'Binibini' we partnered with him to launch his debut album Episode on Spotify. Today, Zack is one of the Philippines' most streamed artists, and his success has gone beyond 'Binibini' as fans have come to appreciate his whole body of work.
Moving forward, we continue to place the spotlight on emerging artists by featuring up-and-coming talent on the RADAR playlist and investing in new ways to promote awareness and drive traction on the global stage. To keep listeners updated on the latest RADAR artists to check out, amplification efforts include content on Spotify's social media platforms and artist showcases on our billboard in New York's Times Square and other out-of-home activations.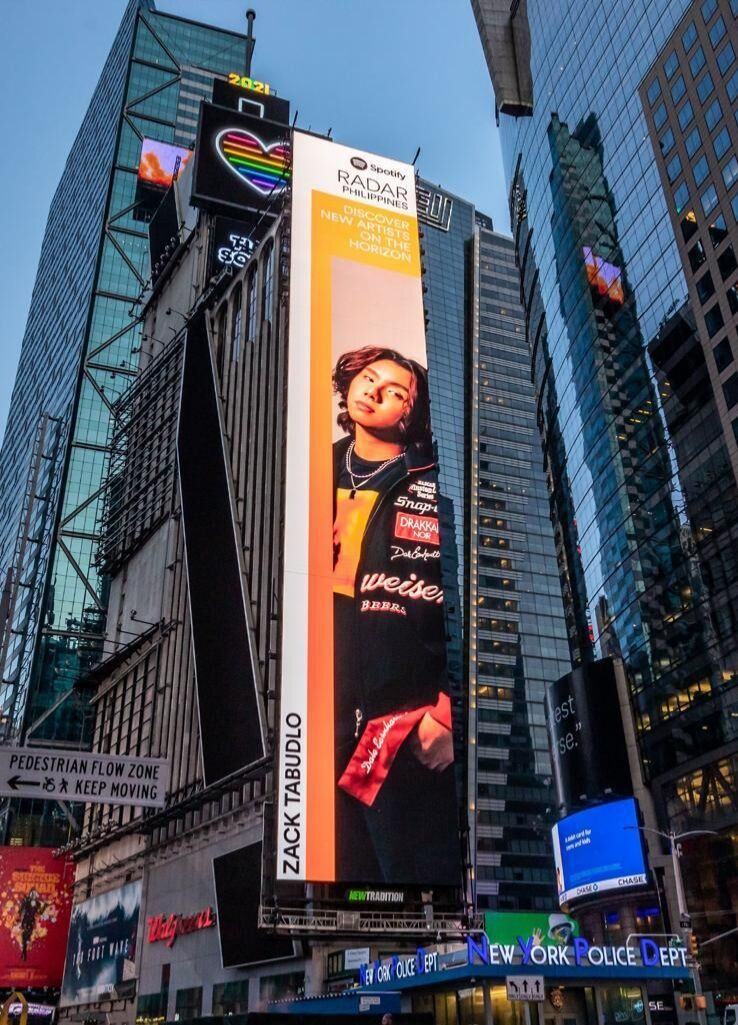 Credit: Island Records Philippines
The language barrier can deter some from listening to music from certain genres and markets. In what ways does Spotify help to bridge this gap between artists and potential listeners?
We're always looking for opportunities to bridge artists with listeners, but the reality is, a good song can come from anywhere and people will connect. We've seen this in examples like Bad Bunny, an artist whose tracks are primarily in Spanish, but who was Spotify's top-streamed artist globally in 2020 and 2021 and 2020.
Then K-pop — BTS and BLACKPINK have continually landed on our global top 10 charts, resonating with fans around the world regardless of language. In the case of K-Pop, Spotify today records over 9 billion monthly streams for the genre, more than half of which now come from outside of Asia Pacific. While language remains a factor, it's undeniable that great music and artists can pierce through any language barrier.
In your opinion, what is the first step that an artist should take if their goal is to extend their music's reach beyond their home country?
My advice to any artist is to focus on their craft. Make music, tour, and surround yourself with a good team. We offer a lot of tools to make that easier (playlist pitching tool, S4A, marquee, etc) but ultimately it comes down to a connection between the fans and the music.
Great music spreads, so look where your music is working through S4A and focus there. As that grows, you'll notice it will work in more and more places. Some artists also find that making collaborations with local artists is also a great way to blend fan bases. 
Lastly, what else can listeners and artists expect from Spotify in the near future?
Since our launch, Spotify has transformed music and audio content listening forever by creating a platform that connects artists and creators with listeners across the world. Our vision for the future is a kaleidoscope of activity with tens of millions of artists, and a billion listeners, leveraging the power of Spotify to tap into music culture.
To reach that goal, we're doubling down on creating new opportunities to amplify emerging artists and further support music discovery. We're also investing in new features that will improve the overall listening experience and ways to bring fans closer to the artists they love. 
Like what you read? Show our writer some love!
---