SEVENTEEN are one of the most impressive K-pop groups out there today and they proved it once again this weekend. 
On 14 November, the group held the first show of their two-day POWER OF LOVE online concert via VenewLive. Unfolding their year-long Power Of Love project, SEVENTEEN took audiences on a journey through love. From intense infatuation to fatal attraction to genuine passion to finally, tenderness and warmth, the 'Rock with you' hitmakers embodied love in all its forms across their two-hour-long concert. 
#캐럿들_럿랑해💓#SVT_POWER_OF_LOVE pic.twitter.com/9KgBh3h221

— 세븐틴(SEVENTEEN) (@pledis_17) November 14, 2021
In true SEVENTEEN fashion, the concert began with a strong and literal glass-shattering opening number with performances of 'Crush' and 'Anyone'.
All before being greeted by a jaw-droppingly impressive guitar solo by Woozi as he transitioned us into the group's hype anthem 'Clap' (and proceeded to stand on a descending platform all nonchalant as if he did not just deliver one of the best song introductions we've seen from SEVENTEEN so far). 
BANDWAGON TV
Following their high impact entrance, the group welcomed the crowd to the show with their hilarious auto-tuned filled introductions – showcasing their ever comedic and playful side. SEVENTEEN even teased what to expect from the two hour-long spectacle, stating how their strong opening number was "just the tip of the iceberg". 
Their opening ments also saw a much-needed video appearance from JUN and The8, who were unable to join the rest of the group for the concert after announcing earlier this year that they will be heading back to China to focus on the group's Chinese activities, as well as spend time with their families.
During their short yet heartwarming appearance, JUN and The8 assured CARATs (SEVENTEEN fans) that they are both doing well and working hard, with the former even in the midst of working on his first-ever Chinese drama. 
The concert proceeded with a stunning performance of 'Ready To Love' before a sudden change of pace – possibly exploring a new form of love – with 'Crazy in Love' and Joshua and Vernon's 'Network of Love' (which even saw recorded appearances from JUN and The8). 
With the concerts serving as the pinnacle of Power of Love, it would only be right to have Wonwoo and Mingyu perform 'Bittersweet' – the very track that kicked off this entire project.
Filling the stage and our screens with immense tension, the pair brought to life the song's complex emotions thanks to a combination of their raspy vocals and rap and their alluring stage presence. As the performance went on, the stakes rose higher – culminating in a stand-off between Wonwoo and Mingyu as they closed out the song.
It felt too powerful to watch but you also couldn't seem to take your eyes off the screen. 
To alleviate the built-up tension, the two rappers joined the rest of the group to perform a heartwarming rendition of 'HOME'. Donning wide smiles and bright eyes, it was clear that SEVENTEEN are dedicating this song to their fans, who they initially thought would be with them in person for the concert. 
Nevertheless, the Your Choice act sang their hearts out, making sure to dedicate a remarkable performance to CARATs who were tuning in from all over the world. 
While many of us in the live chat were trying to compose ourselves after the sea of emotions so far, SEVENTEEN began the 'POWER' section of their concert seeing a strong performance of 'HIT' followed by unit stages and solo performances. 
Kicking it all off was the Hip-Hop team which comprised S.Coups, Vernon, Mingyu, and Wonwoo as they powered through performances of 'Check-In' and 'GAM3 BO1' clad in their own colour-specific outfits (which many CARATs said resembled The Power Rangers).
Following the fun-filled stage of the four-piece, SEVENTEEN's youngest member DINO took to the stage with an impressionable performance of 'Last Order'. After seeing 11 members for most of the concert so far, it can be quite the task to replicate the same energy and stage presence in your lonesome but the all-around performer had no trouble at all. 
'Last Order' started with a sense of tranquillity and peace (the calm before the storm, if you will) before transitioning into a high-energy rap track, all while DINO moved between the two moods with such ease. Proving to be one of the entire show's main highlights, the member showcased his prowess and diverse range as a performer. 
Continuing the high, the Vocal Team – comprising Woozi, DK, Joshua, Seungkwan, and Jeonghan – wowed the crowd with captivating performances of 'Pinwheel' and 'Imperfect Love' where they reminded CARATs to "be happy" even when times are tough. 
While SEVENTEEN are highly recognised for their strong dance performances and commanding presence, the group's vocals are definitely one of their greatest strengths as the Vocal Team beautifully proved so. 
Closing out the 'POWER' stage was the Performance Team's leader Hoshi. Whenever he takes a stage, there's an alter ego that takes over – one that's the embodiment of pure adrenaline and power, a stark difference from his usual hilarious self – and we all saw it on full display in his performance of 'Spider'. 
Mesmerising and alluring, there was not a second your eyes were not on Hoshi. Whether it was his impressive acrobatic dance moves or his booming vocals, the top-class performer knew how to command a stage. 
We're now reaching the last leg of the concert and the 'To you' act brings back the fun party with 'Fear', 'My My', and 'Heaven's Cloud' clad in bejewelled denim jackets which they shared represented CARATs. 
As part of their closing ments, SEVENTEEN reeled back from their dynamic performer persona to their comedic and many times chaotic selves, bickering and joking as they addressed the crowd – even warranting a loving comment from fans that said, "They're fighting again".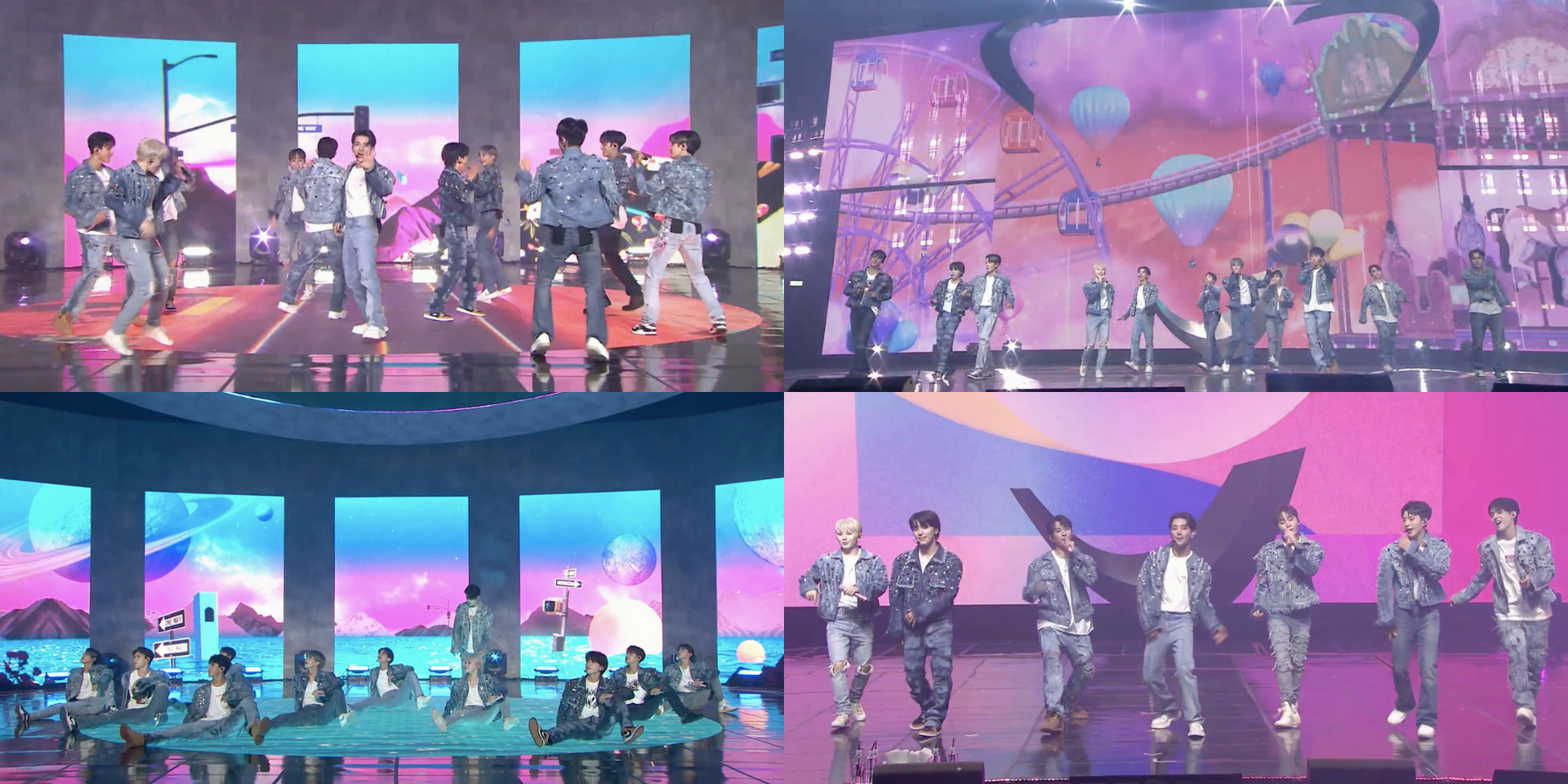 After another couple minutes of banter, SEVENTEEN went on to their closing stage which saw performances of 'Rock with you', 'To you', 'Thinkin About You', 'Left & Right', and 'All My Love', and heartfelt messages from each member.
With their musical versatility, ability to be all-around performers, and a stage presence that fills an entire stadium, SEVENTEEN are a talented bunch but their true power lives on a live stage.
Whether it's their fun-filled and many times chaotic spiels or mesmerising performances, the group harness their true potential underneath the spotlight and in front of an excited crowd. And, POWER OF LOVE was the perfect place to see SEVENTEEN in all their glory. 
---
SEVENTEEN will be hosting a delayed streaming of POWER OF LOVE (POWER Version) this 20 November at 11 AM KST (10 AM SGT/PHT). While the second concert will be happening on 21 November at 5 PM KST (4 PM SGT/PHT). Find out how to get tickets here. 
---
Listen to SEVENTEEN's Attaca here. 
---