Every fan has their own journey to discovering their favourite artists, but the ARMY's path to finding BTS tends to be extra special. 
In the fandom, there's a special saying that BTS find you when you need them the most; and for a lot of us, that proves to be true. Whether you needed friends to survive the pandemic with or wanted music to get you through your darkest days, the journey of finding RM, Jin, SUGA, j-hope, Jimin, V, and Jungkook tend to be laced with a sense of magic, comfort, and healing. 
As we countdown the days to BTS' 9th anniversary and the release of their highly anticipated anthology album, Proof, we gathered some ARMY to share their stories of finding the 'Magic Shop' and the beautiful world that lies within. 
---
When and how did you first hear about BTS? What was your first impression of them?
Back in 2019, I already heard 'Boy with Luv'; and thought it was a cute earworm. A friend also recommended 'ON' for my workout playlist so I added both those songs to hype me up. I also remember seeing the 'DNA' MV in a KBBQ resto and thinking how high production it was and also, "wow andami nila" (wow, there's so many of them) but both occasions I didn't really get invested in them yet. I went on with my normal life haha.
BANDWAGON TV
Who was your first bias and your bias now?
Taehyung was my first bias! After watching them live though, JK sneaked his way in there past wreckage stage. So I think as of now (haha), I'm Tae and JK-biased and Jin and Yoongi-wrecked.
What was the first BTS song you heard?
'Boy with Luv'! If there's such a thing as LSS but for dance, that chest-patting movement is definitely dance LSS whether you're a fan or not.
What was that one moment that made you a fan?
The pandemic initially made me a Park Bogum fan and I remember my friend saying, "oh K-pop is next for you" and I told her, "I think I draw the line there. Too much investment." LOL! I just remember feeling like it might be too much for me, I was happy being a casual K-drama fan.
Then I'd watch Bogum Youtube videos and see clips of his friendship with Taehyung and projects with BTS. Then he had to enlist in August and that was the same time a friend sent me a link to 'Dynamite' and I remember just watching it on loop that night. I don't know what came over me, para akong nasapian (it's like something came over me) hahahaha.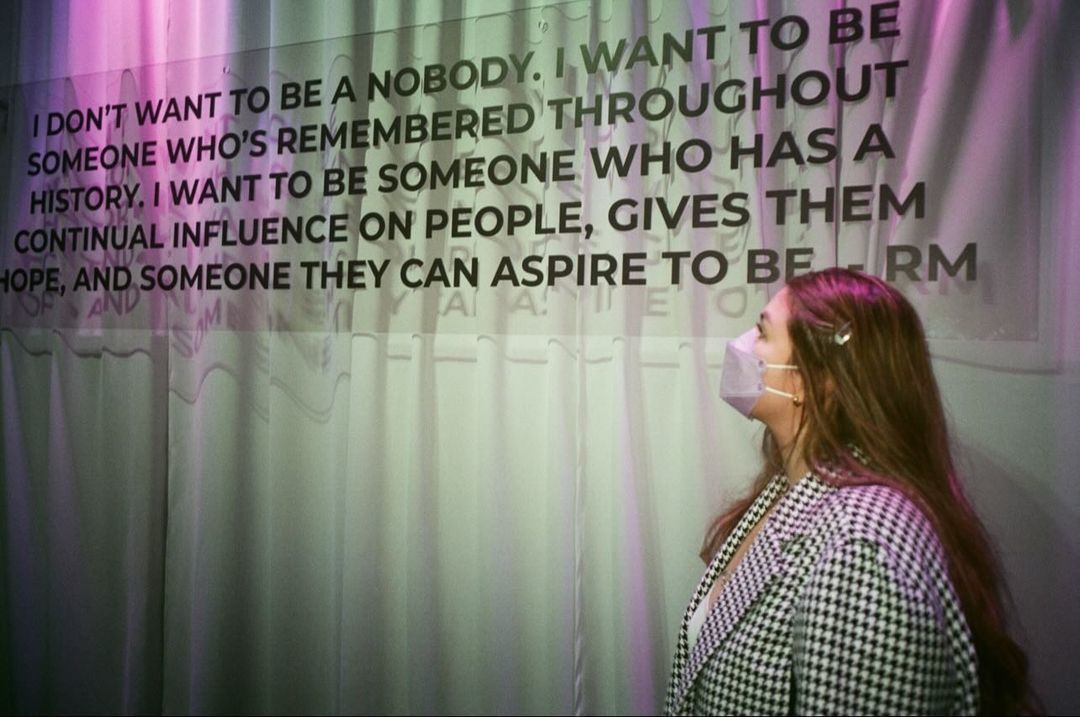 I think I became a legit fan after that when I started watching dance practice videos, specifically 'Fake Love' and 'Dionysus'. Then I decided to check out live performances, first one was MMA 2019 and I saw that it was 45 mins. I told myself: "I'll watch like 5 mins of it" GIRL TINAPOS KO. TAS PINANOOD KO PAULIT ULIT NAKAKALOKA NAWALA ARAW KO (Girl I finished the whole thing. I watched it again and again, my entire day was gone). Then I'd wait for my husband to fall asleep at night and put on my earphones and watch those fanmade compilation videos on Youtube. I revealed my fangirlness to Mel Alcaraz and she became my video dealer. The links to Bon Voyage, interviews, and more, she had it for me. August to September 2020 was wild—I was living, breathing BTS.
Have you ever seen a BTS concert (live or online)? What was your first time like?
My first online concert was Map Of The Soul and I could not believe the showmanship, I was so blown away. All the years I was stanning NSync in my childhood and thinking these guys were the peak of performance did NOT prepare me for the level BTS is on. Then I got a chance to catch the Las Vegas shows and I cannot begin to explain the emotional overload from preparing to go there and then finally seeing them, it was overwhelming but it also felt like I was seeing an old friend I haven't seen in years because of that feeling that you're so deeply familiar with them from watching their reality shows.
I watched Day 3 and 4, and Day 3 I just kept CRYING it was hilarious in hindsight. My husband has photos because I kept looking at him and my face was just a MESS AS IN PURO LUHA (as in covered in tears) because I was so overwhelmed with HAPPINESS. On Day 4, I was able to get a front-row seat along their cart route so they were literally maybe 3 to 4 feet from me waving hi. It was insane to have devoted the past few years just consuming all of their music, content, and videos daily and to see them in the flesh and to hear their songs and watch them perform right in front of your eyes. I don't think the high of that weekend can ever be matched. Maybe until the next concert. Or when I work as Yoongi's assistant in the future haha.
What's your favourite BTS song of all time and why?
Definitely my holy trinity is 'Mikrokosmos', 'Magic Shop' and 'Euphoria'. With a discography as massive as theirs, I do have my days when I feel like a 'Cypher' girl or I wanna mindlessly dance to 'Ego' but from day one as an ARMY those first 3 were my comfort songs that I always run back to.
'Euphoria' is so special because to me, it's such a perfect dreamy pop love song, right up there with Carly Rae Jepsen's 'Run Away with Me' and Katy Perry's 'Teenage Dream'.
---
When and how did you first hear about BTS? What was your first impression of them?
I was to collect my Coldplay tickets at Eastwood back in April 2017 when I was surprised by a very long ticket counter queue. Apparently, it was ticket selling day for the Wings tour in Manila, I was not aware until my daughter started playing 'DNA' on our drive back home from school and they were sort of on my radar from then on.
Honestly, I was not very interested back then and only had to listen so I could ride on my daughter's sound trip and interests. It is said that you'll find and love BTS when you need them in your life and that was 2020 for me— the Map of The Soul: 7 era.
Who was your first bias and your bias now?
I love all 7 equally! Seokjin was my first bias and now it's Jimin and a bit of Suga.
What was the first BTS song you heard?
'DNA' but I really started listening deliberately when 'Black Swan' was released and then going all the way to the back catalogue.
What was that one moment that made you a fan?
It would be the 'ON' Central Station performance for Fallon because they had a very precise and impeccable performance. The choreography was out of this world, the vocals and rap were tight and they were fun to watch on the outtakes and subway games.
But the falling in love moment was during the MV launch of 'Dynamite' and Park Jimin shot straight into my heart on the intro lol! It was my official entry into the rabbit hole. My daughter, Cahaya, and my road manager for Moonstar88, Juliet, who are both ARMY OG's, from there gave me lots of content links (Bon voyage, Run BTS, dance practices, and hilarious fanmade videos). We watched In The Soop during lockdowns and tread our merch craze from Weverse and online resellers too. I remember I had my team in Korea (from work) and have asked them to ship stuff to me so I could save on shipping fees but still receive them quicker than freight forwarders. The 7 has officially taken over my life.
Have you ever seen a BTS concert (live or online)? What was your first time like?
Since the lockdown, we attended all online gigs and last April, we scored and watched 3 of 4 BTS PTD - Borahaegas. It was destiny - to get to travel again since the pandemic with family and friends (Myrene of Sandwich and Imago and our daughters and our concert photographer friend, Roxy) and be able to watch BTS. Until now I can't believe we got so lucky with the tickets with some help from our Soupstar/Moonstar ARMY friends. It's like winning the lottery. The experience itself feels like the highlight of my year already!!!!
What's your favourite BTS song of all time and why?
This is hard because I love all of their songs but I'll attempt to list 10: 'Spring Day', 'ON', 'Blood Seat & Tears', 'Black Swan', 'Dynamite', 'Filter', 'Blue Side (full version)', 'Save Me', 'Daechwita (AgustD)', and 'Circle Room Cypher'.
---
Back in 2019, I was puttering around on YouTube looking for new Pop music. I loved all the US stuff that had come out since 2015 but I hadn't really latched onto anything more current. So I decided to watch this new BTS video that popped up ' Boy With Luv'. I was floored. It was the most unappologetic pop song with wave after wave of hooks coming one after the other, all well placed and logical. Every aspect of that release was mind blowing for me. I've never been a dancer but that video made me wish I could move. And then there was the guy with the blue hair. I immediately asked our road manager (our OG army) Juliet who the hell that was. This remains my favourite BTS song of all time. Every time I hear it I always go back to that moment. I still get goosebumps. I also love that it't Korean title is "A Poem for Small Things".
I didn't jump on the train right away though. I felt older, and late to the game. It was like I wasn't sure if I had any business liking them. But I thought they were something else. I thought the kids were lucky to find a bunch of young men preaching stuff like self-love and healing in ways that were heartfelt and not at all corny or contrived. I was always surprised at how wise they were for their age.


Then in October, I saw Kathy Gener (of Ang Bandang Shirley) head to Seoul to catch The Final. She was all by herself and was having a spectacular time. I just decided that I want to experience that too, so by December, I joined the club, because I wanted to have a go at seeing them in 2020. I still wasn't all in though, "I just want to watch them live."
The pandemic happened though, but ironically this is when I fully took the dive. I found myself in great company with ARMY friends, we were all just trying to navigate the new conditions. BTS was a true lifesaver. I started watching everything and finally got a grasp of their journey. The release and promotional mechanics of BigHit was also very new and interesting to me.
Two years later I made a go at getting tickets for one of their concerts. Things happened very fast and I got to go to Vegas with Maysh (Moonstar88), Roxy (photographer), and our kids. It was a lot of firsts after two years and I might not have completely wrapped my head around the fact that we got to see them live. Whirlwind and exciting can't begin to describe it. Soul-filling as well. I will forever hold those two weeks in April dear in my heart.
---
When and how did you first hear about BTS? What was your first impression of them?
I've definitely been aware of BTS years after I formally got into them. I was the main guitarist in an '80s-influenced pop-rock Filipino band called Never The Strangers, we released our debut album in 2012 under Warner Music Philippines, and we called our fans "the Army of Strangers," or, "NTS Army" for short.
Fast-forward to when BTS debuted a year later, we finally got wind of the fact that their fans were called the "BTS ARMY" haha so the coincidence was amusing to us. To me then, they were just one of many K-pop groups that were gaining popularity at the time
Who was your first bias and your bias now?
My first bias was Taehyung because nobody in the world can deny that face. My bias now is Jungkook because to my ear he has the best vocal tone, range, and technique out of all of them. On top of that, he's one of the best dancers in the group. Add all that with the fact that he's the youngest, so he has a ton of potential to improve even more.
What was the first BTS song you heard?
The first BTS song I heard was 'IDOL', the day it came out in 2018. What was most striking to me was that the song heavily featured a beat in the style of Gqom, which is a subgenre of electronic dance music native to Durban, South Africa. The style was only beginning to branch out from South Africa around 2016-2017, and BTS was the very first high-profile pop act to use it as a major release in 2018. 
KPOP + GQOM HAS FINALLY HAPPENED LADIES AND DUDES BTS CHANGING THE GAME https://t.co/vxS9gAACuw

— J-POPE (@JPLORD69) August 24, 2018
BTS definitely caught my attention then because to me, they were ahead of the curve in terms of musical styles that they were incorporating into their music. As a point of comparison, Beyoncé released a Gqom track (co-produced by DJ Lag, a pillar of the genre) almost a full year later in 2019.
What was that one moment that made you a fan?
After they released 'IDOL', I definitely had a more favourable view of them, but I wasn't fully enlisted into the ARMY yet.
And then, one night in august 2020 I was awake at like 3:30 am or something—shout-out to my friend Mina who sent me the link to the MV for 'Dynamite' which just came out that night, and I got fully hooked because I am also a sucker for disco-pop. The exact moment I got enlisted was when the first chorus of 'Dynamite' came in with that bassline and the syncopated piano chords, with the shot of Jungkook holding a donut walking out of the shop.
Have you ever seen a BTS concert (live or online)? What was your first time like?
Before the actual answer: in 2017 I got offered by a friend to watch a BTS concert in Newark, New Jersey for free. I wasn't a fan yet then, so I politely declined... And as I found out years later, that was the night that the infamous Jin and V argument happened where V ended up crying.
I've seen a bunch of BTS concerts online because at the time they were all we had in the middle of the pandemic. The first time was definitely a fun experience because you're watching with over a million people at the same time, they definitely play all the hits, plus you get the best view and sound because you can hear everything at a reasonable level.
Living on the east coast of the USA, I missed the chance to go to their first Permission To Dance concert in LA because my mobile spam filter accidentally blocked my access code lol. By the second time they announced they were going to LA, I was like "you know what, I'll let them come to new york instead" haha.
What's your favourite BTS song of all time and why?
My favourite BTS song right now is 'Butter'. I definitely love their funkier songs, and 'Butter' could easily be a Carly Rae Jepsen song as well. I loved the song's production, and hello, that vocoder solo in the bridge with the elevator dance break??? I got chills from how good it was. It came out in the East Coast at midnight, and as soon as I woke up the next morning I figured out how to play that vocoder solo on guitar.
---
Jackie Kong, doctor
When and how did you first hear about BTS? What was your first impression of them?
I have been listening to K-pop since I was a teenager so I would occasionally read K-pop news and was aware of them since their debut. But it was not till around 2015, I started paying attention to them. My first impression of them was that they were another boy group that was gaining popularity but didn't know why they were popular.
Who was your first bias and your bias now?
My first bias was V! And now I think I like Jungkook the best (bias wrecker).
What was the first BTS song you heard?
I think it was 'Dope'. Because the music video was popular and I saw it from one of those react videos.
What was that one moment that made you a fan?
I was going through a tough time during my university days when I had to resit for exams. I had to stay back for the summer holiday to study for the exam as it was going to be held by the end of summer. I think I started watching their videos around that time but it was not until I watched their live performance of 'Butterfly' that I truly became a fan. I really liked the song and that's when I started listening to other songs by them and cringe moment—but listening to them really helped me through the tough time amidst the intense study.
What's your favourite BTS song of all time and why?
If I really have to pick, it would probably be 'Spring Day'. I could relate to the song very well and the music video will forever be one of my fav aesthetics ever.
---
Rachel Yap, Digital Projects Manager
When and how did you first hear about BTS? What was your first impression of them?
I used to be an anti-kpop kind of person, like in my head, BTS was the worse of them all cause they go so big for "no reason at all". Somewhere in 2017, my best friend got into it and I was always telling her to come back to "normal life" and she was always sending me a track or two. When they released MAP OF THE SOUL: PERSONA, she texted me, "if u love me u will listen to bts new album especially persona, boy with luv, mikrokosmos, make it right, home, jamais vu and dionysus."
As I was queuing the songs, I realized that's the entire album and she deceived me. But after listening to the songs, I was impressed by the sounds and melodies, like it's interesting, it wasn't the loud and annoying repetitive sounds that I assumed were what K-pop is. Then, I took a deeper dive into the lyrics and meanings of each track and then did the same for their entire discography. The next thing I know, I'm in too deep and naturally became a fan and have no regrets. 
Who was your first bias and your bias now?
My first bias was Jimin, current bias is still Jimin and Suga (please don't make me choose!) I must say that Jin and Jungkook were the ones who hooked me in with their good looks. 
What was the first BTS song you heard?
'Waste It On Me' - Steve Aoki, BTS
What was that one moment that made you a fan?
It wasn't a particular moment, but it was when I realized I gravitated towards them during tough times, I depended on their content to tune out my negativity and I listened to their songs a lot, especially the Love Yourself: Answer album. There's a track for everything, need comfort? 'Magic Shop'. Need to hype yourself up? 'MIC Drop'. Seeing your bank account at the end of the month? 'Go Go'. 
Have you ever seen a BTS concert (live or online)? What was your first time like?
Yes! I was saving up to watch them in real life but COVID seemed neverending so I caved and bought the online tickets to watch PERMISSION TO DANCE ON STAGE in LA. I also managed to get tickets to watch the BTS Permission to Dance on Stage - Seoul: Live Viewing in Singapore, which was a really fun experience watching with other fans. 
What's your favourite BTS song of all time and why?
'Magic Shop'!!! I was in a really dark place when I started becoming a fan, and a close friend has remarked how BTS changed me for the better, and I feel like this track explains that relationship I have with them, a space where I find comfort. 
---
Franchesca Basbas, writer
When and how did you first hear about BTS? What was your first impression of them?
It was 2015, on a bus on the way to Ras Al Khaimah, UAE. I was in a big dance phase then (even though, I couldn't and still can't dance to save my life haha) and was really into this Korean dance studio called 1MIllion. So, in an attempt to make the most of that bus trip, I was showing my friend a bunch of their videos and in turn, she showed me "this hip-hop K-pop group that dances really well" which turned out to be BTS and their dance practice video for 'Danger'. Soon, one video turned into another until we watched a good majority of their dance practice videos that whole road trip—I loved that we could hear the squeaking of their shoes as they danced. 
My initial thought was, "Wow, the black-haired guy in the white shirt is really good" (especially the 'Gwiyomi' part) which turned out to be Jungkook. To which, my friend said that he was only 15 when they debuted and I was instantly envious because I was 15 at the time and wasn't even close to dancing that well haha. 
Who was your first bias and your bias now?
While it was Jungkook that first caught my eye, it was V that captured my heart particularly because of their 'War of Hormone' dance practice videos. In the regular one, he was cute and just so much fun to watch (I remember referring to him as "heart sweater guy" cause I didn't learn their names yet haha), while in the Real WAR version, he was chaotic and even more fun to watch haha. The duality was insane and it's been V ever since. 
What was the first BTS song you heard?
I already mentioned it was 'Danger' so I'm going to share what the first music video of theirs I watched instead hehe. 
When I was still getting into BTS, it took a while before I even watched any of their music videos because I was so hung up on their dance practices. So it wasn't until I think a month later when I finally watched their music video for 'Dope', which was a great coincidence because it started with RM saying, "Welcome, first time to BTS?" and I feel that really set the foundation for my entire experience with them. 
What was that one moment that made you a fan?
It was their performance of 'Dope' at Inkigayo in 2015, where Jungkook and Jimin literally launched themselves up from beneath the stage, managed to land beautifully, and sang as if they didn't just go through all of that. Then, the rest of the members entered the stage the same way and proceeded to dance in perfect unison. I stumbled upon that video on YouTube one night and was in absolute awe, like how did they do that? To this day, I'm mesmerized. 
I do distinctly remember though trying so hard to resist adding their songs to my iTunes playlists because I knew that would solidify my ARMY status and I didn't have the mental capacity to stan another group, I just had gotten over One Direction (the stresses of being 15 haha). But I did anyway, the first songs I added were 'Miss Right' and 'I Like It'. 
Have you ever seen a BTS concert (live or online)? What was your first time like?
The first and only time I've seen BTS live was in 2016 at KCON Abu Dhabi. The announcement came out as I was literally minutes away from taking an exam in school, I remember showing my friends and all of us just jumping and screaming in front of the examination hall haha. 
The first time I saw them that day was during a panel about K-pop artist management by hitman bang himself, Bang Si-Hyuk. My friends and I attended the panel because we genuinely wanted to see Mr Bang and learn what goes into managing K-pop artists; why it didn't occur to us that he would bring out BTS during that session was beyond me haha.
We were seated under a canopy and my friend seated on the very outer edge was like "It's V" to which I responded, "Don't lie to me" HAHA. And lo and behold, it was indeed V and the rest of BTS (dressed in suits btw) walking out and taking the stage just to say hi. I screamed and almost fell off my chair haha. Since it was such a small space, they were so close to us. It happened so fast, that it barely even registered that I just saw them until it was all over. 
Then it was the actual concert and I couldn't believe that I already got to see them live after only being a fan for a couple of months then. I was going through a lot of emotions—and once again, almost fell off my chair—but mainly thinking that they were so much better in person than in all those live performance and dance practice videos I watched. 
The standout moment was definitely during their performance of 'Dope' and BTS were at different corners of the stage waving at fans and SUGA came over to my section and just stared in my direction—just stood and stared and I absolutely lost it HAHA. No one ever believes me because I was too stunned to pull out my phone but I promised it happened! But since that day, SUGA has been my bias wrecker and has been giving V a run for his money haha. 
What's your favourite BTS song of all time and why?
I was a 'RUN'-era ARMY so I tend to favour songs from that time in their career but my absolute favourite is 'Spring Day', it's a timeless classic that leaves so much up to your interpretation. But 'Autumn Leaves', '24/7=Heaven', and 'Dope' have a special place in my heart—also, 'Cypher Pt. 2: Killer' because duh. 
Lyrically, 'Spring Day' is so poetic, constantly playing with opposites while taking you through the complex and never-ending cycle of dealing with loss. Up until 2017's You Never Walk Alone (which is my favourite BTS album of all time hehe), BTS explored a lot of emotions that come with growing up and 'Spring Day' always felt like the final wave of feelings before entering adulthood to me. It's mourning the loss of simpler and carefree days but also hoping for even greater days ahead; it's being scared for what's to come but also knowing it's all inevitable. 
And, don't even get me started on the music video. Like V said at MAMA 2018, "My favourite music video is 'Spring Day'."
---
Charisse Vilchez, Marketing Manager
When and how did you first hear about BTS? What was your first impression of them?
I remember hearing the song 'Boy with Luv' on the radio with my brother. I remember the rap part of SUGA caught my attention. I was quite impressed by it because of my love for old-school 90s hip-hop. This probably happened in late 2019? 
Fast forward to 2020, when I got a taste of Hallyu through Crash Landing on You, I started watching more K-dramas. Park Seo Joon became my favourite Oppa, I decided to see all his K-dramas on Netflix. The last one on the list was Hwarang and I thought I wouldn't like it because it was a period drama – but I was wrong. I really enjoyed all 20 episodes and I was drawn to Suk Han-sung's character who turned out to be V from BTS. The chemistry of the Hwarang Boys was really strong and I would watch their TV interviews on YouTube. I found it so endearing how the "Hyungs" would tease V, next thing I knew I was googling more about V and I was getting targeted by fan-made videos about BTS and V.  This happened around March when the pandemic just started. 
I saw some friends posting about BTS and I would ask them about V. A colleague sent me the YouTube link of James Corden Carpool Karaoke, I saw it like 10 times in one day. I found all the boys so endearing!  And then Jimmy Fallon's 'ON' performance in the Grand Central—the next thing I knew I was down the rabbit hole.
Who was your first bias and your bias now?
My first bias was V and as I started watching more videos of them, it became RM. Ever since then, it's been Namjoon. I've learned that to be a good leader, you need to show empathy to your team, be the best cheerleader and at the same time know how to give credit where credit is due. I really do believe that it's because of him they remain humble despite all the success.
What was the first BTS song you heard?
'Boy with Luv' and then I really liked 'ON' but on the year I became a fan 'Lights' was the most played song on my Spotify. 'Lights', 'Magic Shop' and 'Answer: Love Myself' were my top three songs at the beginning. 
What was that one moment that made you a fan?
When I heard the line, "Even all the scars from your mistakes make up your constellation" from their song 'Answer: Love Yourself', I knew I was in it for the long run. 
I knew I loved the boys more than their music when I started watching their Run BTS episodes and I just couldn't stop laughing. The more shows and content I would watch on them online, the more I felt our "relationship" flourish. They became my safe space in the middle of the emotional pandemic. 
Have you ever seen a BTS concert (live or online)? What was your first time like?
Before 2020, I have never seen a K-pop concert in my whole life. My first experience was Bang Bang Con and it was awesome! I didn't know what I was getting myself into – it was my first k-pop and online concert. I was watching it with a friend and we were reacting together via the messenger app. Ever since then I don't think I ever missed an online concert by BTS. (Even last April, I had a wedding in Bacolod, and I made sure that I could connect my laptop to the hotel's TV with an HDMI cable. I was watching the concert while having my make-up done. Talk about commitment!)
I was lucky enough to see them live in LA last November and December. The pandemic really took a toll on my mental health and as mentioned earlier (in my previous answers), they became my safe space. My happy pill. I was actually talking to an ARMY friend around September and since we're in our mid-30 living alone and single, we were playing around with the idea of traveling to the US. During that time, it was a country that was accepting tourists, we had valid Visas but paying for hotel quarantine for 10 to 15 days upon returning was just ridiculously expensive. 
But as Paulo Coelho once said – If you want something so bad.  The universe will conspire to make it happen. A few weeks after, a tour was announced, hotel quarantine went to 5 days only upon returning as long as vaccinated, and I was lucky enough to renew my passport in time. 
LA is special and serendipitous not only because it was in between Delta and Omnicron but also because I was only going through something personal and my experience there made all my troubles go away. 2021 was tough but the plot twist by the end of the year trumps all sh*tty moments. 
m
___
I loved Namjoon's speech during PTD Day 1 in Los Angeles. He's what he shared, "This morning, I was on the bus with the brothers coming to rehearsal in SoFi stadium and I just looked out the window. The scenery of LA, a beautiful town, was just passing by. I just felt so strange because I just remembered all the rage, the anger, the anxiety, the desperation for these 2 years when we released Dynamite, LGO, Butter, and PTD. I was sad, I was so down. But as I looked out the window, it felt like nothing! It's so strange, time's so fast, I just couldn't believe we were actually coming, meeting you in person, face to face, eye to eye. The real (thing) that we had for that goddamn 7 years!".
KNJ captured it all. 3/4s of my 2021 (from Jan to September?), I was sad, angry, depressed and most of the time very anxious. I felt so lost. But during those few days in CA, all of those feelings just disappeared. I felt the spark. I felt like myself again. I felt alive.
I know that with the new variant, things are going to be uncertain again but to experience this even for a short time makes me less afraid. I am now less afraid of 2022. Less afraid to speak up. Less afraid to commit mistakes. Less afraid to put myself first. 
The entire show in Los Angeles has taught me that no matter how bad a situation is there are small windows of opportunities that have happened, that can still. I may have not seen them live in Vegas but I am very grateful that the magic the boys have shown has carried on until the remaining months of 2022. 
____
Another thing that I found very fascinating during my LA experience would be the kindness of fans. Again, as someone who is new in this whole realm of K-pop. I was blown away by people dancing in front of the stadium, fans handing all these candies, fans, items they did themselves and I even crossed the street with a 60-year-old grandma who shared that she flew all the way from Germany alone just to see the boys! I was also starstruck when I saw Liam McEwan and started praising him for all the engaging interviews he has had with the boys. I thanked him for always taking good care of them. The PR girl in me felt so proud! 
On the last day, my friends and I decided to meet in SoFI since we all had different errands to run that morning. The hotel we were staying at is a bit far from the concert venue and the best way to go there would only be via Uber which can be a bit pricey. While I was in the lobby waiting for my ride, I saw a group of Filipinos doing a selfie group photo and I offered to take their photo so that everyone could fit in the frame. After sharing with them that I was a kababayan, we started talking and they're all OFWs from different parts of the US and Canada! The concert served as some sort of reunion for them! They saw that I was holding on to my phone and they said to cancel my Uber and to just ride with them. They rented out a van so that they could all go together and they still had a space for one more! It was meant to be. It's just a very simple story but I'll never forget the kindness they extended to me! Experiences like this one made me love this fandom even more.
What's your favourite BTS song of all time and why?
It's really hard to pinpoint your favourite BTS song of all time because I feel as you go through different phases in your life, you have different favourite songs from the boys. There was a time I just kept on listening to all their upbeat songs non-stop—'IDOL', 'Fire', 'Cypher Part 3'—because there was a certain change that I was going through and I wanted to get that fire in me burning. I was ready to face those challenges head-on. 
There was a time that I had most ballads on repeat because of the comfort it gives me. I remember crying to '00:00' after a horrible horrible day but after hearing the line, "When the minute and second-hand overlap, the world holds its breath for a little while", I felt my heart become at ease. This line has given me so much hope and reminded me that the sun will still rise tomorrow.
But if there's only one song I can talk about then that would be Namjoon's 'Trivia: Love'. Simply because his wordplay in the Hangul dialect is just brilliant. Totally mind-blowing. Thinking about it just gives me goosebumps. How he described that he is just a person (which is Saram or 사람) but ARMY's dedication (or maybe his special someone?)  has rounded him and made him into something special like love (also known as Sarang or 사랑). To love and be loved is what makes us human after all. 
On a personal level, my ultimate favourite song of all time is called 'The Light' by Common. I see similarities between the two songs—the lyrics and wordplay are just 100 % really sweet and is just kilig.  (There's one line that goes, "If heaven had a height you would be that tall.") There's something special about rap love songs that makes them more meaningful. It is poetry packaged in a unique way.  
---
Andrea Genota, Photographer
When and how did you first hear about BTS? What was your first impression of them?
At first, I thought I heard about BTS through my cousin but I realized my first ever encounter with them is when people were mixing up BTS as in behind the scenes, and the actual K-pop group. I read about some fans being angry that people were using BTS when it was actually about some behind the scenes! I didn't really think much about it.
Who was your first bias and your bias now?
Taehyung. It's still Taehyung.
What was the first BTS song you heard?
Probably 'Boy with Luv'! I was out drinking with my cousin and she was talking about the song and even kinda dancing to it.
What was that one moment that made you a fan?
During the pandemic, I quarantined with my cousins who are all BTS fans. We would watch BTS content every!! day!!! I even told my friend and joked that "they can't convert me."

But one day, I woke up and realized I dreamt of Taehyung and I realized I was so happy. Hahaha (fun fact: that happened exactly June 13th—their anniversary) I think that's where it all started! They started to grow on me, I learned about their stories, and I learned about their songs. They really got me through the pandemic and I was able to be even closer to my cousins. I really was able to grow and foster a lot of special relationships with friends and family through BTS!
Have you ever seen a BTS concert (live or online)? What was your first time like?
I've seen online concerts! But I can't wait to actually see them live, hopefully. It's funny cause even if it's not a full-blown concert, even just the premiere of their NPR Tiny Desk home concert, my cousin and I would free our schedule and ready snacks and soju and popcorn just so we can enjoy the performance in its full glory.
What's your favourite BTS song of all time and why?
On top of my mind, it's definitely 'Home'. I've had really good moments in life sharing that song with so many people. And that's also how I feel about BTS in general! I don't follow them as much as I used to before, but I miss them all the time and I really feel like they're home! I'll always be such a huge fan and I'm always rooting for them.
---
Marga Deona, product manager
When and how did you first hear about BTS? What was your first impression of them? 
I always say that my BTS journey is an excruciatingly slow burn – six long years in the making. I first encountered them in October 2015, when I was sent to Busan, South Korea for a work trip. They were among the performers at the concert I attended. I clearly remember entering the stadium during their turn at soundcheck, and they were wearing bibs with their names in hangul. I was covering a Filipina singer who was also performing in that concert, so we had record label representatives and an interpreter with us.
After their soundcheck, the boys—my recollection of their group name then was Bangtan Boys—walked past us. I clearly remember Jungkook bowing profusely at us, and told our interpreter "what a very polite kid." She said, "You hear all those cheers for him? They call him Busan's pride because he was born and raised here." Save for the catchy, funky 'Boyz With Fun' which I saved on my Spotify then (looking back, I first encountered them during their charmed HYYH era!) and the exceedingly polite teenaged Jungkook, I didn't think much of them over the next few years – until the Dynamite era.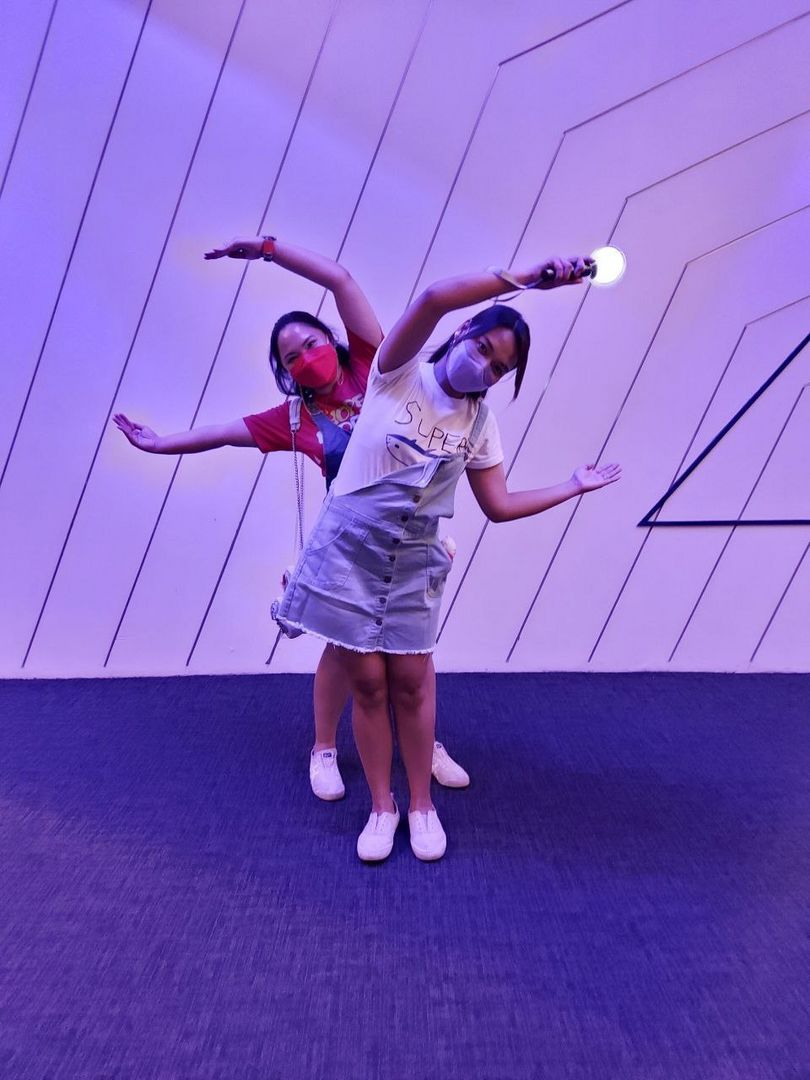 Who was your first bias and your bias now? 
I consider SUGA as my gateway member (as AgustD, thanks to my brother), so I'm not sure if he counts as my first bias. But my current bias is j-hope—I am a sucker for dancers and hip hop. I've always had a soft spot for Jungkook, though, in a quasi-maternal kind of way, because in my eyes he will always be that polite teenage boy from Busan.
What was the first BTS song you heard? 
'Boyz With Fun' – it remains one of my favourites.
What was that one moment that made you a fan? 
I would say that I gained an appreciation of K-pop when I saw them perform in Busan, but I became a full-fledged fan when I saw the 'Dynamite' performance at MMA 2020, and j-hope smirked at the camera before that mind-blowing dance break, I knew I was a goner.
Have you ever seen a BTS concert (live or online)? What was your first time like? 
(Un)fortunately, my first and only live concert was when I wasn't a fan yet. They only performed 3 songs I think - 'Boyz With Fun', 'I Need You', the rest I forgot na. I just archived the footage in one of our old hard drives (I need to retrieve it!).
What's your favourite BTS song of all time and why? 
Save for 'Boyz With Fun', I think 'Dis-ease' is one of their best – excellent production, fresh sound (thanks Brasstracks), with a smattering of old skool hip hop. 'Euphoria' is my favourite solo.
---
Camille Castillo, Editorial Director
When and how did you first hear about BTS? What was your first impression of them?
I had first heard of BTS in 2016, when a writer pitched me a story about a K-pop group heavily influenced by hip-hop. I thought they were interesting, and I greenlit the story, but back then it was not enough to get me to actively listen to their music. 
Who was your first bias and your bias now?
In 2018, the same writer who pitched me the BTS hip-hop story shared RM's mono mixtape with me, and I was immediately drawn to 'forever rain.' Like, it was so sad? But also, so good. I didn't understand half the lyrics, I just knew that emotionally it felt like how I would respond to a  Bon Iver song. Fast forward to 2020 when I became a proper BTS fan, I would say RM was my first bias, and now it's Jin and RM. I feel like RM and Jin are the kind of besties I would want irl, a good balance. But I would have to say that my ult bias is actually RJ. Hahaha. Jin was right when he said he wanted RJ to be a source of comfort and warmth. RJ was my bestie when I was quarantined for 2 weeks with COVID. My dog loves him too.
What was the first BTS song you heard?
It's most likely 'No More Dream' because of the feature we did a few years back, but I think the one that I got to listen to organically was 'Boy With Luv'. I thought that was an excellent pop song. It's all in the hooks!
What was that one moment that made you a fan?
I'm a 'Dynamite' era fan, and I actually ended up getting into them while I was in the middle of my K-drama phase of lockdown.  I made my sister watch the 'Dynamite' video once. (I had to monitor the views for work, and was wondering why it was breaking records.) She said, "That's cute". A couple of days later, she showed me a video of Namjoon trying to slice carrots and Jin helping him out, and before we knew it, we were backpacking through Europe, diving in Hawaii, coasting through Malta, and hiking in New Zealand. We couldn't go out to see our friends, so we found seven of them in BTS instead. It was like going back to our teen years, the last time we were both active fans of NSYNC and the Backstreet Boys. Our cousins are also BTS fans, so that makes things more fun! We celebrate every member's birthday the way we would celebrate our own: SUPER EXTRA.
By the time their NPR Tiny Desk session rolled out, I was already a fan, but that performance upped their game for me. There's a different kind of energy that a live band brings, and also shows the vocal skill and technique that they have since it focuses more on their voice vs choreography. 
Have you ever seen a BTS concert (live or online)? What was your first time like?
I have seen every single online concert since the pandemic began. We make sure we throw a little house party for ourselves whenever there's an online show, just so we can feel a sliver of the hype of a real-life concert. I'm hoping I can catch them live in person, whether it's for work or for fun. On a professional level, if I had to choose between a chance to interview BTS or watch an in-person concert, I would choose the interview haha. BigHit Music, hear me out!
What's your favourite BTS song of all time and why? 
I now regret approving this question haha. It's difficult to choose, so I'll come up with categories for my choice(s). 
Group song: 'Black Swan' - I've said it before, and I'll say it again: 'Black Swan' is a masterpiece in all aspects. From lyrics to choreography, the music video to the live performances - everything ties together so well. Like, if I had to recommend a BTS song to a non-fan, I would give them 'Black Swan'. A close runner-up would be 'Dionysus,' I watch the MAMA performance daily.
Solo song: It's a toss-up between 'Euphoria,' Jungkook's perfect little pop gem (and a popular wedding song choice these days) and Jin's 'Epiphany'. When Jin sings 'I'm the one I should love," I go: "Yes, that's right! I love me too!" Okay, I'm going for three songs. I can't not include RM's 'Trivia: Love'. That song is pure poetry with all of RM's signature wordplay. 
Bonus: Japanese song: 'Let Go' I think their Japanese songs are overlooked and deserve more love. I watch the Stage Mix version at least once a day. What's not to love? The soaring vocals, the mish-mash of choreography (it goes from demure to dangerous real quick), the fact that it's easier for me to sing along to Japanese lyrics haha
---
BTS' Proof is dropping this 10 June. The record features several songs from their nine-year career, as well as three new tracks including their lead single 'Yet To Come'. 
Like what you read? Show our writer some love!
---