It was 2015 when I first came across 'Girls Girls Girls', beginning my descent into the world of GOT7. While I was a little late to the party, it was that era—characterised by its hilarious hairstyles and schoolboy arrogance—that welcomed me into the fandom.
Seven years later, that very song opened their highly anticipated HOMECOMING concert. While both GOT7 and I are now at very different stages of our lives since 'Girls Girls Girls' came out, the track still boomed with the same power and excitement. 
Over the weekend, GOT7—which comprised JAY B, Mark Tuan, Jackson Wang, Jinyoung, Youngjae, BamBam, and Yugyeom—held their two-day fan concert in anticipation of their long-awaited comeback EP, GOT7. The concert comes as their first group activity since leaving JYP Entertainment in January 2021, during which they've been pursuing their solo careers across music, acting, and fashion. 
BANDWAGON TV
Live from Seoul's SK Olympic Handball Gymnasium, the concert drew thousands of fans. But thanks to the power of the Internet, I got to tune in via livestream for the second day. 
[📸]#아가새 와 #갓세븐 왕짱행복했던 오늘하루🐥💚
내일도 우리 함께 즐거운시간 보내기로 약속해요💚
늦은 시간이지만 갓세븐 기운 받아서 조심히 들어가기😉💚#GOT7 #MARK #JAYB #JACKSON #JINYOUNG #YOUNGJAE #BAMBAM #YUGYEOM #마크 #제이비 #잭슨 #진영 #영재 #뱀뱀 #유겸 #IGOT7 pic.twitter.com/bcO3shbffb

— GOT7 (갓세븐) (@GOT7) May 21, 2022
If you've ever been to a GOT7 concert or even just witnessed their VLIVEs back in the day, you'd know that the seven of them together bring an endless amount of energy, hype, and chaos. HOMECOMING was no different. 
The concert opened with their debut track 'Girls Girls Girls', followed by 'Aura' and 'Not By The Moon'. After seeing the members perform and promote as soloists for the last year and a half, it was surreal to see them all together again (performing their debut song on top of that!).
After the adrenaline of the opening, it was time to settle down into the fanmeeting portion of the concert, i.e the part where GOT7 just revel in absolute chaos and make fun of one another—which only a couple of minutes later already held true. 
I took this time, while waiting for the translations to load in (big props to the live translation team for doing all that in real-time, especially since the members talk a lot haha) to think about the last couple of years.
Everyone has that one artist that they grew up with; that one act that, despite whatever phase of life you're in, always has a spot in your playlist. For me, it was GOT7. From listening and dancing to 'A' and 'Magnetic' with my friends after school to now, jamming out to 'THURSDAY' and 'LAST PIECE' after a long day at work, they were always with me. 
So after they went off to pursue their solo careers in different parts of the world last year, it felt like a farewell to a very important part of my life. While they promised they'll come back (which lo and behold, they did!), I couldn't help but feel a tinge of sadness that 'Encore' was possibly the last I'd see of GOT7 together. 
So, just imagine my excitement when they launched their new logo and social media channels.
GOT7 【HOMECOMING】 2022 FANCON 인사영상이 도착했습니다💌💚

5월 21일, 22일에 만나요💚🐥💚#GOT7 #갓세븐 #MARK #JAYB #JACKSON #JINYOUNG #YOUNGJAE #BAMBAM #YUGYEOM #마크 #제이비 #잭슨 #진영 #영재 #뱀뱀 #유겸 #IGOT7 #아가새 pic.twitter.com/gnJo2kyM7R

— GOT7 (갓세븐) (@GOT7) May 18, 2022
Of course in true GOT7 fashion, as I was getting introspective and borderline emotional, they were talking about fighting over food, getting drunk, and dancing naked in their dorm rooms. Oh, how I've missed them. 
After over an hour of conversations and stories from the good ol' days, it was time to begin the concert once again. HOMECOMING continued with performances of 'Playground' (one of my favourite GOT7 songs), 'Miracle' (my go-to pick when I want to cry), and 'Just Right' (the era that they were in when I first became a fan). 
After a short intermission, the concert went on with classics like 'Breath', 'Page', 'Thank You', 'Encore', and 'THURSDAY'. The very latter of which was my favourite performance of the whole night, you could see how much fun they were having and even through a screen, that happiness and energy translated so well. 
GOT7 also debuted songs of their forthcoming self-titled EP. First up was their title track, 'NANANA' which felt like a vividly colourful bubblegum world that you just want to live in. It was such a fun lead single, one that felt quintessentially GOT7 but also so reflective of their current phase as a group. 
'NANANA' sees GOT7 step into their own and focus on solely making music for their fans, a rare feat for a K-pop group that have departed their company. It's that energy and power that brings their title track and performance to life. 
GOT7 also performed 'Don't Leave Me Alone', an emotional track written by JAY B to remind fans that they will be together once again (cue the tears).
As the concert came to a "close" (it, in fact, did not end for another hour and a half), the members gave their "goodbye" speeches (again, it did not end until almost two hours later haha). 
It was at this moment that I realised they probably felt what I did when 'Encore' first came out and what I probably will feel after GOT7 comes out later today. It's that strange mixture of heartache and reassurance that despite going our separate ways after this week, we'll always find one another again.
"The concert is almost over I feel sad the vacation is over. I am a little sad the concert will be over but I am glad to spend time with you. I am so thankful, we all wanted to come back but it's because of you it's possible," said JAY B. 
"Because of you, we are able to come back as 7. Without you, we wouldn't know what we'd be doing today. I'm always thankful. We will keep thinking of you and the love you gave to us and our solo albums. We love you please, wait for us," said Mark.
GOT7 IS OUR NAME. pic.twitter.com/AiGTGhPbAq

— Mark Tuan (@marktuan) May 23, 2022
"I'm sure you also get stressed but I hope you stay positive. You take care of us so please take care of yourselves too. When bad things happen, just let it go and stay positive. Just be happy, staying happy is important," said Jackson. 
"I believe I am a nobody, I can't shine on my own but the fans make me shine. I felt like I'm shining because of you, I can only shine as much as you shine on us. Thank you for loving GOT7 and thank you for waiting for us," said Jinyoung. 
"With all 7 of us together, I feel at peace. Yesterday and today, I felt more comfortable with the members and you guys. I hope you will wait for us, your home," said Youngjae. 
 

 

View this post on Instagram

 
"After today, I don't know what we'll do—maybe our solo stuff so I'm sad. For a while, we'll make you wait but I hope you will stay and wait for us. For this album, we were worried you left us but you stayed so please, keep on waiting for us and our solo work. Thank you for everything," said BamBam.
"To you guys, we always want to be better so I feel sad that my voice is not well but I'm thankful you sing along to my parts. I feel touched. Whether it's solo work or group work, I am always with GOT7," said Yugyeom. 
Until we meet again💚#GOT7_HomecomingDay2 pic.twitter.com/RSIoen228e

— BamBam👷🏼 (@BamBam1A) May 22, 2022
After their ending comments and a beautiful surprise project by fans (where they all held up signs saying "MY HOME GOT7"), it was time for their encore stage or what BamBam described as "the beginning of the actual concert". And boy, was he right. 
The encore stage originally had three songs lined up: 'Hard Carry', 'Go Higher', and 'Out', but because no one wanted the concert to end, the members kept performing song after song (much like a karaoke session—Jinyoung actually had an actual list of songs to choose from). Before you knew it, their encore had just as many songs as their actual setlist.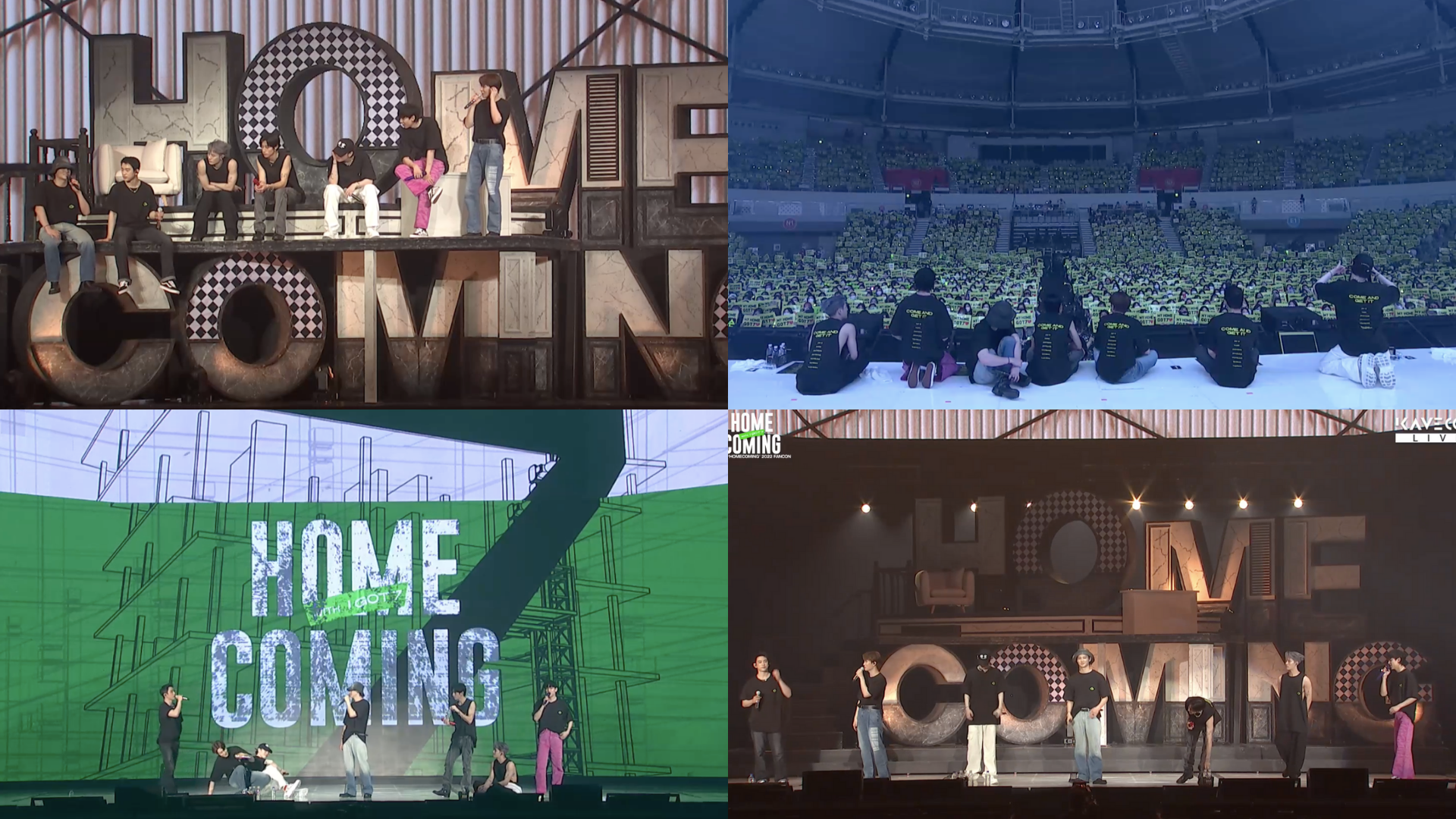 GOT7 ran through some of their greatest hits like 'Never Ever', 'A' (my absolute favourite), 'Fly', 'I Like You', 'Lullaby', 'Look', 'Before The Full Moon Rises', and 'Stop Stop It'. 
In the last two years, I've watched a number of online concerts but this was probably the most fun I've had. As energetic and hyped as the members were on stage, I was right there with them, dancing my heart out in the comfort of my bedroom. 
After almost an hour of songs, it felt like the concert was never going to end, especially since the members never failed to ask the crowd "Okay, what's next?" after every song. But eventually, it was time to end the show (all thanks to the organisers telling GOT7 to stop via the teleprompters haha). 
[📸]
이틀 동안 서로에게 특별한 존재가 되어준 아가새와 GOT7💚

GOT7은 영원하니까 우리 짱아가새들도 언제나 GOT7 곁에서 함께하기로 꼭꼭 약속해요🐥💚

GOT7 IS OUR NAME💚#GOT7 #갓세븐 #MARK #JAYB #JACKSON #JINYOUNG #YOUNGJAE #BAMBAM #YUGYEOM #IGOT7 #아가새 pic.twitter.com/mdoz2v7FUl

— GOT7 (갓세븐) (@GOT7) May 22, 2022
HOMECOMING was undoubtedly a much-needed reunion—not just for GOT7 and the fans but also for their families and crew members who also showed up for the concert. After what felt like a sudden farewell last year, even with the release of 'Encore', the concert and the upcoming album are essential to reassure the heart and soul. 
It might be a while until we all see JAY B, Mark, Jackson, Jinyoung, Youngjae, BamBam, and Yugyeom together again but we know that no matter what phase they or we are in, they are GOT7.
Like the members said themselves, "We'll always be GOT7, no matter what".
---
GOT7 are releasing their highly anticipated comeback EP later today (23/05) via Warner Music Korea. 
Like what you read? Show our writer some love!
---