Social audio is finally getting the spotlight.
Voice-based social media apps hit the scene at a pivotal moment in the last year, where many were working remotely and socially distancing from each other. Before the rise of social audio, users would consume media through photos, videos, and text through dominant platforms such as Facebook, Twitter, and Instagram.
However, increased screentime took its toll on users. This is where social audio comes in. Audio room apps are developed to allow users to have live conversations with others with topics ranging from entertainment, politics, and more.
Here are 7 social audio apps to check out if you feel like having a live conversation in real-time with people on the internet and beyond.
BANDWAGON TV
---
Clubhouse
One of the pioneers in audio room apps, the Clubhouse app first launched in March 2020 and gained prominence almost a year later due to an interaction with Tesla Chief Executive Officer (CEO) Elon Musk and Robinhood CEO Vlad Tenev through the social media platform.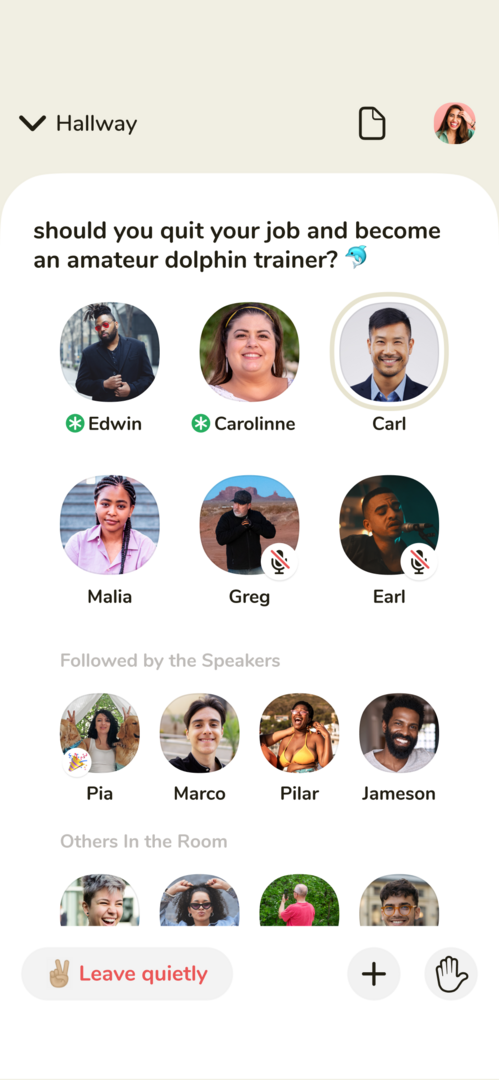 Clubhouse is a social networking application that facilitates groups, known as clubs. In these clubs, users can join in various chat rooms to listen to or share their opinions in the form of a conference call, where these rooms can hold up to a whopping 5,000 users concurrently.
Clubhouse is a place for individuals with many opportunities to connect. Users can find clubs based on their interests ranging from music to entrepreneurship. Whether you want to find new business opportunities or just chilling and chatting with like-minded people, Clubhouse is one of the best ways to find someone to connect with based on your interests.
Previously an invite-only app, Clubhouse is now open to everyone as it moves out of its beta phase.
---
Greenroom
With the rising popularity of Clubhouse, Swedish streaming giant Spotify has released its answer to the social media platform.
In March this year, Spotify acquired Betty Labs, the maker of the Locker Room app. The app was rebranded and it was released as the Spotify Greenroom app. It has many similar features to Clubhouse but one of the main differences between Greenroom and Clubhouse is its monetization model and the ability to record the conversation. 
Creators in Greenroom can gain access to a creator fund, where it gives hosts weekly payouts for gaining large audiences and hosting popular content, unlike Clubhouse where creators earn money from donations or sponsorships. Furthermore, Greenroom gives users the ability to record conversations. This will be a useful way to distribute the conversations in a form of podcasts via email.
If you want to get your hands on Greenhouse, you can choose to sign up with your Spotify account.
---
Twitter Spaces
In a bid to compete with Clubhouse, Twitter released a new feature called Spaces in December 2020. In an interview with Twitter's Carl Cheng, he shares that Twitter Spaces is "where live audio conversations happen. These ephemeral, live audio conversations allow for open, authentic, and unfiltered discussions, and there's a Space for any and every topic and conversation, from small and intimate to millions of listeners."
It almost has the same features as Clubhouse as well as the added ability to record conversations. Twitter will retain copies of Spaces for 30 days to review for violations of Twitter rules. During this time, hosts can download a copy as long Twitter has possession of it, and speakers can download a copy of the transcription of what was said in the space as well.
Spaces are available on Twitter for iOS and Android and they are found above the Home timeline where Fleets appear. When someone you follow hosts or speaks in a Space, it will appear at the top of your timeline as a purple bubble for the duration of the conversation.
To create a space, you will need to have a Twitter account with 600 or more followers. GOT7 member BamBam currently holds the record for most-listened-to Space on Twitter, followed by NCT and TWICE.
---
Stationhead
Stationhead is a start-up co-founded in 2016 by musician Ryan Star, and currently holds a team of 13 employees. The app allows artists and fans to host their radio stations easily and connect with listeners worldwide. When hosting, hosts can speak freely without the worry of censorship. Also, they are given the ability to play any song on their radio station with Spotify and Apple Music integration.
Stationhead gained global prominence earlier this May with streaming parties held by fans for their favourite artists. In an interview with CEO Ryan Star, he explains how he envisions Stationhead to be "A global audio network that empowers the host, listener, artist, and fan." 
"Music is the social glue that drives connection on Stationhead. We're the only platform where you can truly build a community around the music you love," Star adds. He also notes that the massive BTS listening party held last May "was another example of how powerful fans are. On Stationhead, fans are the new creators, and they're proving to be more influential than the biggest stars in the world. This is just the beginning of the magic that music fans will make on Stationhead."
Joining the app is easy as you can choose to log in with your phone number, e-mail, Facebook, Twitter, or your own Apple ID. After signing up, you will then be able to integrate Spotify or Apple Music into your account.
According to Techcrunch, Stationhead has been growing steadily since its launch, with 100,000 monthly active users and 500,000 total users as of April 2021.
---
Spoon
Developed by Spoon Radio Inc., Spoon is a social digital audio live streaming service that is available on the web, iOS, and Android.
Setting up a live stream is free of hassles with Spoon. Users can host live streams by setting the title and a background image within the website or app. After the setup, they will be able to connect with their listeners through text-based chats or audio live streams. A Live Call feature is also available if a host decides to invite other streamers or other listeners to co-host the stream with them.
Monetizing streams is also possible with Spoon. During sessions, listeners can give their favourite streamers digital gifts called "Spoons", which will allow hosts to use them to redeem for real cash.
You can sign up for Spoon via linking it to a Google or Facebook account. 
---
Discord Stages
Discord is a free voice, video and text chat app to connect gamers around the world. In the platform, Discord allows you to create separate 'channels' with a topic of your liking and you will be able to communicate with members via text or voice.
Discord rolled out Stages Channels in March 2021. The app enables users to run a stage channel live, allowing a few people to speak at one time, similarly to Clubhouse. The app revamped the feature to Stage Discovery in June, allowing users to have a quick way to browse and join open events from all communities on the platform. Discord users are free to start a stage channel as long as their server is set as a "Community" server.
Users are free to start a topic in Stages in any way they like. Sometimes, you may find users creatively using Stages by hosting various talent shows, karaoke nights or speed dating sessions, so you are guaranteed to have a fun time!
---
Slack Huddles
Slack Huddles was launched in June this year by business communications platform Slack. The new feature aims to provide a more casual approach to meetings that video apps tend to lack with its "audio-first" meetings accompanied by its Clubhouse-like features.
To start an audio meeting, Slack users can click on the "headphones" icon in the left-hand sidebar to host an audio meeting with their colleagues in either channel conversations or with direct messages. They are also able to invite external participants into the conversation, and share a document to discuss together.
Slack Huddles are only currently available to teams with paid plans. The service will roll out to free plan uses by August this year.
Like what you read? Show our writer some love!
---