BE:FIRST are ready to dominate the music world.
With the recent release of their latest single 'Betrayal Game', the rising J-pop group have proven they're here to make their mark and shake the earth. They've come a long way after only debuting in November last year. With the support of BESTY (BE:FIRST's fandom), there's absolutely nothing that could stop them.
In April, Bandwagon caught up with the members of BE:FIRST to share their motivations, what they're all about, and the kinds of music they've been listening to these days.
---
Hi BE:FIRST! What have you guys been busy with lately?
JUNON: Hello! Lately, we've been busy shooting for a new music video for a new single, 'Betrayal Game' releasing on Apr 25, rehearsing for our live show, and recording our TV program, BE:FIRST TV.
BANDWAGON TV
[こんにちは!!最近で言うと4月25日にリリースされる新曲「Betrayal Game」のMV撮影やワンマンライブのリハーサル、冠番組の収録などのお仕事をしています!]
Let's start from the beginning, what motivated each of you to pursue music and enter the J-pop scene?
SOTA: Dance has been in my daily life since I was a kid, and during my teens, my dream as a dancer came true. At the same time, another big dream emerged in my mind. It was to personify music while singing on my own and dancing all together. That is what I've achieved as an artist now.
[僕は物心がついた頃からダンスをしていて、10代の頃にダンサーとしての夢を叶えることができ、さらなる体現者としての大きな夢ができました。その夢というのが、マイクを持って自分が奏でる音楽で体現をするという、まさに今やっている「アーティスト」でした。]
SHUNTO: I first started learning dance and singing in the first grade, but it was just for fun then. I saw a live show of a Japanese group, AAA in the fifth grade. I was inspired by their performance, how they shined on the stage and how they embodied the music, and that is why I started seriously pursuing music in my life.
[最初小学校1年生の時ダンスと歌を趣味程度に習っていたのですが、日本のアーティストであるAAAさんのライブを小学校5年生くらいの時に拝見してからステージから出る輝きや、音楽を体で表現しているところに感化され本気で音楽への道を目指し始めました。]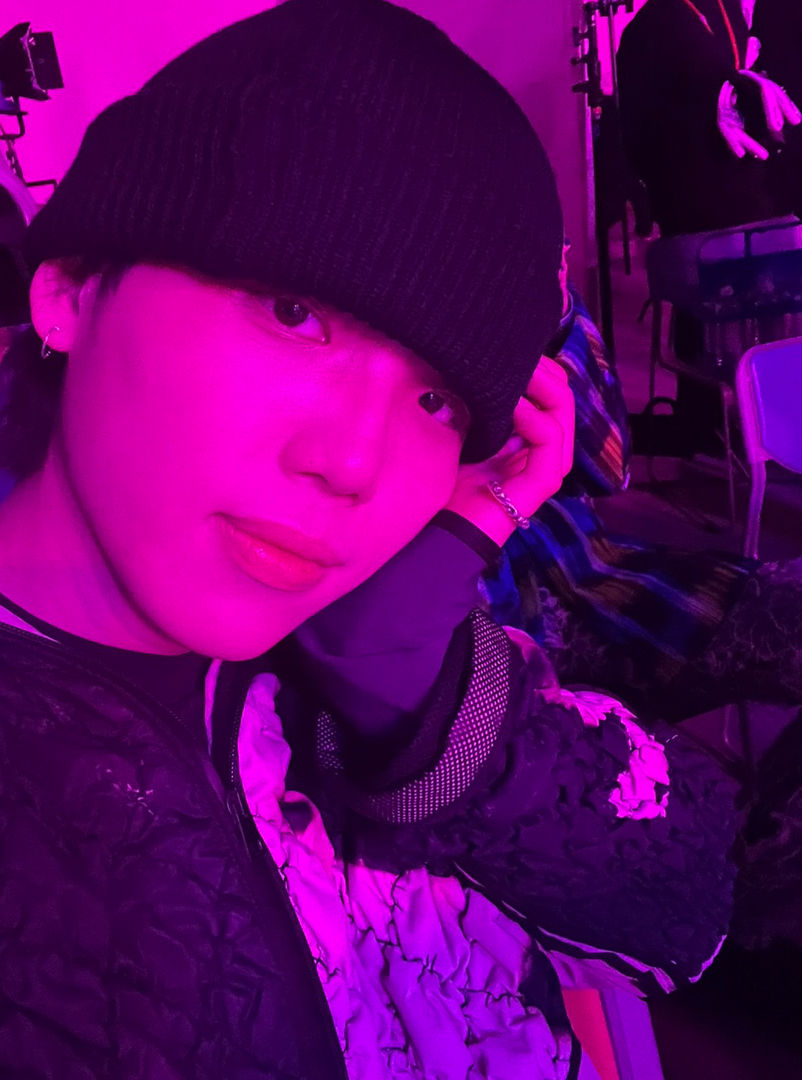 MANATO: Since I was little, I never had a dream job. I was one of those kids who tried whatever was recommended by others. But when it came to music, I thoroughly enjoyed it every time, and I often thought, "How can I make it better?" or "Is this cooler?" I believe an attractive aspect of music is that there are various perspectives on how people see, listen to, and feel the music. Music exists in everyone's life no matter where you are, and I hope our music also becomes a part of many people's daily life. We'll do our part to make it happen!
[僕は小さい頃からやりたいことや、なりたい職業等全く無くて、人に勧められて取り組む性分でした。でも音楽だけは楽しくて、もうちょっとこうした方が良いのではないか?かっこよくなるんじゃないか?など、色んな見方が出来るのが音楽の魅力のひとつだと思います。世界にいる誰にとっても、生活に「音」というものは絶対にあるので、僕たちの音楽が皆さんの日常の一部になれるように頑張りたいと思います!]
RYUHEI: I first started learning dance. I was fascinated by the fact that you can express music by dancing without using anything but your body. Then, I was introduced to singing, and I gradually realized the types of music I wanted to pursue and express. That is how I ended up where I am.
[最初に始めたのはダンスで、何も道具を使わずに自分の体ひとつで音楽を表現するっていうスタイルにすごく惹かれました。そこから歌に入っていき、自分のやりたい音楽というのが定まっていったのがきっかけです。]
JUNON: I am from a musical family, so music has always been in my life. When I received a full-time position offered by a company, I realized that I should pursue music for the rest of my life instead. That is when I applied for the audition, THE FIRST.
[自分の家族が音楽一家だったので、生まれてからずっと音楽を聴いていて、就職の内定をもらったタイミングでやはり自分も音楽を生業にしていきたい、と思ってオーディションに応募しました。]
RYOKI: I grew up speaking Japanese and English, and Western music was always around, but I ended up listening to more J-pop music after all. J-pop often has soft and soothing sounds that grab my ears. I also love K-pop music besides J-pop and Western music, but as a new Japanese artist, I would rather be a part of the J-pop scene creating a new culture and represent Japan and J-pop if I were to challenge the world.
[僕は子供の頃から英語も話していて洋楽が身近にあったのですが、J-POPは耳に優しかったり聴き心地がいい音楽が多いイメージで、気づけばJ-POPをよく聴くようになっていました。そのほかにK-POPなども大好きですが、日本人アーティストとして世界に挑戦するなら、新しいJ-POPアーティストとして新しいカルチャーとともに日本を背負って頑張っていきたいなと感じています。]
LEO: Music helped me out at a time when I felt hopeless. Also, I have another experience with my grandfather whose words encouraged me to step forward while pursuing music. Those experiences made me realize that I wanted to be someone's light at the end of a tunnel through my music.
[自分が人生に躓いた時、音楽に励まされました。アーティストを目指す上で、祖父が僕に掛けてくれた言葉に背中を押された経験があるのですが、僕も音楽を通して誰かの背中を押せるような存在になりたいです。]
You only debuted in November 2021 but you already have fans from all over the world and have even entered global music charts like Billboard's Hot Trending Songs, how does it feel having this level of popularity as rookies?
RYOKI: First of all, we are happy and grateful for the fact that many people are listening to our music. One of BE:FIRST's strengths is that we create somewhat genre-less music with the mindset of freedom. We don't want to stick with one particular style or the other.
We have come up with songs combined with each member's favored style of music. So, when someone listens to our music, they may feel empathy or be reminded of fond memories. Therefore, I believe a wide range of music lovers would also love what we create. I want BE:FIRST to be that kind of group, and we work hard to achieve that.
[まず、たくさんの方々に自分たちの音楽を聴いていただいているという事実に喜びと感謝あるのみです。僕たちの強みは「何々らしい」という枠にはまらない、ジャンルレスと言っても良いくらい自由な音楽を発信していることです。また、異なるメンバーの好きな音楽のジャンルなどが組み合わさってできている楽曲もあります。聴いていただく時にどこか共感していただける部分があったり、懐かしい気持ちになってもらえたりもするのではないかな、と思います。なので幅広い音楽ファンから愛していただけるものが作れるのではないかと思うし、そうありたいと思って頑張っています。]
For anyone who has yet to discover you, what is BE:FIRST all about? How do you stand out from other J-pop groups and acts?
SHUNTO: We are a group who loves all sorts of music and who continues delivering genre-less "BE:FIRST music" to the world.
[ジャンルレスなBE:FIRSTの音楽を発信し続ける、音楽を愛しているグループです。]
MANATO: What's cool about BE:FIRST, I think, is that each of us has a distinct character, yet when we perform, it shines as one!
Each of us has something we are good at, such as dancing, singing, rapping, writing, choreography, etc. ever since the audition. So, for example, during the shooting of a music video or when rehearsing for a live show, we often share or suggest our ideas.
We don't want to compare ourselves with other artists, but we truly enjoy listening, watching, and learning from other artists. Having 'respect for others' and 'reaching the top' in our minds, we want to keep creating BE:FIRST music.
[僕たち7人の個性が光りつつ、グループとしてひとつの形を成しているところが一番だと思います!ダンス、歌、ラップ、クリエイティブなどについて、オーディションの時から自分の色を皆が確立していっているので、MVやライブ等の現場でも自分たちの意見を提案して一緒に作っています。
ほかのグループとは比べることはありません。僕たちはほかのアーティストやグループを見て、純粋にいいなと思ったものを勉強しています。リスペクトを一番大切にしよう、そして頂点を目指すという考えのもと、そこはブレずに活動していきたいと思います。]
Congratulations on the release of 'Bye-Good-Bye'! Could you tell us more about the single?
SHUNTO: 'Bye-Good-Bye' is singing about farewell. But we took a cheerful approach singing a farewell song. If you listen to this song focusing on the lyrics, the words may touch your heart. But when you pay attention to the sound or the track of music, the pop-ness of this song may make you wanna dance to it. I think that is one of the charms of 'Bye-Good-Bye'.
By the way, the other two songs ('Brave Generation' and 'Betrayal Game') in this new single have totally different musical approaches. So, I hope people enjoy all three!
2022.05.18
20:00

BE:FIRST 2nd Single
「Bye-Good-Bye」 リリース記念 YouTube Live

🔗https://t.co/F6UswSRO0o#BEFIRST#ByeGoodBye #ArtistontheRise @YouTubeJapan#YouTubeMusic @YouTubeMusic

— BE:FIRST (@BEFIRSTofficial) May 9, 2022
[この楽曲は「別れ」について、悲しいだけではなく明るく表現しています。リリックを中心にこの楽曲を聴くと心に響くところが多いのですが、トラックを中心に聴くと音に乗れるようなポップな曲なので、それもこの楽曲の魅力なのではないかなと思っています。また、このシングルに収録されているほかの楽曲2曲もまったく違ったジャンルの楽曲になっているので、楽しんでもらえること間違いないと思います!]
What are some goals and dreams you all have for BE:FIRST?
SOTA: I want BE:FIRST to be a team that loves music the most in the world rather than a team most famous. I want us to be the team that can save people through our music.
[世界中で最も有名なチームというより、世界中で最も音楽を愛しているチームになりたいです。音楽を通して、たくさんの人を救えるチームになりたいです。]
LEO: BE:FIRST was formed from the audition called THE FIRST, and since then, one of our goals has been 'from Japan to the world'. We won't be able to achieve this goal just among the seven of us. Thanks to all the support we receive from staff, people from different companies and agencies, and of course, BESTY, we can take each step to seize our dreams. So, I believe BE:FIRST is not only seven of us, but everyone involved should be considered part of the BE:FIRST team. I want BE:FIRST to love everyone and to be loved. I see the importance for us in creating music that we feel proud of. That's what I want us to keep doing.
[ 「THE FIRST」というオーディションから僕たちBE:FIRSTが生まれたのですが、その時から日本から世界へという目標を掲げています。でもそれはメンバーだけの力では叶えられません。周りのスタッフさん、関係各所の皆さん、そしてファンであるBESTYがいてやっと一歩ずつ夢へ近づくことができます。だからBE:FIRSTは7人だけでなく、関わってくださる全ての方を含めてBE:FIRSTチームだと思ってます。だからこそ、自分たちが愛されて自分たちも愛し続けられるBE:FIRSTでありたいですし、自分たちが誇れる音楽をこれからも届けることが大切だと思っているので、それを続けていきたいです。]
Who are the artists and musicians you look up to? listen to?
SOTA: I look up to and enjoy listening to Michael Jackson, Bruno Mars, and Chris Brown.
SHUNTO: I've been listening to Chris Brown, Charlie Puth, Summer Walker, and Dios.
MANATO: I enjoy listening to iri, Chris Brown, Trey Songz, and Future. But most recently, I've been listening to H.E.R.
RYUHEI: BoyWithUke, Sia, and Blackstreet are the artists I have been listening to lately.
JUNON: Well, lately, I've been listening to lots of keshi and Michael Jackson songs. I learn a lot from their music!
RYOKI: I respect and enjoy listening to BIGBANG, Vaundy, NCT127, and Dai Hirai.
LEO: Eminem, Bruno Mars, TAKE 6, Kendrick Lamar, The Weeknd, The Chainsmokers, and Justin Bieber are some of what I've been listening to. 
What can we expect from BE:FIRST in the coming year?
RYUHEI: In order for us to take another step as a boy band, we will put our hearts into everything we attempt and try to deliver various genres of music. Please stay tuned in!
[ ボーイズグループとして新たな1歩を踏み出していくために何事に対しても挑戦し、様々なジャンルの曲を届けていくので、そこに注目していただきたいです。]
Like what you read? Show our writer some love!
---