Popping in glitter and daring outfits, SB19 returned to the virtual stage for their second online concert BACK IN THE ZONE.
The digital spectacle welcomed their fans (known as A'TIN) back into the world of the 'Alab' act for two hours of breathtaking and fantastic numbers. SB19 performed a total of sixteen songs (and a fun reprise for their encore), including the live debut of their latest EP Pagsibol in its entirety.
Here's what went down at SB19's BACK IN THE ZONE virtual concert:
---
The opening acts
Some of the best concerts feature fresh opening acts to warm up the crowd, and in the case of SB19, they had three. 
BANDWAGON TV
ShowBT content creator Mona ditched her car (where she sings in her TikTok videos) to bask in the spotlight with her own take of LiSA's 'Gurenge' from the Demon Slayer soundtrack.
She was followed by 14-year-old Filipina rapper-singer Alex Bruce. Dressed in a baggy black fit with part of her long hair in buns, Alex blew audiences away with 'Yakap' and 'Fake Friends', proving the potential she has to rule the stage on her own.
4th Impact made many dreams come true as the final opening act at BACK IN THE ZONE. With their powerful vocals, The X Factor UK contestants belted through 'Never Enough' from The Greatest Showman and a cover of 'Bang Bang' (originally by Jessie J, Ariana Grande, and Nicki Minaj), the song that helped them rise to fame.
---
The setlist
Now with their six-track offering Pagsibol, SB19 have even more material to show the world what they're made of. They also ran through covers of Coldplay, Celine Dion, and One Direction songs for the members' solos and even unreleased music (in Bisaya) that wonderfully caught fans off guard.
BACK IN THE ZONE SETLIST:
'WHAT?' (Extended Version)
'Tilaluha'
'Go Up' (Concert Version)
'Alab'
'Hanggang Sa Huli'
'Love Goes' (Acoustic Version)
'The Scientist' (originally by Coldplay) - Justin solo
'All By Myself' (originally by Celine Dion) - Stell solo
'Kelan' - Pablo solo feat. Josue
'Palayo' - Ken solo
'Drag Me Down' (originally by One Direction) - Josh solo
'Mana'
'Bazinga'
'Mapa'
'Ikako'
'SLMT'
ENCORE:
   17. 'WHAT?'
---
Getting back in the zone
Just like their with new EP Pagsibol, SB19 honored their journey and how they got here with BACK IN THE ZONE. A compilation of videos from their trainee days, performing at mall shows, appearing at fan meetings, to shooting and animating music videos were woven between performances, reminding fans of the ups and downs they've faced so far.
A red flag with SB19's iconic question mark symbol for 'WHAT?' was the visual that began the show. With their backup dancers, the P-Pop quintet raised energy levels from the stage to thousands of fans watching the concert through their screens at home.
Vocals, dance moves, and outfits were on drip, of course, but the absence of a live band and pixelated moments (due to the quality of the internet connection) kept BACK IN THE ZONE from becoming more epic than it could be.
With the group's very own Justin De Dios running the concert as Creative Director, BACK IN THE ZONE also gave SB19 the freedom to express themselves visually through stage design and animated clips from the massive LED walls.
The members' sparkling and flashy looks were given the proper attention and care from Ranque Styling Team and makeup artist Mac Igarta. Two of the best looks were seen during SB19's performance of 'Mapa', where they donned barongs with intricate details and with 'Mana', where they drew their inner wolves in faux fur with long black nails and menacing dark makeup.
---
Stunning A'TIN with solos
SB19 as a group are a Filipino powerhouse with the capacity to go global, but it's definitely worth witnessing their individual skills. In the middle of the concert, each member was given the opportunity to shine with solo performances.
Justin, dressed in a white ruffled shirt and slick black pants, took the stage first with a heartwarming cover of Coldplay's 'The Scientist'. From the LED walls, photos and videos from his childhood offered an intimate look into his life growing up and the support his family showered him in.
There is also nothing more Pinoy than busting out your birit skills onstage. Stell took on the challenge with grace and glitter in his hair, delivering a flawless rendition of Eric Carmen's 'All By Myself' (popularized by Celine Dion).
Pablo teamed up with his brother and frequent collaborator Josue for his solo number 'Kelan', marking the ninth performance in BACK IN THE ZONE.
Social media blew up when Ken stole the stage in his red lace top and high-rise pants, debuting his original song 'Palayo'. His deep vocals ran through Bisaya lyrics, making fans extremely proud with a new look into his creative abilities.
Josh then paid tribute to rock and roll with a solo performance of 'Drag Me Down' from One Direction's 2015 record Made in the A.M., and later slipped in a Filipino rap verse of his own to spice things up even further.
---
Saying 'SLMT' to family and fans
Closing off BACK IN THE ZONE with a reprise of 'WHAT?', SB19 shared their thanks to family, fans, and to God for giving them the opportunity to perform, despite the ongoing pandemic.
If there was one thing this online concert proved, it's that this group of brilliant 20-somethings belong under the spotlight. As early as now, their skill and determination to make it onto the world stage can easily inspire another generation of artists to find a zone of their own and breakthrough. 
Check out more photos from BACK IN THE ZONE below.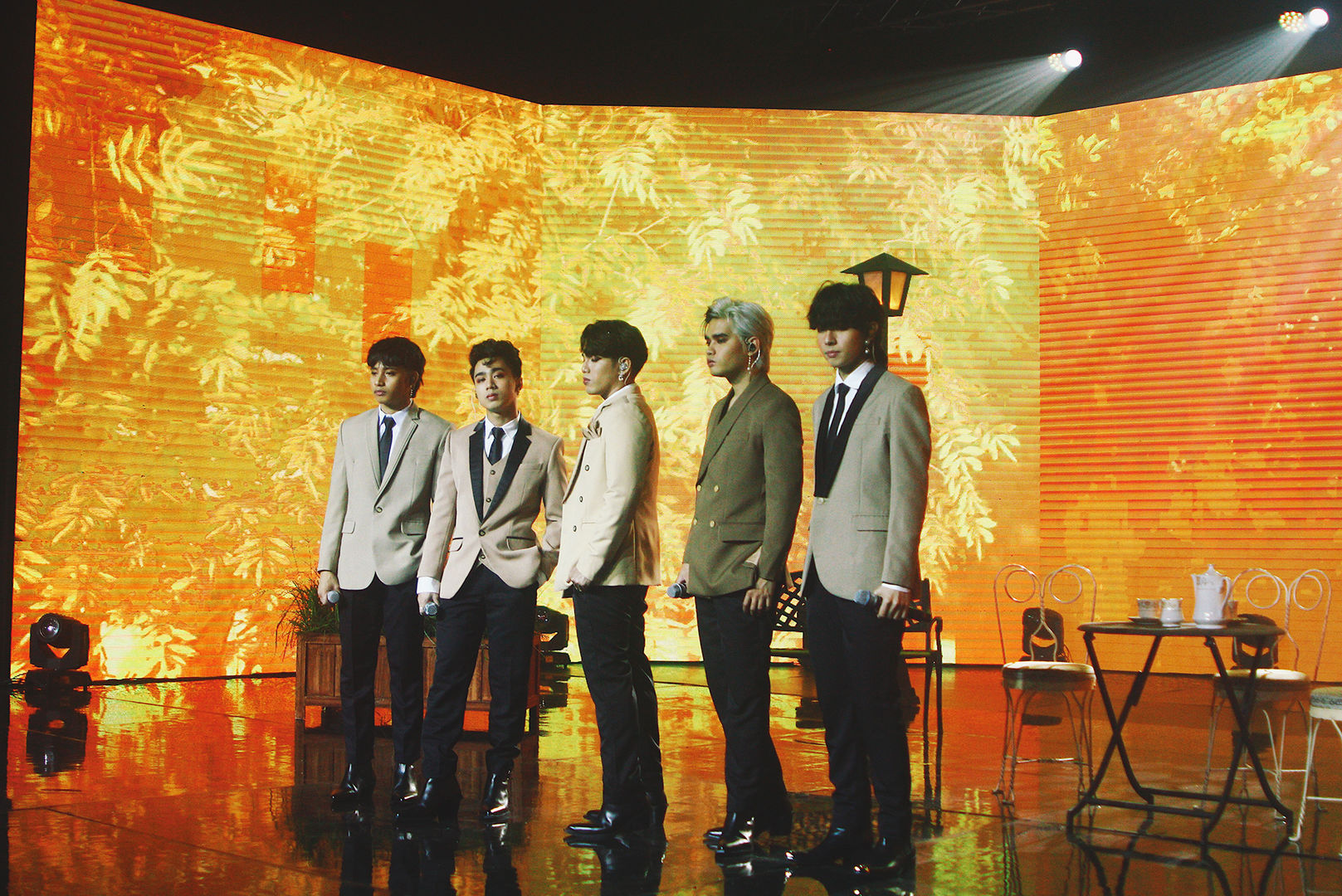 Like what you read? Show our writer some love!
---